Halloween Classics
By Camille Rhoades
Just as costume trends change from year to year we have really seen a change in what treats find their way into the bags of eager trick-or-treaters. With fear of tampering and law suits here, there, and everywhere, we just donít see homemade classics like we used to. Now it seems to be all tootsie rolls, chocolate, and lollipops. Donít get me wrong, I wouldnít turn away those treats either, but I can appreciate the wonders of fantastically flavorful homemade goodies.

This year lets take some time to remember the classics like the wonderful popcorn balls my momís friend Joann made or the caramel apples that I can still taste if I think hard enough! You may not feel like you can hand them out to all the princesses, goblins, cheerleaders, and pirates that will come knocking, but you can certainly treat your friends and family to the flavors of Halloween you love!

Popcorn Balls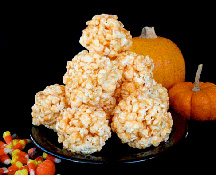 2 cups sugar
1 1/3 cups water
1/2 cup light corn syrup
1 teaspoon white vinegar
1/2 teaspoon salt
1 teaspoon vanilla extract
18 cups popped corn

In a medium saucepan, combine sugar, water, syrup, vinegar, and salt. Cook over high heat until mixture reaches 255 degrees F (hard-ball stage) on a candy thermometer. Stir in vanilla. Pour over popped corn, tossing gently to coat. When mixture is cool enough to handle, press popcorn into 3-inch balls with lightly greased hands. Cool completely on waxed paper.

Serves 14.

Caramel Apples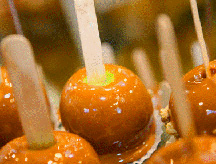 6 apples
1 (14 ounce) package individually wrapped caramels, unwrapped
2 tablespoons milk

Remove the stem from each apple and press a craft stick into the top. Butter a baking sheet.

Place caramels and milk in a microwave safe bowl, and microwave 2 minutes, stirring once. Allow to cool briefly.

Roll each apple quickly in caramel sauce until well coated. Place on prepared sheet to set.

Serves 6.

Candied Apples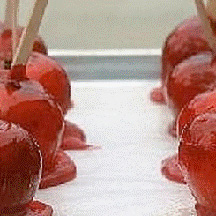 1 2/3 cups cinnamon red hot candies
2 tablespoons water
12 apples

Insert craft sticks into apples. Line a baking sheet with waxed paper.

In a heavy-bottomed saucepan over medium-high heat, pour candies and water. Occasionally brushing down sides of pan with a heat-resistant pastry brush, heat candy to 300 to 310 degrees F (149 to 154 degrees C), or until a small amount of syrup dropped into cold water forms hard, brittle threads. Remove from heat and let cool slightly.

Dip apples in hot liquid and place on waxed paper to harden.

Serves 12.

Homemade Doughnuts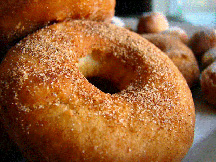 3 1/2 c. all-purpose flour
1 c. sugar
3 tsp. baking powder
1/2 tsp. salt
1/2 tsp. cinnamon
1/4 tsp. nutmeg
2 tbsp. soft shortening
2 eggs
3/4 c. milk

Heat oil (2 to 4 inches) on high. Measure 1 1/2 cups flour and all remaining ingredients in large mixer bowl. Blend on low speed, scraping bowl constantly, stirring in remaining flour. Put dough on well floured surface. Roll around lightly to coat with flour. Roll dough 3/8 inch thick. Cut with floured doughnut cutter.

With wide spatula, slide doughnuts into hot oil, turning them when they rise to the surface. Cook 2 to 3 minutes or until golden brown on both sides. Remove carefully from oil; do not prick surface. Drain. Serve plain, sugared, or frosted. Makes 2 dozen doughnuts.

If using self-rising flour, omit baking powder and salt.

Witches Brew (Homemade Rootbeer)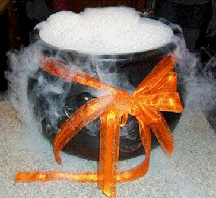 6 cups white sugar
3 1/3 gallons cold water
1 (2 ounce) bottle root beer extract
4 pounds dry ice

In a large cooler, mix together the sugar and water, stirring to dissolve sugar completely. Stir in the root beer extract. Carefully place the dry ice into the cooler, and cover loosely with the lid. Do not secure the lid, as pressure may build up.

Let the mixture brew for about an hour before serving. Leftover root beer can be stored in one gallon milk jugs. Serves 64.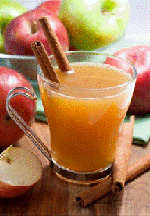 Spicy Halloween Cider

8 c. apple juice or cider
1/2 c. red cinnamon candies

Heat juice and candies over medium heat until candies are melted. Serves 10.



Whatever you cook up this Halloween take a minute to enjoy the excitement and remember Halloweens of the past!





---
* DVO welcomes your kitchen hints and cooking or nutrition questions! Email us and we'll post your hints and Q/A's in upcoming newsletters! *