Halloween is all about fun and food and these recipes are the best of both worlds! Whether you are feeding your family of gobblins or a whole party of ghouls you will be sure have them begging for more.
Pizza Mummies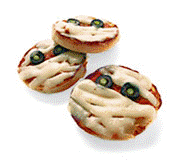 English muffins
Pizza sauce
Black olives
Scallions
Red or green pepper
Cheese sticks or slices
Heat the oven to 350° F. For each mummy, spread a tablespoon of pizza sauce onto half of an English muffin (toast it first, if you like).
Set olive slices in place for eyes and add round slices of green onion or bits of red or green pepper for pupils.
Lay strips of cheese (we used string cheese) across the muffin for the mummy's wrappings.
Bake for about 10 minutes or until the cheese is melted and the muffin is toasty.
Serves 12.
Eyeball On A Stick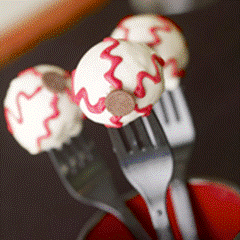 2 (11-ounce) bags white chocolate chips
12 doughnut holes
Semisweet chocolate chips
Tube of red decorator frosting
To coat a dozen doughnut holes, melt the white chocolate chips over low heat (and keep the chocolate warm while you work). With a fork, spear each doughnut hole and submerge it in the melted chocolate to coat it, then gently tap off any excess.
Stick a semisweet chocolate chip with its point cut off onto each doughnut hole, cut end first. Place the forks (handle side down) in a mug and allow the chocolate coating to harden.
Use a tube of red decorator frosting to add squiggly veins radiating out from the pupils. Serves 6.
Monster Hands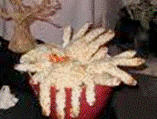 Popcorn
Candy corn pumpkins
Ribbon
Plastic Gloves
Start by going to the store and purchasing plastic gloves, the dollar store Halloween rings, orange and black ribbon, candy corn pumpkins, and popcorn.
Decide how many Halloween hands you want to make and pop as much popcorn as you think you are going to need. Be sure to make extra because you know you will want to eat some of it as you are working on this project!
Take the plastic gloves and start by putting the candy corn pumpkins down in the finger holes. These will serve as the finger nails. Then fill the rest of the glove with popcorn. Make sure to leave room so you can use the ribbon to tie them closed.
Lastly, add one of the Halloween rings to one of the fingers. This is a great Halloween party favor and look great sitting around the house for decoration.
Halloween Cupcakes
Make your favorite cupcake recipe or prepare a mix and then decorate them with one or all of these great ideas.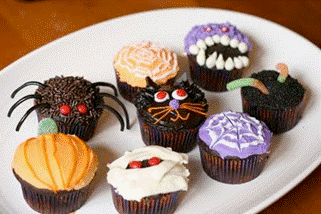 English muffins
Black cat cup cake: For making black cat cupcake, you have to spread black icing evenly on the cupcake, as your base color. In the center of the cupcake Place two M&M's about 1/4 of an inch apart and make the eyes. Spread the yellow color on M&M's or as you want. To make the nose of the cat you have to lay a candy corn pointing upwards in the center, right below the M&M's. To make the whiskers of the cat, draw three lines branching off the left and right of the candy corn, except black color you can use whichever color you want your black cupcake is ready to serve.
Jack o' lantern cupcake:
Frost the cupcake with orange colored icing. Using black gel food coloring, draw a jack o' lantern on the top.
Spider cupcake:
Ice the cupcake with chocolate icing; stick four black licorice laces on each side. Add two candy eyes in front and you have a spider cupcake.
Spider web cupcake:
Frost the cupcake with white frosting. Using black gel food coloring draw concentric circles on the top of the cupcake, about four will work. Drag a toothpick from the outside to the center of the cupcake so the food coloring now looks like a spider web. Add a small plastic spider in the center of the cupcake.
Graveyard cupcakes:
Using royal frosting, decorate some plain shortbread cookies with R.I.P. and other spooky designs. Insert the cookie into cupcake frosting that's been dipped in crushed cookies like the wormy cupcakes.
Ghost cupcake:
Frost the top of the cupcake with chocolate frosting. Draw a ghost on the top of the cupcake with white frosting in a piping bag. Add black frosting eyes.
Wormy cupcakes:
Frost your cupcakes with chocolate frosting. Dip the tops of the cupcakes into crushed chocolate wafers or chocolate cookies, as long as the cookies are black. Cut a gummy worm in half and stick the cut end into the frosting.
Spider Pretzels
Makes one spider sandwich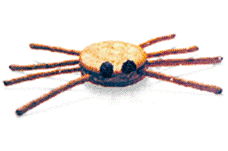 2 round crackers
2 teaspoons smooth peanut butter
8 small pretzel sticks
2 raisins
With the peanut butter, make a cracker sandwich. Insert 8 pretzel "legs" into the filling. Spread a little peanut butter onto top of cracker and place raisins on top for "eyes".
Dragon Snot
8 ounces Sprite or 7-Up soda
1 scoop lime sherbet
Serve with a spoon.
Blood Red Punch With Icy Hands
Add 2 large cans Hawaiian Fuit Punch
and one 2 Liter ginger ale to a large punch bowl.
Get a pair of Latex Gloves, then fill with water.
Tie off the ends of the gloves and put the gloves in the freezer.
When they turn to ice, carefully remove the latex gloves,
then set your icy hands into your punch bowl!.
OOOOooooh! Spooooky!!
Worms On A Bun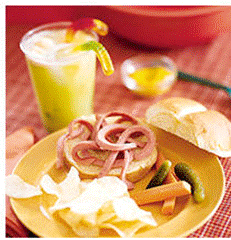 Hot dogs
Hamburger rolls
Ketchup
Cut the hot dogs into thin slices and score the edges (about three cuts per slice). Boil or microwave until the slices curl like wiggly worms. Serve three or four worms to a bun. For an extra-icky touch, add a few squiggles of ketchup and serve.
---
If you have any additional tips that you'd like to add, please post them on the
Cook'n Club Forum
(if you're a
Cook'n Club Member
)...or e-mail them to
Dan@dvo.com
.
---
Join the Cook'n Club!An unbeatable value with exclusive benefits for members only.
Enjoy articles like this and many other benefits when you join the Cook'n Club.
---