If you are anything like me there is a large bowl full of tempting leftover candy bars sitting on your counter left behind by this year's trick-or-treaters, but certainly not forgotten by your sweet tooth. If I am not careful I will sit down and eat them one by one until the whole bowl is empty and I am wondering what on earth happened to them all.
Instead of single-handedly "cleaning up" the Halloween leftovers this year I am going to put it to good use and make a dessert pie that my whole family will love. These recipes will put your sweets to good use.
Butterfinger Pie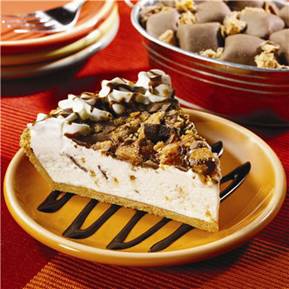 This chilled pie will be gone right before your eyes. I would buy 8 Butterfingers. One to crush on top of the pie. One to eat.
6 (2 1/8 ounce) butterfinger candy bars, crushed
1 (8 ounce) package cream cheese
1 (12 ounce) carton Cool Whip
1 graham cracker crust
Mix first three ingredients together.
Put it in pie crust.
Chill.
Halloween Candy Bar Pie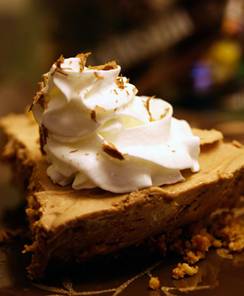 Hint: This needs to chill for at least 5 hours before serving, so don't plan to make it at the last minute.
About 10-15 fun-size candies (8.5oz total)
15 marshmallows
1/2 cup milk
1 cup heavy whipping cream
1/2 tsp vanilla
1 1/2 cup ground walnuts
3 tbsp butter (melted)
2 tsp sugar
Spray whipped cream (optional)
M&M's, extra candies for decoration
For best results, don't use candies with cookies (Twix, KitKat) or hard shells (like M&M's) since they won't melt completely. I used a combination of Reeses Peanut Butter Cups, Milky Way, Hershey's Bars and Snickers.
For the crust:
Coarsely grind walnuts, then add melted butter and sugar and mix. Firmly press mixture into the bottom and sides of a 9-inch pie plate. Bake at 325-degrees for 10-13 minutes or until edge is golden. Cool completely.
For the filling:
Roughly chop the candy bars and place in a medium saucepan with marshmallows and milk. Stir over medium heat until the mixture is melted. Remove from heat and cool to room temperature.
In a large bowl, beat whipping cream and vanilla until soft peaks form. Fold whipped cream into cooled chocolate. Spoon mixture into the cooled crust and freeze for at least 5 hours. Pie should be firm.
Before serving, let sit out for about 10 minutes. Garnish with spray whipped cream and decorative candies. Serves about 8.
Chocolate Reese's Peanut Butter Frozen Pie
1 1/2 c. milk, half & half or light cream
1 (4 oz.) chocolate instant pudding and pie filling
1 (8 oz.) Cool Whip, thawed
1 c. cut-up Reese's cups (8 individual cups = 1 cup)
1 chocolate graham cracker crust
Put milk and pudding in bowl and mix with wire whisk 1 minute. Let stand 5 minutes. Add Cool Whip and Reese's cups cut up by folding into pudding. Put into crust and freeze 5 hours. Let stand 10 minutes before serving.
5 Minute Candy Bar Pie
chocolate cookie pie crust
1 1/4 cups cold milk
2 (3 1/2 ounce) packages instant chocolate pudding mix or vanilla instant pudding mix
1 (8 ounce) container frozen non-dairy topping, thawed and divided
4 (1 1/2 ounce) chocolate-covered wafer candy bars, cut into 1/4 inch pieces, divided (Kit Kat bars)
Beat milk, pudding mixes and 1/2 of the whipped topping in medium bowl with wire whisk 1 minute. (Mixture will be thick.).
Reserve 1/4 cup of the candy bars. Stir remaining candy into pudding mixture. Spoon mixture in crust, spreading evenly. Spread remaining whipped topping over pudding layer in crust.
Sprinkle top with remaining candy. Enjoy immediately or refrigerate until ready to serve.
---
If you have any additional tips that you'd like to add, please post them on the
Cook'n Club Forum
(if you're a
Cook'n Club Member
)...or e-mail them to
Dan@dvo.com
.
---
Join the Cook'n Club!An unbeatable value with exclusive benefits for members only.
Enjoy articles like this and many other benefits when you join the Cook'n Club.
---