Filling Pies
By Camille Rhoades

When you read the words "pie filling" what do you think? Sweet, fruit, or dessert? What about "filling pies"? Does that change the responses a little? Well, I will tell you what I think of – hearty, meat, gravy, vegetables, and dinner. These pies will fill your belly with nice, hearty, savory goodness and leave you with a whole new idea of pies.

Meat Loaf Pie

1 pound ground beef
1 small onion, chopped
1 egg
1 tablespoon ketchup
1 tablespoon Worcestershire sauce
1 (8.75 ounce) can whole kernel corn
1 (9 inch) unbaked pie crust
2 cups prepared mashed potatoes
1/2 cup shredded Cheddar cheese

1. Preheat oven to 350 degrees F (175 degrees C).
2. In a skillet over medium heat, cook and stir the ground beef and onion until beef is evenly brown. Drain, and allow to cool slightly.
3. In a bowl, mix the cooked beef and onion, egg, ketchup, and Worcestershire sauce.
4. Spread the corn in the bottom of the pie crust. Layer with the beef mixture. Spoon the mashed potatoes over the beef, and top with cheese.
5. Bake 30 minutes in the preheated oven, until cheese is bubbly and lightly browned.



Turkey or Chicken Pot Pie

1 1/2 cups frozen peas and carrots, thawed under cold water
5 tablespoons butter
5 tablespoons all-purpose flour
1/4 cup chopped onion
1/2 teaspoon salt
1/4 teaspoon pepper
1 3/4 cups turkey or chicken broth
2/3 cup milk
2 1/2 to 3 cups diced cooked turkey or chicken
Pastry for 9-inch two crust pie, prepared or purchased Drain peas and carrots; set aside. Heat butter in 2-quart saucepan over low heat until melted. Stir in flour, onion, salt and pepper.

Cook, stirring constantly, until mixture is bubbly; remove from heat then stir in broth and milk. Place back on heat; heat to boiling, stirring constantly. Boil and stir 1 minute. Stir in turkey and vegetables.

Prepare pastry. Roll 2/3 of the pastry into a 13-inch square; ease into ungreased 9-inch square pan. Pour turkey mixture into the pastry-lined pan. Roll remaining pastry into 11-inch square; cut out designs with small cookie cutter. Place square over filling; turn edges under and crimp. Bake in 425° oven until golden brown, about 35 min.

Scottish Mince Pie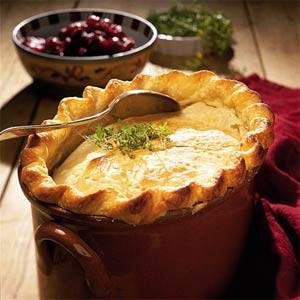 1 1/2 pounds lean ground beef
1 large onion, minced
1/8 teaspoon beef bouillon granules
4 cups water to cover
2 tablespoons cornstarch
1/4 cup water
1 recipe pastry for a 9 inch double crust pie

1. Preheat oven to 375 degrees F (190 degrees C).
2. Place the ground beef in a large pot and pour in enough water to cover beef. Boil until beef is cooked through. Drain.
3. Add water to cover cooked beef, add onions and enough bouillon granules to taste. Cook until the onions are soft. Season with salt and pepper to your taste and make sure the filling has enough bouillon to have a nice beef flavor.
4. Combine the 1/4 cup water with the cornstarch and stir until smooth. Add to the beef mixture and cook until mixture has thickened.
5. Pour beef mixture into the pastry crust and cover the top with pastry. Crimp edges and prick top.
6. Bake at 375 degrees F (190 degrees C) for 30 minutes or until crust is lightly browned.

Easy Shepherd's Pie

1 1/2 lbs ground round beef
1 onion chopped
1-2 cups vegetables - chopped carrots, corn, peas
1 1/2 - 2 lbs potatoes (3 big ones)
8 tablespoons butter (1 stick)
1/2 cup beef broth
1 teaspoon Worcestershire sauce
Salt, pepper, other seasonings of choice

1. Peel and quarter potatoes, boil in salted water until tender (about 20 minutes).
2. While the potatoes are cooking, melt 4 Tablespoons butter (1/2 a stick) in large frying pan.
3. Sauté onions in butter until tender over medium heat (10 mins). If you are adding vegetables, add them according to cooking time. Put any carrots in with the onions. Add corn or peas either at the end of the cooking of the onions, or after the meat has initially cooked.
4. Add ground beef and sauté until no longer pink. Add salt and pepper. Add worcesterchire sauce. Add half a cup of beef broth and cook, uncovered, over low heat for 10 minutes, adding more beef broth as necessary to keep moist.
5. Mash potatoes in bowl with remainder of butter, season to taste.
6. Place beef and onions in baking dish. Distribute mashed potatoes on top. Rough up with a fork so that there are peaks that will brown nicely. You can use the fork to make some designs in the potatoes as well.
7. Cook in 400 degree oven until bubbling and brown (about 30 minutes). Broil for last few minutes if necessary to brown.

Vegetable Taco Pie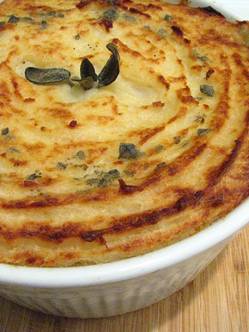 1 tablespoon vegetable oil
1 pound ground turkey
1 3/4 cups chopped red bell pepper
1 cup chopped zucchini
1 small yellow onion, chopped
1 tablespoon chili powder
2 cups chopped tomato
1 (5.7 ounce) package Knorr® Rice Sides™ - Cheddar Broccoli, prepared according to package directions
3/4 cup shredded Cheddar cheese
2 (10 inch) burrito size whole wheat high fiber tortillas
1 cup shredded iceberg lettuce

Preheat oven to 350 degrees F.


Heat oil in 12-inch nonstick skillet over medium high heat and cook turkey, red pepper, zucchini, onion and chili powder about 5 minutes, until turkey is thoroughly cooked, stirring occasionally. Stir in 1-1/2 cups tomato and cook, stirring occasionally, 3 minutes or until tomato is soft.

Place 1/3 of the turkey mixture in 9-inch deep dish pie plate. Spread 1/3 of the rice mixture on top. Sprinkle with 1/4 cup cheese, then top with 1 tortilla. Repeat layers ending with rice. Bake covered 20 minutes. Sprinkle with remaining 1/4 cup cheese and bake uncovered 10 minutes. Garnish with lettuce, remaining 1/2 cup tomato and, if desired, reduced fat sour cream and chopped cilantro.





---
Join the Cook'n Club!An unbeatable value with exclusive benefits for members only.
Enjoy articles like this and many other benefits when you join the Cook'n Club.