Classic Buttermilk Pie
Old fashion buttermilk pie is one of my favorites. This pie is great by itself but if you top each piece with a dollop of fruit you have a masterpiece. I often get requests from family members to make this pie.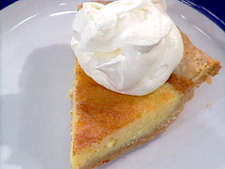 1- 9 inch uncooked pie shell
3 eggs
1 ¼ cup of sugar
3 Tablespoons flour
1 cup buttermilk
a cup of butter
¼ teaspoon ground nutmeg
1 teaspoon vanilla
Preheat oven to 375 degrees. In your mixer, beat the eggs, sugar, nutmeg and flour. Beat in melted butter and vanilla. Gradually beat in buttermilk. Pour mixture into shell, reduce heat and bake at 325 degrees for approximately 40 minutes or until an inserted toothpick comes out clean.
Creamy Coconut Custard Pie
My daughter, Shelly, got this recipe from her husband's grandmother, Maxine. It's delicious and you can't help but want more.
1 cup flaked coconut
3 eggs
14 ounce can sweetened condensed milk
1 ¼ cups hot water
1 Teaspoon vanilla
¼ Teaspoon salt
1/8 Teaspoon ground nutmeg
1 pie shell
Preheat oven to 425 degrees. Toast ½ cup of coconut and set aside. Bake a pie shell for 8 minutes. Let cool slightly. Meanwhile in a medium bowl, beat 3 eggs; add sweetened condensed milk, hot water, vanilla, salt and nutmeg. Mix well and add remaining ½ cup of coconut. Sprinkle with toasted coconut and bake for 10 minutes. Reduce oven temperature to 350 degrees and bake an additional 25-30 minutes until knife comes out clean when inserted into center of pie.
Old Fashion Lemon Pie
Lemon pie was my dad's favorite and boy could my mom make an old fashion lemon pie!
1 – 9 inch baked pie shell
1 ? cup of sugar
6 Tablespoons cornstarch
4 eggs
2 Tablespoons of butter
½ cup of fresh lemon juice
1 ½ cups of water (boiling)
¼ Teaspoon cream of tartar
Preheat oven to 325 degrees. In a medium saucepan (DO NOT USE ALUMINUM), combine 1 a cups of sugar with the cornstarch and add the lemon juice. Let sit while you separate the egg whites from the egg yolks. In a small bowl, beat the egg yolks and add to the lemon mixture. Gradually add the boiling water, stirring constantly. Over medium heat, bring to a boil and let thicken about 8 minutes. Remove from heat and stir in butter. Pour into the baked pie shell. Using a clean mixer beat the egg whites with the cream of tartar and beat to a soft peak. Add remaining sugar and beat to a stiff peak.
Spread evenly on pie and bake for 20-25 minutes. Refrigerate before serving
Karen's Peanut Butter Pie
This pie fooled me! When I saw this recipe I thought this can't be very good, but after being reassured that I would love it, I gave it a try. And now it is my favorite quick and easy pie.
1 baked pie shell
½ cup peanut butter
1 package instant vanilla pudding
1 cup powdered sugar
Small container of cool whip
Mix the sugar with peanut butter until it makes small crumbles. Put ¾ of the mixture on the bottom of the pie crust. Make pudding according to the instructions on the box. Pour this pudding on top of the peanut butter layer. Top with cool whip. Sprinkle with remaining peanut butter mixture.
Fresh Pear Crumble Pie
If you haven't tried making a pie from pears you are missing out. The orange juice and spices make this pie a bit unique.
1 – 9 inch pie crust (unbaked)
¾ cup of flour
6 large pears cored, peeled and sliced
1 Teaspoon grated lemon peel
½ cup white sugar
1 Teaspoon cinnamon
½ Teaspoon ground ginger
1/8 Teaspoon salt
¼ cup butter
3 Tablespoons frozen orange juice concentrate
Preheat oven to 375 degrees. In a large mixing bowl combine the pears, orange juice, and lemon peel. Toss lightly with hands. Arrange the pear mixture into the pie crust.
In a separate bowl; combine flour sugar, cinnamon, ginger and salt. Cut in cold butter until crumbly; sprinkle evenly over pear mixture. Bake for 40 minutes or until the pears are tender. Cover the edge of the pie with tin foil if the edges are browning too quickly.
---
If you have any additional tips that you'd like to add, please post them on the
Cook'n Club Forum
(if you're a
Cook'n Club Member
)...or e-mail them to
Dan@dvo.com
.
---
Join the Cook'n Club!An unbeatable value with exclusive benefits for members only.
Enjoy articles like this and many other benefits when you join the Cook'n Club.