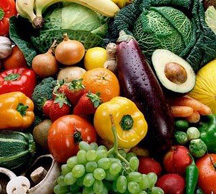 Unfortunately, even the freshest of vegetables can be under appreciated. I have even known a few individuals who actually loath veggies. I, for one, am an advocate of them. I believe that any vegetable treated with a little respect and the correct cooking technique can give a great deal of pleasure to one's palate and let's not forget that they are "
good for you!
"
One day after Christmas, I realized that a new trend was in progress. Cookbooks were offering strategies on how to sneak vegetables into our children's menu. These books began to surface in every cookbook aisle. Even though at first I concluded that this trickery might be the wrong thing to do, I was able to rationalize that while this practice might be a little underhanded it would all be done in the name of good health. After much deliberation, I thought the cover up was worth a try. If I could fool my husband, I could fool anyone.
It was late January, if memory serves me right, I took some squash, cauliflower and a green pepper and made sure I didn't overcook them. Then when no one was looking, I blended them so that there was not a trace of what they actually were. Again making sure no one was looking; I quickly cast them into a pan along with my favorite spaghetti sauce. I made sure the sauce was thoroughly heated and then knowing it was too late to turn back, I put the undisclosed sauce on top of the cooked pasta.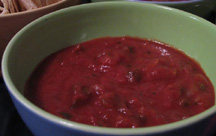 I had to admit to myself the sauce looked beautiful! I wondered if he would be able to detect what I had done. I waited a minute, but it seemed like forever while he readied himself for his meal. In what seemed like slow motion, he took his first unsuspecting bite, chewed, swallowed, smiled and took a second bite. I waited as he took yet another bite wondering if there might be an aftertaste. He continued to consume the secret sauce, happily and contented. Wahla! It had worked! It actually worked, I duped him and he was none the wiser.
I have to confess that I am the world's worse liar and I can't for the life of me play a practical joke. I always crack. This time was no exception, it was only a matter of time, and soon my conscience began flaring again. I felt like I had been so deceitful. I couldn't take it any longer, so I spilled the beans. Yes, I broke down and confessed! I told him in detail how I had deceived him. He gave me a scowl but kept eating.
Then a strange thing happened. Instead of crying and vowing not to ever do it again, I began giggling like a little girl, my mind already plotting my next deceitful episode of hiding even more vegetables into my hopefully unsuspecting husband's food supply. It wasn't long before I graduated from spaghetti sauce to secret meat loaf and then to an even stranger deception – beans in his brownies!
I'll admit it, it's like an addiction. The process becomes uncontrollable. I have even begun to wonder how I might sneak sauerkraut into his food. Please don't judge me too harshly for this. Remember that, although honesty is the best policy, I do this all for a greater good "his health!" And, what he doesn't know won't hurt him.
Secret Meat Loaf
Combine using your hands, in a large bowl these ingredients:
1 lb lean ground beef
¼ lb Italian sausage
½ cup Italian dried bread crumbs
¼ cup grated parmesan cheese
1 small can tomato paste
2 cloves of garlic finely chopped
1 egg
1 teaspoon salt
1 teaspoon pepper
½ cup shredded carrots
½ grated potato
¼ c finely chopped green pepper
1/8 medium onion
Shape the meat on a piece of waxed paper into a 9'X 13' rectangle.
Sauté the carrots, green pepper, potato and onion in 1 Tablespoon of olive oil for 3 minutes. Spread this onto the meatloaf that has been shaped into a flat rectangle. Roll the meatloaf around in the vegetable mixture. Garnish the top the meatloaf with 3 Tablespoons of Ketchup and 1 Tablespoon dried parsley.
Bake at 350 degrees for 1 hour.
Heavenly Cheese and Cauliflower Soup
1 head of cauliflower (pieces)
1 cup shredded cheddar cheese
3 tablespoons flour
¼ teaspoon butter
1 cup milk
1 package onion soup mix
¼ tsp cayenne pepper
1- 4 ounce can fire-roasted diced green chili peppers
Cook the cauliflower and onion soup mix in 2 cups of water for about 10 minutes until softened. In a small pan, add butter and flour; stir to make rue. Add slowly 1 cup of milk. Blend the cauliflower, onion soup mix and sauce in blender until pureed (no lumps).
Place the mixture back into the cooking pot and add cheese, chili peppers, cayenne pepper, salt and pepper to taste. Add more milk or chicken broth to thin.
---
If you have any additional tips that you'd like to add, please post them on the
Cook'n Club Forum
(if you're a
Cook'n Club Member
)...or e-mail them to
Dan@dvo.com
.
---
Join the Cook'n Club!An unbeatable value with exclusive benefits for members only.
Enjoy articles like this and many other benefits when you join the Cook'n Club.
---