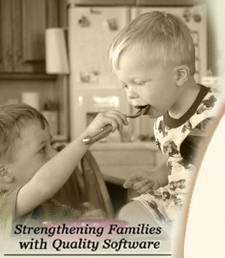 ---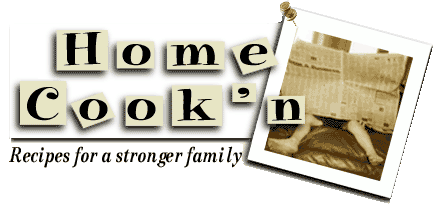 Arm Yourself With Vitamins!
By Camille Rhoades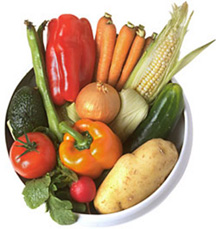 In the great battle over vegetable rich meals your best forces are probably already sitting on your counter or tucked in your cabinet. Nutrition guidelines recommend 3-5 servings of vegetables a day and for many of us that seems nearly impossible. The protests and objections can make mealtime very frustrating, but with a couple of secret weapons you can be victorious in the battle over vegetable eating!
So what are these secret weapons of which I speak? Your blender and food processor. Utilize these two machines to chop, blend, and puree hidden vegetables and you will be the clear winner in feeding your family more nutrient rich meals – without them even knowing!
Chop in the Food Processor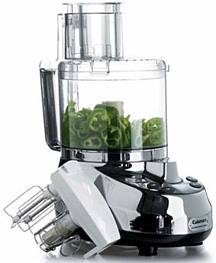 For some reason children (and, let's be honest, many adults) are a turned right off by a big pile of vegetables on their plate. Somehow that seems overwhelming and they resist eating them. By adding very small bits of vegetables to familiar foods (like rice, or casseroles) they are more likely to be open to them.
A colorful plate of rice and vegetables will get them eating more vegetables and might just spare you a battle! You can quickly chop your vegetables in a food processor and have them ready to toss in. Plan ahead and chop several servings so they are available and ready to mix in all week. Try adding corn and chopped carrots or chopped broccoli to rice cooked in chicken broth. It makes a delicious side dish and nobody will mind the vegetables when they are small and look so bright and fun!
Use these tricks to get started:
Camouflage vegetables in these yummy places!
Mash some boiled cauliflower into the mashed potatoes.

Shred some cabbage with lettuce for toppings on tacos or sandwiches

Cut up some green beans or soft-boiled broccoli stems into small pieces, and mix into chunky salsa.

Mix taco or burrito filling with finely grated carrots.

Add small cuts of very soft-boiled sweet potato or spaghetti squash to fruit salads made with cantaloupe or peach chunks.

Get recipes for zucchini muffins, carrot cake and pumpkin bread. Add some nuts and ice with cream cheese frosting, and they'll go as fast as cupcakes.

Puree in the Blender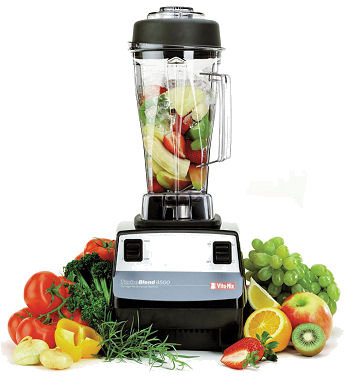 This option is a bit sneakier and there are both fans and critics of this method. If you do opt to sneak invisible vegetables into your meals make sure to also include a vegetable that isn't hidden. Even more important than getting them to eat vegetables today is teaching them to have a good attitude about it now and always. So, sneaking extras in to the meal is a wonderful way to really kick up the nutrition in your meal, but don't forget to make your kids familiar with the vegetables in the process.

This technique may take a little practice or research to find the recipes that are just right for your family, but it will be well worth it. The basic idea is to puree lots of different vegetables and then add them into family favorite foods. The family thinks they are eating delicious burgers, chicken nuggets, or pasta with sauce, but you know that there is a little shot of secret nutrition inside!

Try this recipe:

Secret Weapon Chicken Nuggets

1 cup whole wheat breadcrumbs (or panko)
1/2 cup flax seed meal
1 tablespoon grated parmesan cheese
1/2 teaspoon paprika
1/2 teaspoon garlic powder
1/2 teaspoon onion powder
1 cup broccoli or spinach or sweet potato or beet, puree
1 large egg, lightly beaten
1 lb boneless skinless chicken breast or chicken tenders, rinsed, dried and cut into small chunks
1/2 teaspoon salt
nonstick cooking spray
1 tablespoon olive oil

In a bowl, combine the breadcrumbs, flaxseed meal, Parmesan, paprika, garlic and onion powder on the paper or foil and mix well with your fingers.
In a shallow bowl, mix the vegetable puree and egg with a fork and set the bowl next to the breadcrumb mixture.
Sprinkle the chicken chunks with the salt. Dip the chunks into the egg mixture and then toss them in the breadcrumbs until completely coated.
Coat a large nonstick skillet with cooking spray and set over medium-high heat. When the skillet is hot, add the oil.
Place the chicken nuggets in the skillet in a single layer, being careful not to crowd the pan, and cook until crisp and golden on one side, 3 to 4 minutes.
Turn and cook until the chicken is cooked through, golden brown and crisp all over, 4 to 5 minutes longer. (Cut through a piece to check that it's cooked through.) Serve warm.
Serves: 4

Here are some others tricks to try:

Strain by boiling vegetables, putting them in the blender and pureeing them, then straining again. You can also keep it simple and just buy small, single-vegetable baby food jars, such as spinach, beets, green beans, squash, broccoli, carrots, sweet potatoes, peas, etc. Then covertly slip them into a number of places:


Mix beets or carrots with pasta or pizza sauce, then add a bit more spices.

Blend just about any strained veggies with ketchup; it masks the smell and the taste well.

Use food flavor injectors to add carrots or beets to bit-size pizza rolls or pocket sandwiches. A little dab here and there will do you.

Mix butternut squash in with mashed potatoes. The color is light enough that they'll never know.

Mix broccoli or peas into chop meat when making hamburgers. You can get half a jar into a hamburger, then bake it. With condiments, the flavor is virtually undetectable.

Mix squash or sweet potatoes with apple sauce. Blend it well. The colors will be similar, and both vegetables are sweet enough not to sour the applesauce.

Mix spinach or green beans with condiments, such as pickle relish and salsa.

Don't exclude breakfast: slip some sweet potatoes, squash or carrots into their cheese omelets.

A Few More Tricks To Try:


Don't forget juices! You can add vegetable juice to fruit juices and create wonderful flavors. . Carrot blends well with most, beet juice with berry juices, and some green juice can be slipped into yellow juices without too much noticeable discoloration.

You can also add juices wherever chicken or beef broth are called for or inject vegetable juices into meats for added flavor and nutrition.


Early and Often! Introduce vegetables early – when your children are very young. The younger they get started the more open they will be. Also offer them often. Even if they have rejected them before – ESPECIALLY if they have rejected them before! If children have repeated opportunities to sample new foods, then at least some of them will be accepted.


Give A Little. Adding some ingredients that they love will help make vegetables more enticing so don't be afraid of smothering cauliflower in cheese, or drizzling some honey over asparagus.


Be Creative. How they are served can make a lot of difference. Something as simple as cutting them into silly shapes or creating "veggiescapes" (see Hidden In Plain Sight" article) can make vegetables more fun, and therefore, more acceptable to children.


Get Kids Involved. The more they participate, the more they will try. Get their help cooking, but even beyond that, start a little vegetable garden and get your kids to help from the very start. Watching things grow is very exciting to a child and will really spark interest. Grow it, harvest it, and cook it together and your child will have much more interest in the bounty!

Whether your challenge is with a 5 year-old or a 65 year-old these techniques are sure to help add a little extra nutrition to your meals, cut down on some of the battle, and add lots of YUM to your dinner table!




---
* DVO welcomes your kitchen hints and cooking or nutrition questions! Email us and we'll post your hints and Q/A's in upcoming newsletters! *
---
Join the Cook'n Club!An unbeatable value with exclusive benefits for members only.
Enjoy articles like this and many other benefits when you join the Cook'n Club.
---