From the Good Earth
By Jeanne Wolfley
Sunshine Carrots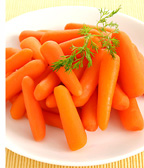 3 cups baby carrots
2 Tablespoons brown sugar
1 teaspoon cornstarch
¼ teaspoon fresh ground ginger
¼ cup of orange juice
2 tablespoons butter
¼ teaspoon salt
pinch of nutmeg

Steam the baby carrots for about 7 minutes. In a sauce pan, combine sugar, cornstarch, ginger and salt. Add orange juice and cook until thickened. Remove from heat and stir in butter. Pour over steamed carrots. This sauce is also good on steamed sweet potatoes.

Springtime Asparagus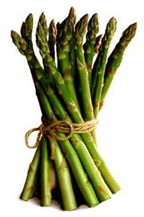 2 lbs asparagus
2 Tablespoons butter (melted)
1 package dried onion soup mix
1 cup shredded mozzarella cheese

Cook asparagus in a small amount of water, just until tender. Drain and place in a 9" x12" pan. Combine the butter and dried onion soup mix and drizzle over asparagus. Top with cheese and bake at 375 degrees for 10-12 minutes, until the cheese is melted.

Sunshine Asparagus

2 lbs fresh asparagus
¼ cup nonfat plain yogurt
2 Tablespoons orange juice
2 Tablespoons light mayonnaise
¼ teaspoon salt
1-2 Tablespoons olive oil

Place washed asparagus on cookie sheet. Sprinkle with olive oil and salt. Cook at 350 degrees for about 8 minutes, until tender.

In a small bowl, blend orange juice, yogurt and mayonnaise. Top the asparagus with orange sauce.

Snow Peas, Peppers & Pine Nuts

½ lb snow peas
2 Tablespoons olive oil
1 clove garlic, minced
¼ cup pine nuts
½ teaspoon sesame oil
1 medium red pepper sliced thinly

Heat olive oil in a small skillet at medium high heat. Add snow peas, red pepper, garlic and pine nuts. Cook for 1 – 2 minutes, stirring the whole time. Do not overcook. Remove from heat and drizzle with sesame oil.





---
Join the Cook'n Club!An unbeatable value with exclusive benefits for members only.
Enjoy articles like this and many other benefits when you join the Cook'n Club.