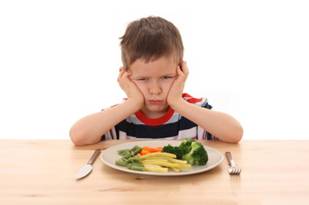 While sneaking vegetables into meals is a great way to boost the nutrition, it is also important that kids learn to have a good attitude about eating vegetables that aren't cleverly hidden.
Teaching them to eat and enjoy vegetables is very important as they develop their own eating habits. If all their veggies are hidden they won't have a very good attitude about them so finding ways to open their minds and mouths is a wonderful and challenging job.
All that said, it still may take tricks and trials to develop your child's taste for vegetables, but your attitude will go a long way in teaching those around you.
The following tips will help make vegetables a fun, desirable food instead of the necessary evil it may have become:
1. Offer vegetables early and often!
The younger kids start eating veggies, the more open the will be to them. Make them a desirable snack in your house.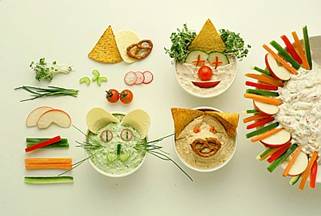 2. Use dips to make them more enticing.
Kids love to dip! I don't know what it is, but they are much more likely to eat something when they get to dip it in something yummy. Ranch is a wonderful standard, but get creative and try some other things your kids love!
3. Let your picky eater help in the grocery store and in the kitchen.
If they pick it out and help cook it they are much more likely to eat it!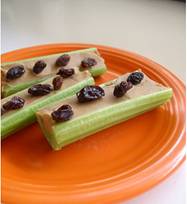 4. Mix them with food they already love.
Add peanut butter and raisins to celery makes a fun treat. We call them "ants on a log" and the kids practically beg for celery this way!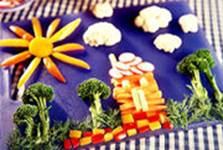 5. Get creative and have some fun with the veggies!
Think of crazy names and make them into fun shapes or pictures. On one particularly rough day my 3 year old was refusing his green beans. We changed the name to "monster toes" and he ended up having three helpings! A little fun goes a long way. Cut them silly, call them silly things, just make them fun! Here are some veggiescapes you might try creating.
All too often vegetables become the dreaded thing we must eat to get to dessert, but with a little persistence and a lot of creativity you can help your children develop a taste for so many wonderful fruits and vegetables!
---
If you have any additional tips that you'd like to add, please post them on the
Cook'n Club Forum
(if you're a
Cook'n Club Member
)...or e-mail them to
Dan@dvo.com
.
---
Join the Cook'n Club!An unbeatable value with exclusive benefits for members only.
Enjoy articles like this and many other benefits when you join the Cook'n Club.