5 Ingredient Soup
By Bethany Booth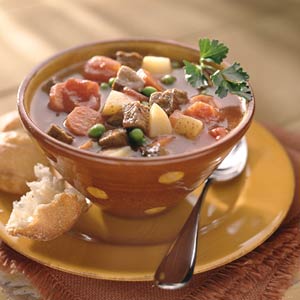 The most useful wedding gift I received was a 4-ingredient cookbook from my mother-in-law. For a novice chef, a poor newlywed and a busy student, there was something very encouraging about being able to count my ingredients on one hand.

For all of the intimidated beginners out there or anyone just looking for a quick and simple meal, here are a few of my favorite 5 ingredient soups:

Enjoy this simple yet flavorful meal as a soup or reduce the broth to 2 cups and serve at the consistency of a pasta dish.

Asparagus Couscous Soup

1 cup Israeli couscous
1 bunch asparagus
3 cups broth
1 clove garlic, pressed
parmesan cheese

While broth is coming to a boil remove tough ends of the asparagus and then cut into bite-sized pieces. When broth comes to a boil, add the cup of Israeli couscous. Let it boil uncovered fro 5 minutes. Add asparagus and continue boiling 3 minutes. Remove from heat. Add desired amount of freshly grated Parmesan cheese to each bowl and serve.



Garnish this low-fat soup with tortilla strips and a dab of fat-free sour cream.

5 Ingredient Black Bean Soup

2 cups chicken broth
1 (15 ounce) can fat-free refried beans
1 (15 ounce) can black beans, drained and rinsed
2 cups frozen corn
1 (10 ounce) can tomatoes & chilies

Combine broth and refried beans into soup pot over medium heat. Whisk together until beans are fully incorporated into broth.
Add other ingredients and heat while stirring until soup is nice and bubbly.
Remove from heat and serve topped with shredded cheddar cheese, sour cream, fresh cilantro or any other toppings you desire.

This warm cheesy soup is perfect way to get those picky eaters to ask for more broccoli!

Easy Cheesy Broccoli Soup

32 ounces frozen broccoli
2 (10 ounce) cans cheddar cheese soup
2 (12 ounce cans evaporated milk
1 small onion, chopped
salt and pepper

Place all ingredients in slow cooker and cover. Cook on low for 6-8 hours. Serve with warm bread sticks or over steamed rice.







---
* DVO welcomes your kitchen hints and cooking or nutrition questions! Email us and we'll post your hints and Q/A's in upcoming newsletters! *