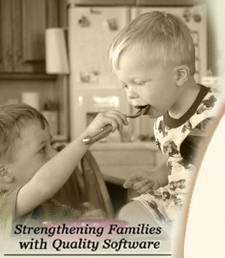 | | |
| --- | --- |
| Volume II | February 6, 2009 |
---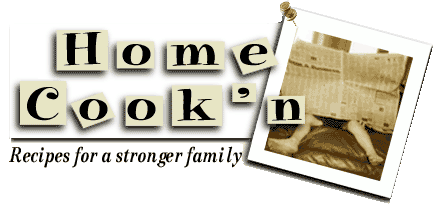 Slow Cooking Soups and Stews
By Camille Rhoades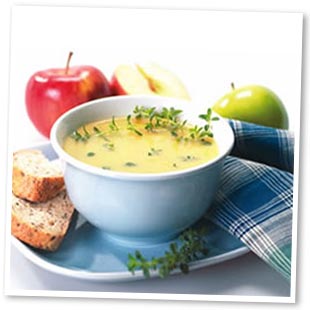 During the colder months there is little I love more than the wonderful aromas that fill my home when I use the slow cooker to slowly create a delectable dinner. The smells alone seem to warm the house and they certainly have us all ready to eat a good dinner.
With a few tips and some great recipes you will be on your way to savory soups and stews in no time.
Tips and Tricks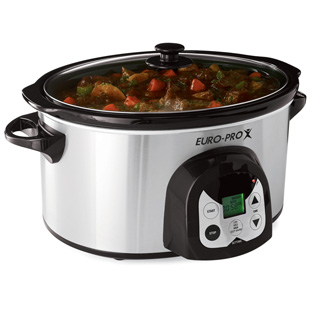 Watch the fluids when you are cooking soups and stews and if they need a little more water you can always add it throughout the cooking process.


If you are using meat, add it first. Then vegetables and then your liquids and other touches. If using cheese, add it near the end of the cook time.


Make sure meat is thawed first. Starting with frozen meat can cause food safety issues because the meat will be at intermediate temperatures for longer than is safe. Thawed raw meat is just fine.


Cube your meat and poultry before adding them. You can purchase some meats pre-cubed if you prefer.


For best results sear meats in pan before adding. Then use a little water to soak up the flavor and bits left behind in the pan and add it to the slow cooker.


If you are making a creamy base soup heavy cream works well and can withstand the temperatures and cook times without scorching.


If your recipe calls for milk, substitute evaporated milk when cooking in the slow cooker. This creates a nice creamy base without the curdling factor that regular milk can have.

Mouth-Watering Recipes

Classic Slow-Cooker Beef Stew
Serves 10

4 pounds bottom round, well trimmed and cut into 2-inch pieces
1 cup all-purpose flour
1/3 cup olive oil (plus more if needed)
2 large onions, diced (2 cups)
1 6-ounce can tomato paste
1 cup dry red wine
1 pound potatoes, cut into 2-inch pieces (about 4 cups)
1/2 pound baby carrots (about 2 cups)
2 cups beef broth
1 tablespoon kosher salt
1 teaspoon dried thyme leaves
1 bay leaf
1 cup frozen peas, thawed

Coat the beef in the flour. Heat a few tablespoons of the oil in a large skillet over medium-high heat. Brown the meat, a few pieces at a time, adding more oil as necessary. Transfer to a 4- to 6-quart slow cooker. Add the onions to the skillet and cook over medium heat until tender, about 10 minutes. Stir in the tomato paste and coat the onions; transfer to the cooker. Pour the wine into the skillet and scrape up any browned bits; add to the cooker. Stir in the potatoes, carrots, broth, salt, thyme, and bay leaf. Cover and cook on low heat for 7 1/2 hours, or on high for 4 hours. Add the peas and heat through.

Squash and Pork Stew
Serves 6

1 Tbsp. olive oil
1-1/2 lbs. boneless pork shoulder roast
1 onion, chopped
2 cloves garlic, minced
1/4 tsp. salt
1/8 tsp. pepper
1-1/2 cups 1" cubed butternut squash, peeled
16 oz. pkg. baby carrots
8 small red potatoes, unpeeled, quartered
12 oz. jar homestyle pork gravy
1/4 cup ketchup
1 tsp. dried sage leaves
1/2 tsp. dried thyme leaves
1/2 cup water

Heat olive oil in nonstick skillet and add onions. Cut pork into 1-1/2" cubes. Sprinkle with salt and pepper and add to onions in skillet. Cook, stirring frequently, until pork is browned and onion is tender, about 5 minutes.
Place all ingredients in 4-5 quart crockpot and stir to blend. Cover crockpot and cook on low for 7-8 hours.

Broccoli Cheese Soup
Serves 8

2 c. cooked noodles
1 (10 oz.) pkg. frozen chopped broccoli,thawed
3 tbsp. chopped onions
2 tbsp. butter
1 tbsp. flour
2 cups shredded American cheese
Salt to taste
5 1/2 c. milk

Combine all ingredients in slow cooker. Stir well. Cook on low for 4 hours.

Taco Soup
Serves 8

1 pound ground beef
1 onion, chopped
1 (16 ounce) can chili beans, with liquid
1 (15 ounce) can kidney beans with liquid
1 (15 ounce) can whole kernel corn, with liquid
1 (8 ounce) can tomato sauce
2 cups water
2 (14.5 ounce) cans peeled and diced tomatoes
1 (4 ounce) can diced green chile peppers
1 (1.25 ounce) package taco seasoning mix

In a medium skillet, cook the ground beef until browned over medium heat. Drain, and set aside.
Place the ground beef, onion, chili beans, kidney beans, corn, tomato sauce, water, diced tomatoes, green chile peppers and taco seasoning mix in a slow cooker. Mix to blend, and cook on Low setting for 8 hours.

Vegetable Soup
Serves 8

1 pound boneless round steak, cut into 1/2 inch cubes
1 (14.5 ounce) can diced tomatoes, undrained
3 cups water
2 medium potatoes, peeled and cubed
2 medium onions, diced
3 celery ribs, sliced
2 carrots, sliced
3 beef bouillon cubes
1/2 teaspoon dried basil
1/2 teaspoon dried oregano
1/2 teaspoon salt
1/4 teaspoon pepper
1 1/2 cups frozen mixed vegetables

In a slow cooker, combine the first 12 ingredients. Cover and cook on high for 6 hours. Add vegetables; cover and cook on high 2 hours longer or until the meat and vegetables are tender.







---
If you have any additional tips that you'd like to add, please post them on the
Cook'n Club Forum
(if you're a
Cook'n Club Member
)...or e-mail them to
Dan@dvo.com
.
---
Join the Cook'n Club!An unbeatable value with exclusive benefits for members only.
Enjoy articles like this and many other benefits when you join the Cook'n Club.
---