When I asked my 5 year-old son what I should write about soups and stews this month his reply was, "chocolate soup". I chuckled and dismissed his silliness and then realized that he is brilliant… and cute… and sweet… and wonderful… Oh, sorry, forgive me, I am his mom after all! Back to that brilliant thing – dessert soups! While I may have needed the mind of a child to remind me of these wonderful, often dismissed and forgotten soups they are sure to be an unforgettable addition to your cookbook once you try a few!
Fruits and other sweets can make delicious soups to be served hot or cold. Whatever you're craving you can really satisfy it with a savory soup. Try these great recipes or some of your own to sweeten up the ordinary.
Strawberry Soup
Serves 12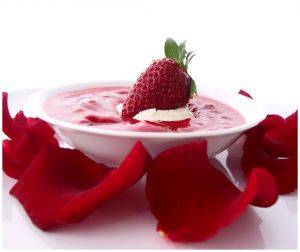 4 cups fresh strawberries
1 (12 ounce) container frozen whipped topping, thawed
1/8 teaspoon ground nutmeg
1/4 teaspoon ground cinnamon
1/2 teaspoon vanilla extract
1 cup white sugar
1/4 cup sour cream
12 ounces prepared pound cake, cubed
12 sprigs fresh mint
Rinse strawberries with cool water to clean and then pat dry to absorb excess water. Remove strawberry stems and set aside 12 for later use.
In a large bowl, combine remaining strawberries, whipped topping, nutmeg, cinnamon, vanilla and sugar. With an electric mixer, mix on low speed for 5 to 7 minutes or until sugar has dissolved completely and mixture is smooth. Add sour cream and mix 1 minute. Place in refrigerator to chill.
Toast pound cake cubes under broiler for approximately 6 minutes, turning once to brown both sides.
Serve soup in chilled bowls and garnish with whole strawberries, pound cake croutons and fresh mint sprigs.
Chocolate Soup with Caramel-Cinnamon Toasts
Serves 2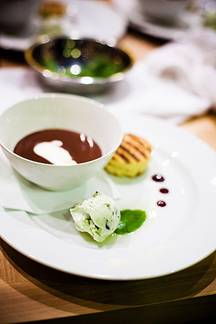 4 ounces best-quality bittersweet OR semisweet chocolate, finely chopped
Few grains salt
1/2 cup whole milk
1/2 cup heavy cream
In small microwaveable bowl, combine finely chopped chocolate and salt. In microwave oven on high power, heat milk and cream in two-cup heatproof liquid measure just until simmering. Pour about one-third of this hot liquid (reserve remainder) over the chocolate. Allow to stand for a minute or two, then stir or whisk gently until smooth.
Gradually stir or whisk in remaining milk/cream mixture, blending well. Scrape bottom and sides of bowl with rubber spatula. Reheat soup in microwave at medium (50%) power just until very hot. Divide among bowls. Garnish as desired; serve immediately.
To make without a microwave oven, place chopped chocolate and salt in small heatproof bowl. Heat milk and cream in small saucepan over low heat, stirring occasionally, until very hot. Proceed as directed above. To heat soup until very hot, place bowl over simmering water on low heat (water should not touch bottom of bowl), and stir often until hot. Proceed with hot soup as directed above.
Caramel-Cinnamon Toasts
4 slices firm-textured challah or other white bread, each about 1/2 inch thick, trimmed of crusts
1-1/2 Tbsp. unsalted butter, softened
1-1/2 Tbsp. firmly packed light brown sugar
A large pinch or two of ground cinnamon
For Frying:
An additional teaspoon of unsalted butter
If you want to get fancy here, you can cut the trimmed bread slices with a cookie cutter; I use a circle that measures 3-1/2 inches in diameter. If you don't want to use a cutter, that's fine, but your trimmed bread slices shouldn't be larger than about 3-3/4 inches on a side.
In small cup, combine softened butter, brown sugar, and cinnamon. with spoon, cream until well-mixed. Divide evenly among bread slices; spread butter mixture on one side of each slice just to the edges.
I recommend a nonstick griddle or frying pan to cook these; it should be large enough to hold all the slices in a single layer. Melt the teaspoon of butter in your griddle/pan over medium heat. Place bread slices, buttered side up, in the pan. Fry 2 to 3 minutes, or until a light golden brown on the underside (check the slices frequently, and move around in the pan if necessary to promote even browning). During this time, the cinnamon mixture on top of the slices will melt--OK. When slices are browned on bottom, flip each over so that the slices are cinnamon mixture side down. Once in contact with the hot griddle/pan, the cinnamon mixture will soon start to bubble and caramelize. Check the slices often, frying only until they are a light golden brown on the cinnamon mixture side (watch carefully--this can take less than a minute!). As you remove the slices to a cooling rack, turn them over so that the side with the cinnamon mixture is now the top again. Let stand while you prepare the soup.
Note:
You can put these on a plate when you remove them from the pan, but if you do the bottoms will become slightly soggy as they stand.
Cream of Mango Soup
Serves 3

2 mango - peeled, seeded and cubed
1/4 cup white sugar
1 lemon, zested and juiced
1 1/2 cups half-and-half
Place the mango, sugar, lemon juice, lemon zest and half-and-half into a blender or food processor. Cover, and process until smooth and creamy. Serve chilled.
Cantaloupe Soup
Serves 4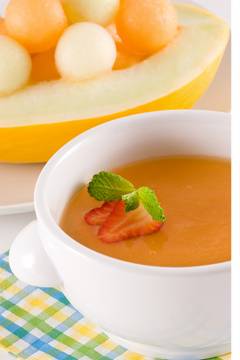 1 cantaloupe, peeled, seeded, and cubed
1/4 cup dark rum
1/4 cup cream
1 lemon, zested
2 tablespoon orange juice concentrate
4 mint leaves, julienned
Place everything but the mint leaves in a blender and puree. Strain through a fine chinois or strainer. Chill. Serve in chilled martini glasses with juilenned mint.
---
Join the Cook'n Club!An unbeatable value with exclusive benefits for members only.
Enjoy articles like this and many other benefits when you join the Cook'n Club.