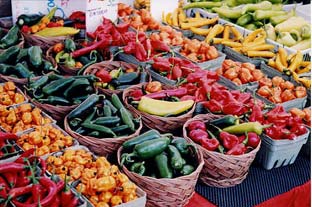 Gather up some fresh produce, find some innovative recipes and start cooking. Fruits and vegetables are coming into full maturity and, if you are like me, you will be looking for some new ways to use them. Whether they are home grown, from the local farmers' market or your favorite grocery store, nothing is more satisfying and appetizing than cooking with fresh fruits and vegetables. Let's make the most of the bountiful summer harvest by trying some garden-fresh recipes.
Nutty Butternut Bisque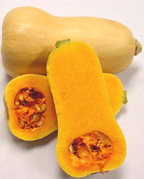 3 pounds of butternut squash
1 medium onion (diced small)
3 tart apples (peeled and diced)
2 large pears (Peeled and diced)
3 cups of chicken broth
1 teaspoon fresh sage
1/8 teaspoon nutmeg (fresh)
1 teaspoon salt
½ teaspoon of pepper
1-1 ½ cups half and half
4 Tablespoons finely chopped walnuts
2 Tablespoons butter
Tip: If you pierce a whole squash with a knife and then cook in the microwave for 2 minutes the peel with come off much easier.
Take out the seeds and cut the squash into large cubes. Sauté the onion and the butter in a sauce pan until the onion is translucent (about 3 minutes). Add: chicken broth, apples, pears, and squash. Simmer on medium heat until squash is tender (about 20 – 30 minutes).
Cool until the bisque is just warm and puree in the blender (may have to do in more than one batch). Add Half & Half. Re-warm the soup before serving and garnish with nuts. Serves: 6 – 8
Fried Green Tomatoes
At the end of tomato growing season you may still have some green tomatoes. Traditionally, fried green tomatoes are made with corn meal not cornflakes.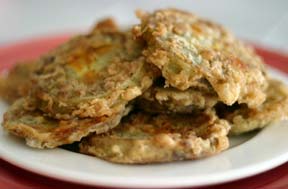 6 green tomatoes
½ cup all purpose flour
¾ cup finely crushed cornflakes
1 egg
½ cup of milk
salt and pepper to taste
¼ cup of canola oil
Pre-heat the oven to 200 degrees. Slice the tomatoes into ¼ inch thick slices. Mix the corn flakes, flour, salt and pepper in a small swallow bowl (a pie tin works well). In a second shallow dish, beat the egg and milk together.
Heat the oil in a frying pan over medium heat. Dip the tomato slices in the egg and milk mixture. Coat both sides; then dip them into the flour and cornflake crust mixture, covering both sides.
Cook the tomatoes until they are crispy and golden brown. I usually cook only two or three at a time. Drain on a paper towel and keep them warm in the oven until ready to serve. Serve with ranch dressing.
Serves: 6
Roasted Red Bell Pepper Sauce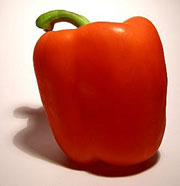 4 large red bell peppers
1 cup whipping cream
1 envelope of dry Italian salad dressing
1 13.25oz package of Penne pasta
¾ cup grated parmesan cheese
2 Tablespoons dried or 4 Tablespoons of fresh basil
Cut the peppers in half and remove the seeds. Place the peppers in a foil-lined baking dish sprayed with non stick spray. Bake at 450 degrees for about 40 minutes until they are blackened, immediately place the peppers in a bowl covered with plastic wrap. Cool for about 20 minutes. The skins will peel right off. Place the peeled peppers in the blender or processor along with the cream, dressing and salt and pepper. Blend until smooth. Pour the blended pepper mixture on the hot penne pasta and sprinkle with cheese. This is also good served with some Italian sausage.
Serves: 6
Peach Bread Pudding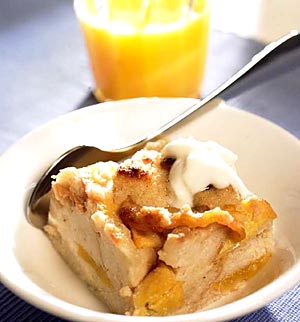 7 Tablespoons of butter
6 cups cubed French bread (Day old is best)
2 cups of heavy cream
2 cups of milk
5 large eggs
1 cup of sugar
1 teaspoon pure vanilla
¼ teaspoon freshly grated nutmeg
2 pounds of peaches (Peeled and sliced)
Pre-heat the oven to 350 degrees. In a large bowl add the cubed bread, cream and milk together and let sit for 10 minutes.
In a skillet add 3 Tablespoons of butter, the peaches and sugar. Cook on medium heat for 5 minutes until the peaches are golden brown around the edges. Set aside.
In a medium bowl, whisk the eggs, ¾ cup sugar, vanilla and nutmeg until combined. Add peaches, soaked bread and liquid mixture in a well-buttered 9 x 13" or a 10 x14" pan. Drizzle the remaining butter over the mixture. Cook for 45 – 60 minutes, until bubbly, brown and slightly firm in the center.
Vanilla Sauce

½ cup of butter
1 cup heavy cream
1 cup sugar
2 teaspoons of pure vanilla
Add all of the above ingredients and cook on medium heat for 10 minutes. Serve warm over bread pudding.
Plum and Peach Tart
5 large plums
5 large peaches
½ cup of Splenda or sugar
½ teaspoon cinnamon
¼ teaspoon ginger
¼ teaspoon nutmeg
2 Tablespoons butter
1 egg (beaten)
¼ cup apricot preserves
Prepare or buy a 9 inch pie crust. Pre-heat the oven to 375 degrees. Roll out the pie crust. Cut the peaches and plum into medium slices in a large bowl. In a small bowl combine the sugar, cinnamon, ginger and nutmeg. Sprinkle this mixture over the fruit and gently fold together.
Arrange the fruit in circles on the pie crust leaving a two inch border. Drizzle with melted butter. Fold edges of the pie toward the middle leaving the center open. Brush the border with beaten egg.
Bake for 45 minutes or until the fruit is tender and the crust lightly browned. When finished cooking, brush the top of the tart with ¼ cup melted apricot preserves.
Zucchini Pie
1- 9 inch pie crust
4 Tablespoons butter
1 cup diced onion (finely diced)
4 cups sliced zucchini
¼ cup fresh parsley (chopped)
1 teaspoon salt
½ teaspoon pepper
¼ teaspoon garlic salt
½ oregano
3 large eggs (beaten)
2 cups cheese (sharp yellow and mozzarella combination)
Roll pie crust to fit pie plate. Set aside.
Melt the butter in a skillet and add zucchini and onion. Sauté for about 5 minutes and remove from heat. Add the parsley, garlic salt, oregano, salt and pepper. Add the beaten eggs and cheese and mix gently. Pour into the pie crust and bake for 30 minutes. Serve warm. This can also be made in a buttered dish without the crust.
There are so many great recipes to try during the summer harvest season. Hope you enjoy these and find many more.
---
* DVO welcomes your kitchen hints and cooking or nutrition questions! Email us and we'll post your hints and Q/A's in upcoming newsletters! *