A few weeks ago while attending a wedding shower; I had the opportunity to enjoy a wonderful sorbet. The previous week, I enjoyed a watermelon sherbet from a local creamery. I knew that there was a difference between sherbet and a sorbet but I had no idea what the difference was.
Often when we hear them discussed, it appears they are the exact same thing. Both contain fruit, sugar and water, but after doing some research I discovered that sherbet in the United States has some dairy ingredients such as milk or cream with a milk fat content of 1 – 2%.
Since the milk fat is so low, often people who are lactose intolerant and can't handle ice cream may still be able to eat sherbet. If the product has less than one percent milk fat it is considered "water ice." To make a long story short, sherbet has a small amount of milk fat while sorbet has none, although not all so-called sorbet recipes abide by that rule.
I love the taste of sorbet and being a nonfat dessert it makes me even more pleased. When making sorbet, you can also use a sugar substitute like
agave
, making this treat nonfat, coolly refreshing, delicious and very easy to make. That combination is about as good as it gets!
With the fruit harvest in full swing why not give a light sorbet a try as either your after dinner dessert or an afternoon treat. The following recipe can have other fresh fruits swapped out for either the peaches or pineapple or both. For instance; try berries and pineapple.
Tropical Sorbet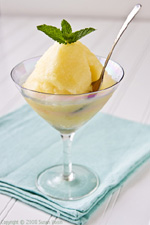 3 peaches (peeled and cubed)
˝ cup pineapple (chunks)
˝ cup of Simple Syrup (see below) or ˝ cup
Agave sweetener
1 ˝ Tablespoons frozen orange juice concentrate
Combine the peaches, pineapple, orange juice and syrup in a blender or food processor, and puree until smooth.
Pour the mixture into an ice cream maker and freeze according to instructions. Store sorbet in an air tight container in the freezer. Letting the sorbet set in the freezer for a couple of hours makes it even better. Serves: 4
Simple Syrup
Simple syrup is half water and half sugar. Dissolve the sugar in hot water and allow the syrup to cool before using in the recipes.
Watermelon Sorbet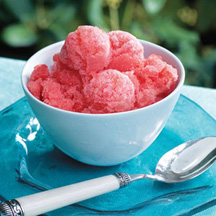 ˝ cup of sugar
4 Tablespoons lemon juice
3 Tablespoons grenadine syrup
3 pounds of seedless watermelon
˝ cup Simple Syrup (see below) or
Agave sweetener
In a medium sauce pan, bring the syrup, sugar, lemon juice and grenadine syrup to a boil. Let set while you cut the watermelon in small chunks and puree. Strain through a fine strainer or cheese cloth into a large bowl. Add the slightly cooled syrup mixture and mix well. Cover and freeze 3 to 4 hours. It will break up easily with a fork or spoon.
Simple Syrup
Simple syrup is half water and half sugar. Dissolve the sugar in hot water and allow the syrup to cool before using in the recipes.
---
If you have any additional tips that you'd like to add, please post them on the
Cook'n Club Forum
(if you're a
Cook'n Club Member
)...or e-mail them to
Dan@dvo.com
.
---
Join the Cook'n Club!An unbeatable value with exclusive benefits for members only.
Enjoy articles like this and many other benefits when you join the Cook'n Club.
---