As you prepare for your Easter feast and other spring gatherings, you may be tempted to buy some flowers and throw them in a vase for a beautiful and easy centerpiece.
While flowers are beautiful, within a couple of days they will start to wilt, and then they'll end up in the garbage. Why not try something new with an edible centerpiece, which can be taken home and actually eaten by you or a guest afterwards?
Basket of Fruit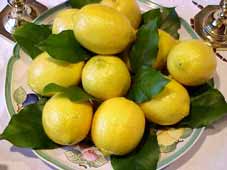 The easiest edible centerpiece has got to be a basket of fruit. While this sounds very ordinary, by adding different sizes, shapes, colors, and even textures of fruit, it makes for a very interesting and eye-catching display.
Oranges, lemons, limes, and red, green, and yellow apples are all basics. Adding a pineapple or kiwi will add some texture to the mix, and a star fruit will adds the wow factor. You can throw in any other fruits you have around as well, as long as they won't get smashed in the basket.
Vase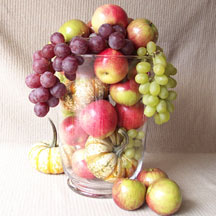 Another easy centerpiece choice is to get a square or cylindrical glass vase, and then fill it with one kind of a fruit. A tall cylinder is beautiful filled with lemons, or a small square may look wonderful either filled with cranberries, or with just enough to float on top. Tie a contrasting wide ribbon around the outside, and have a different fruit at each table.
Tea Lights
Lots of centerpieces can be made using produce and tea lights. Cut the bottom off of an artichoke to provide a flat base, then pry the leaves apart just enough to slip a tea light inside. Many other fruits and vegetables can be cut to receive a tea light, either by hand or with a tool called the Candle Carver, which cuts a hole just right for a tea light into an apple, a mini pumpkin, or a pear.
If you'll have small children or too much wind at your party, you can even buy battery-operated tea lights that turn on and off, but still have the flickering light of a candle for the same effect. Three of these produce tea lights evenly spaced on a long rectangular dish will give you a simple but fun centerpiece.
Fruit Bouquet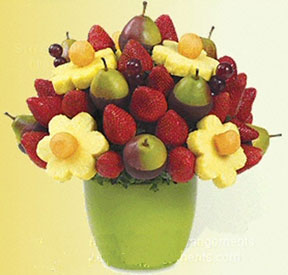 Finally, for the truly ambitious, there are centerpiece bouquets with "flowers" made from fruits or vegetables. Half-inch slices of melon or pineapple can be cut into flower shapes with a cookie cutter, then stuck on a skewer with a grape or melon ball in the middle.
Mix these flowers in with strawberries skewered stem-side first, lines of grapes on skewers, and even honeydew cut to look like leaves for a beautiful bouquet. For vegetables, try radish roses, lines of green or black olives, cherry or grape tomatoes, mini bell peppers, carrots, broccoli, and cauliflower in your arrangement.
Zucchini and other squash can be cut into ½" slices and then cut into flower shapes with a cookie cutter, and asparagus spears, celery stalks, and sprigs of parsley can fill in the center to make it look like a true custom floral arrangement.
No matter how simple or advanced you decide to go with your next edible centerpiece, you can be sure that your guests will be impressed, and enjoy the decorations in more ways than one!
calli@dvo.com
---
* DVO welcomes your kitchen hints and cooking or nutrition questions! Email us and we'll post your hints and Q/A's in upcoming newsletters! *