Skip the kit and rely on your own creativity to decorate eggs this Easter. There are so many everyday household items that turn ordinary Easter egg dying into an exciting family activity.
I've put together a list of some "out of the box" ways to color an egg. Gather up the little chickies, some hard-boiled eggs, and plenty of paper towels for this Family Fun Time!
Rubber Band Egg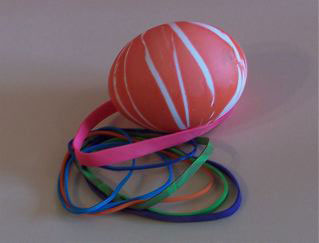 Wrap rubber bands around a hard-boiled egg before dipping it in dye. Remove bands to reveal white stripes. For more color, dip the egg in a different color after bands are removed.
Marbleized Egg
Add a little vegetable oil to the vinegar dye solution and quickly swirl an egg through it.
Melted Crayon Egg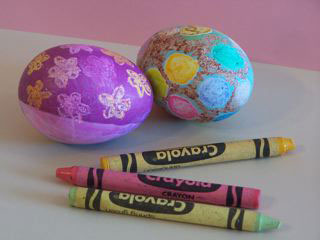 This activity is best done with older children, as the eggs need to be warm for the crayon to melt. Remove hard-boiled eggs from water while still warm; use a napkin or paper towel to help hold the hot egg. The heat from the egg will melt the crayon as you draw your design on the eggshell. After crayon has cooled you can dip into dye to cover any white left on the egg. Most crayon colors will show through the dye. For extra shimmer use glitter or metallic crayons.
Snazzy Sticker Eggs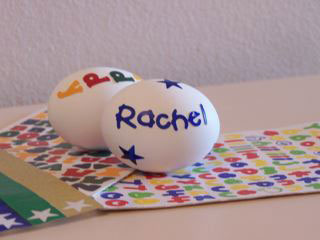 Cover egg with stickers of different shapes and sizes. Letter stickers make it easy to personalize your Easter eggs. Also try, stars, hearts, flowers, and other simple shapes.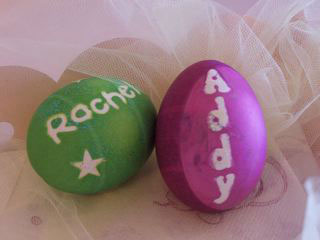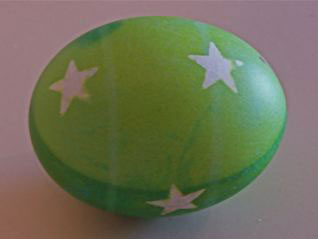 Dip egg in dye until desired color is absorbed. Wipe with paper towel and remove stickers to reveal your original egg design.
Salty Swirl Egg
Make colored salt by adding a drop of food coloring to a small jar of salt and shake it up. Layer several salt colors in a swirl pattern on a plate. Brush entire egg with white non-toxic glue and roll it in the salt.
Tape Design Egg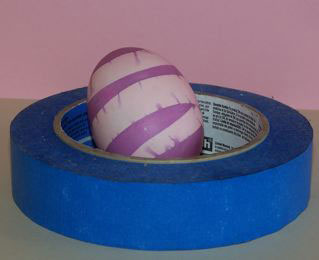 Use scotch tape or painters tape to wrap up an egg with a striped or plaid design. Dip in dye. Remove tape to reveal stripes.
Making your own Dye
is very simple and inexpensive as well. Here is the recipe that I use.
Easter Egg Dye
1 cup warm water
1 Tablespoon food coloring
1 teaspoon white vinegar
Submerge eggs until desired color; remove and dry eggs in an empty egg carton or with paper towels.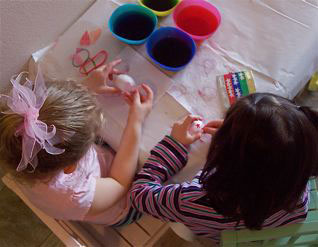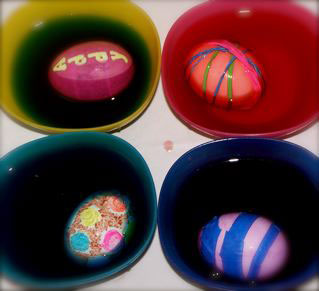 ---
Join the Cook'n Club!An unbeatable value with exclusive benefits for members only.
Enjoy articles like this and many other benefits when you join the Cook'n Club.
---