When the weather turns warm and the snow finally melts, it is always nice to look toward spring and think of lighter fare. The stews and hearty meals that are so comforting in winter are suddenly replaced by a craving for fruits and vegetables, and dessert is no exception.
Suddenly, light and easy is what we want, maybe so we can still have time to go out after dinner and enjoy the last few rays of sun in the longer, warmer days. So here are a few easy and fun spring dessert ideas to get you started; but remember, the possibilities are only limited by your imagination!
Quick & Easy Fruity Cake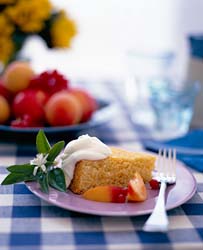 One of my favorite warm-weather recipes also happens to be one of the easiest. To begin, choose any flavor of cake mix. Next, choose a can of soda (but not diet soda). I like to get cola for a chocolate cake mix, and a lemon-lime, strawberry, grape, or orange soda for a white or yellow cake mix. Mix 10 ounces of the soda in with the cake mix, then bake according to the directions on the package. Thatís it. No eggs, no oil, no measuring cups. Just a can of soda and a cake mix, for a delicious, light, fruity cake.
The best part about the cake above is that the topping is just as easy! Simply mix an 8-ounce container of whipped cream with a 3-ounce package of Jell-o in a flavor similar to the flavor you used for the cake. Mix them together, and then spread on the cake for a very light and tasty ďfrosting.Ē As an alternative, you can just put a dollop of plain whipped cream on each piece of cake, then garnish with fresh or canned fruit, like strawberries, bananas, or mandarin oranges. Yum!
Fruit Pizza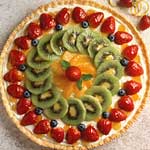 Another favorite warm-weather recipe (especially for the kids) is fruit pizza. Begin with a package of your favorite sugar cookie dough, which is then spread onto an ungreased pizza pan or cookie sheet, and baked according to package directions. While that is baking, blend one package cream cheese (at room temperature), 1/3 cup sugar, and Ĺ teaspoon vanilla.
Once the cookie has cooled, spread the cream cheese mixture evenly over the top, and then add your choice of canned or fresh fruits as toppings. The result is not only a tasty treat, but it can be an artistic masterpiece as well!
With many fresh fruits coming into season, smoothies are also a natural dessert choice. Buy your favorite fruits fresh, or just clean out the produce drawer in the fridge. You can really add any fresh, frozen, or canned fruits that sound good. (If youíre really sneaky and careful about the combinations you make, you may even be able to add a vegetable or two without the kids even knowing!) Throw them all in a blender, and then pour them into cups and enjoy! You can also use leftover smoothie mix to make small popsicles, perfect for a portable treat to take on an after-dinner walk around the neighborhood.
These spring desserts are just a beginning, but there are plenty of other easy, fun, and fruity ideas out there, which will get dessert out of the way, and get you outside to enjoy the sun and the end of winterís long hibernation. Now letís get outside and enjoy!
calli@dvo.com
---
If you have any additional tips that you'd like to add, please post them on the
Cook'n Club Forum
(if you're a
Cook'n Club Member
)...or e-mail them to
Dan@dvo.com
.
---
Join the Cook'n Club!An unbeatable value with exclusive benefits for members only.
Enjoy articles like this and many other benefits when you join the Cook'n Club.
---