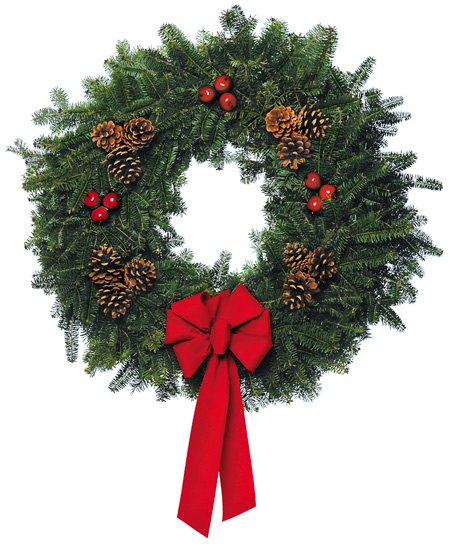 Christmas is all about the kids and anyone who has seen their sparkling little eyes so full of excitement will say that it is all summed up in that wonderful look of excitement. I wish I could have captured the look in my sonís eyes last night as we drove through a neighborhood looking at Christmas lights. He was just in Heaven. The excitement, anticipation, and joy were nearly exploding that little three-year-old and you could see it all through his gorgeous brown eyes. I imagine by the time the 25th gets here I will be exhausted from the amount of energy and excitement rushing through this house, but my kids just canít help it. They create it, love it, and share it and it is impossible to stop the spread of this excitement.
I learned when my oldest reached that age that I could love it and entertain it or let him absolutely wear me out with his energy and awe. What better place to foster it than in the kitchen? Getting your kids and grandkids in the kitchen is such a wonderful way to share with them (and donít worry, they share plenty back!). You get to show them your love for cooking and the holidays. You get to chat and laugh together as you create as you teach them valuable skills. The best part is, they donít notice that you are teaching them so they canít fight it!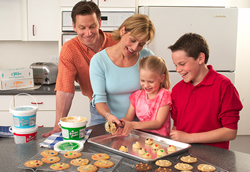 I think the greatest blessing of time spent together cooking is the feeling of family and love we create. The sharing of stories and the time to just catch up with one another are absolutely irreplaceable. There are other wonderful benefits as well. This gives you the chance to teach them about proper hygiene in the kitchen. One night my son (5) was sitting up to the counter talking to me as I prepared dinner. He finally stopped what he was saying and said, ďMom, you wash your hands a lot. Are you sure you arenít going to wash the skin right off?Ē I laughed and then explained to him why hand washing is important. That little three minute giggle has now created a great habit. He always washed his hands before he helps me prepare food. He then washes after he touches things and before he eats dinner. If I had just told him to do so you can bet I would still be nagging him, but he learned it in real like, and in the kitchen, and it stuck with him!
This time together also has so many wonderful learning opportunities like learning to deal with fractions. A Ĺ cup of this and a ľ teaspoon of that, this exposes children to real-life application of all those things we keep promising they will need to know later! This is the perfect classroom for teaching them to love healthy food and love preparing food for others. They are also more likely to try new things if they helped prepare them. This is the place they will learn to care for their families and isnít it wonderful that you get to be the teacher?
Different children and different age levels mean different abilities, but there is always something they can do. My kids are still too young to be trusted with knives, but they are great at stirring, setting the table, snacking (isnít that part of cooking?), and helping me gather and measure ingredients. In fact, my oldest asked for an apron this year for Christmas! This list will help you get a better idea of what your little ones can help with.
Two-year-olds
are learning to use the large muscles in their arms. They will enjoy activities such as:
scrubbing vegetables and fruits

wiping tables

dipping vegetables and fruits

tearing lettuce and salad greens

breaking bread for stuffing

snapping fresh beans

Three-year-olds are learning to use their hands. Try activities such as:

pouring liquids into a batter

mixing muffin batter

shaking a milk drink

spreading peanut butter on firm bread (This may be messy!)

kneading bread dough

Four- and five-year-olds are learning to control smaller muscles in their fingers. Offer them experiences such as:

rolling bananas in cereal for a snack

juicing oranges, lemons, and limes

mashing soft fruits and vegetables

measuring dry and liquid ingredients

grinding cooked meat for a meat spread

beating eggs with an eggbeater

IMPORTANT POINTS TO REMEMBER

1. Good cooks of all ages always wash their hands before cooking.
2. Tell children to wait until the dish is done before sampling it. This will help prevent illness.
3. Expect spills and messes.
4. Children have short attention spans. Give them quick, simple jobs, and give instructions one at a time.
5. Children get excited and forget. Repeat directions as often as needed.
6. Young cooks need constant supervision.
7. Give children jobs to help with cleanup.

I have written about this in the past, but wanted to mention it again because I believe there is no better than Christmas to share this time together. With so much cooking to be done and so many wonderful treats to play with, I hope you will gather up your kids and your grandchildren and make a family affair out of cooking this holiday season. Here are some recipes and craft ideas that are a perfect place to start!

Chocolate Peppermint Spoons

2 cups white chocolate chips
10-15 drops peppermint candy flavoring
ĺ cup peppermint candies
35 to 45 heavy-duty plastic spoons
2 teaspoons solid shortening (optional)
2 large cookie sheets
waxed paper
quart-sized food storage bag
glass 1 cup measuring cup

Cover the cookie sheets with waxed paper.
Unwrap and place peppermint candies in food storage bag. Crush the candies with rolling pin. Place crushed candy in a medium size bowl.

Place one cup of white chocolate chips in glass measuring cup. Microwave chocolate chips at 50% power for 1 minute. Stir the chips gently. Continue microwaving at 50% power, stirring every 30 seconds, until chocolate is melted and smooth. Important Note: Do Not over-heat the chocolate.

Add 5 or 6 peppermint candy drops to each cup of chocolate and mix thoroughly. Important Note: If you wish to thin the chocolate simply stir in thoroughly 1 teaspoon solid shortening per cup of chocolate chips.

Dip plastic spoons in melted chocolate to cover the bowl of the spoon. Important Note: If the chocolate thickens in the measuring cup, return it to the microwave for 30 seconds at 50% power. Stir gently. Immediately press the chocolate covered spoon into the crushed peppermint candy, holding the spoon at a diagonal.

Place the spoon on the wax covered cookie sheet and let cool.

Repeat the entire process with second cup of chocolate chips. Let the spoons cool thoroughly before wrapping individually with cellophane paper and a ribbon.
Makes 35 to 45 chocolate coffee spoons.

Christmas Chocolate Kiss Tree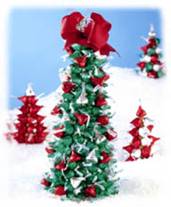 Materials:

One 12" X 4" Styrofoam cone
1 yard red or green 1" wide ribbon
Aluminum foil
Glue (low heat gun, non-toxic craft glue, glue stick or confectioner's glue)
7 (8 oz) bags of HERSHEY KISSģ* Chocolates -- Holiday colors

Instructions:

Cover foam cone with foil.
Decorate cone with green foil HERSHEY KISS™ Chocolates by gluing their flat side against the foil covered cone.
For ornaments, use the remaining silver and red HERSHEY KISSES™.
Insert one end of a toothpick into the side of each HERSHEY KISS™.
Insert other end into the foam cone, filling in the gaps between the green foil HERSHEY KISSESô*.
Completed craft is for decorative purpose only and candy should not be eaten.

Snowman Soup

Assemble in a small zipper food storage bag mix the following ingredients:

1 individual pack hot chocolate mix
3 Hershey's chocolate kisses
10-15 mini-marshmallows
1 small candy cane

Print the poem below. Cut it out and staple the tag to the top of the Snowman Soup baggie.

Snowman Soup

Was told youíve been real good this year. always glad to hear it! With freezing weather drawing near, youíll need to warm the spirit.

So hereís a little Snowman Soup, complete with stirring stick. Add hot water, sip it slow, itís sure to do the trick!

Mexican Layer Dip

1 can bean dip
1 container avocado dip
1 8-ounce package white Monterrey Jack cheese
1 small can chopped black olives
3 green onions finely chopped
1/2 jar taco sauce
1 8-ounce package cheddar cheese

In a round glass pie pan spread bean dip. Spread remaining ingredients one layer at a time in order listed. Refrigerate. Serve with tortilla chips.

Super Spinach Dip

1 cup light mayonaise
1 cup light sour cream
1 package frozen chopped spinach
3 green onions, chopped
1/8 cup lemon juice
1 tablespoon dillweed
1 tablespoon accent spice
1 loaf Hawaiian bread

Mix ingredients together and chill overnight. Hollow out Hawaiian bread and chop up bread for dipping. Spoon dip into hollowed out bread. Serve with raw vegetables and bread for dipping.

Whipped Cranberry Salad

1 pound cranberries
2 cups sugar
1 pound purple seedless grapes
2 Cups pecans, finely chopped
1 pint whipped cream

Grind cranberries, add sugar and refrigerate overnight. Add grapes which have been halved and seeded, nuts, and whipped cream. Refrigerate for two or three hours before serving.

Christmas Pie

2 cups crushed Oreo cookies
1/4 cup butter, melted
1/4 cup green creme de menthe
1 7-ounce jar of marshmallow creme
2 cups whipping cream
maraschino cherries

Mix together cookie crumbs melted butter. Press crumbs to bottom and sides of a 9 inch pie pan. Chill for several hours.
Mix together marshmallow creme and creme de menthe until well blended. Fold in the whipping cream. Pour into pie pan over cookie crust. Top with maraschino cherries.

Kool-Aid Finger Paint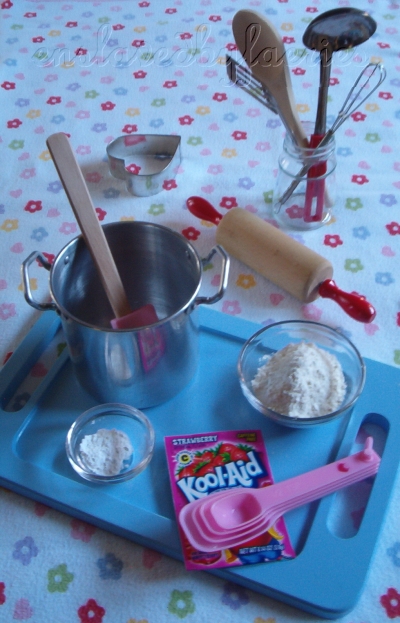 2 cups flour
2 packs unsweetened kool-aid
1/2 cup salt
3 cups boiling water
3T. oil

Mix wet into dry. The kids love the colors this make and it smells good too!.

Personalized Aprons

Aprons (kids and adults can be purchased at craft store)
Embellishments (Paints, beads, sequins, iron-ons Ė whatever you can find to safely attach and make it all yours!)

Take an apron for each of you and make it all your own! This will be fun to make and will get lots of use for years to come as you cook together in your kitchen.





---
* DVO welcomes your kitchen hints and cooking or nutrition questions! Email us and we'll post your hints and Q/A's in upcoming newsletters! *