If you donít find turkey simply irresistible, you have probably never tasted a brined turkey. I thought I had made some mighty great tasting turkey in the past but this year was amazing. I canít even describe the wonderful juicy and flavorful turkey that we enjoyed. My oldest daughter, Shelly, did the honors this year and the turkey was the rave of the meal. It was remarkably moist and full of flavor and the skin was evenly browned. It looked like a picture out of a magazine.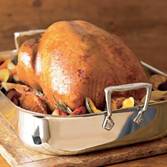 Brining is soaking the turkey in a salt water solution with or without spices. The turkey meat absorbs the liquid during the process. The brining also acts as a cushion for the breast meat so that the turkey cooks evenly. The results are that you will have the tastiest turkey ever! It may seem like it is too much work but it really doesnít take long since most of the preparation work is done the night before.
Brining can be done in a large brining bag or turkey roasting bag (you may want to use two roasting bags for extra strength) or you can use a five gallon bucket. If you donít have room in your refrigerator, you can place the bagged turkeys in a cooler packed with ice and leave it in the garage overnight. We did ours in a large plastic bag and kept it in the refrigerator. I think brining is an overnight process but some people believe that brining for as little 4 hours will do the trick.
There are several stores that sell brining spices or you can make your own. This is just a sample of one of the many recipes for brine.
Turkey Brine
Ĺ gallon of broth
Ĺ gallon of water
Ĺ cup sea salt
1 Tablespoon rosemary
1 Tablespoon sage
1 Tablespoon thyme
Here what you do for the best turkey you will ever eat:
1. In a large pot, combine broth, water, sea salt, rosemary, sage and thyme. Bring these ingredients to a boil, remove from heat and cool to room temperature.
2. Remove any innards from the turkey, wash and dry the turkey. Place turkey and brine in the large turkey bag or bucket and let sit overnight in the refrigerator.
3. Remove the turkey before cooking and drain of excess brine. Rinse the turkey.
4. Cook the turkey as desired. The turkey will cook about 30 minutes faster because of the juices. Water and juices are heat conductors. The drippings from the turkey will make awesome gravy!
Itís obvious that I am sold on the brining process and what it does for the already fabulous turkey. I donít think I will never cook another turkey without brining it first. SCRUMPTIOUS!!
---
Join the Cook'n Club!An unbeatable value with exclusive benefits for members only.
Enjoy articles like this and many other benefits when you join the Cook'n Club.