This month's kitchen remedy may not be real news to many of you, but my husband believes it was life changing for him so I thought I would tell you all about my little secret weapon in the kitchen. This simple little tool has saved me hours in the kitchen over the years, has helped prepare everything from breakfast to dinner to dessert, and, I am fairly sure has traveled miles across my busy little countertops.
So, what is it that I love so much? My pizza cutter! I know, you were expecting something more exciting, or expensive, or fancy…Nope! My pizza cutter is my secret weapon.
I didn't realize that this was such a life-altering tool until I was watching an episode of "John and Kate Plus Eight". It is a reality program on TLC about a couple that had sextuplets after having twins. You can imagine the chaos in that home! One morning they were having french toast and he was slowly cutting it with a fork and a knife. All the kids were screaming and he was frazzled and I just wanted to yell at my tv, "Get out your pizza cutter!!!"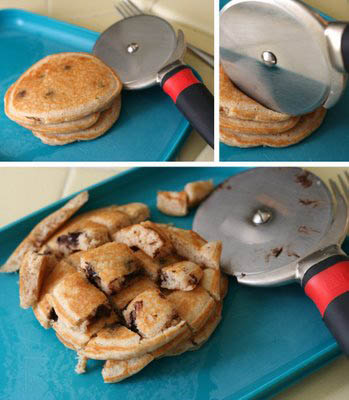 I think I use it for breakfast five times a week! Waffles, pancakes, french toast, Pop Tarts, toast – I cut everything into kid-size portions with that wonderful little tool. At lunch I cut sandwiches into "sail boats", cut crusts off, slice up little veggies. I cut cookie dough, and fruit for fruit bouquets…can you see that the possibilities are endless?
The real moment that gained my husband's great respect was last week when I was trying to whip up some fast breakfast burritos on a busy night. I had some bacon already cooked and I grabbed it out of the fridge. Then I grabbed my pizza cutter and in about 20 seconds I had little chopped pieces perfect for my burritos. My huband is quite a cook himself and he just watched and said, "Genius! You better write about that in the newsletter!" He has often teased me about my need for two pizza cutters and the amount of time they spend in the dishwasher, but suddenly he understood!
It may not change your life, in fact, you may not think it is anywhere near as impressive as my husband did, but next time you need a quick cut, give it a chance. You will find a great time saver has been hiding in your drawer all this time.
---
If you have any additional tips that you'd like to add, please post them on the
Cook'n Club Forum
(if you're a
Cook'n Club Member
)...or e-mail them to
Dan@dvo.com
.
---
Join the Cook'n Club!An unbeatable value with exclusive benefits for members only.
Enjoy articles like this and many other benefits when you join the Cook'n Club.