Easy, Freezy, Cheese Balls
By Bethany Booth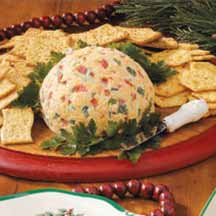 As an appetizer, a snack for drop-in guests, a welcome change for Santa after all of those late night Christmas cookies…is there anyone who doesn't enjoy a good cheese ball?

Cheese balls are simple to make and wrapped tightly in plastic wrap, will keep up to 2 weeks in the fridge or 2 months in the freezer. A box of crackers, a festive plate, and these tasty recipes are all it takes to entertain at a moment's notice.

Traditional Christmas Cheese Ball
Flecks of green onion and red pimento make this traditional cheddar cheese ball a holiday favorite.

1 (8 ounce) package cream cheese, softened
1 package ranch dressing mix
2 cups shredded cheddar cheese
2 green onions, chopped
1 (2 ounce) jar diced pimientos, drained
2 tablespoons butter or margarine, melted
2 teaspoons Worcestershire sauce
¾ cup pecan pieces
Assorted crackers

In a mixing bowl, beat cream cheese until fluffy. Beat in cheddar cheese, ranch dressing mix, onions, pimientos, butter and Worcestershire sauce. Press into a small bowl; smooth top. Cover and refrigerate at least one hour. Remove from the refrigerator 15 minutes before removing from bowl "mold". Top with pecan pieces. Serve with crackers.



Chocolate Chip Cheese Ball
A sweetly non-traditional cheese ball best served with gingersnaps.

1 (8 ounce) package cream cheese, softened
½ cup butter, softened
¼ teaspoon vanilla
¾ cup powdered sugar
2 tablespoons brown sugar
¾ cup miniature semi-sweet chocolate chips
¾ cup graham cracker crumbs

In a mixing bowl, beat the cream cheese, butter and vanilla until fluffy. Gradually add sugars, beat just until combined. Stir in chocolate chips. Cover with plastic wrap and refrigerate for 2 hours. Place cream cheese mixture on a large piece of plastic wrap; shape into a ball. Refrigerate at least on hour. Just before serving, roll cheese ball in graham cracker crumbs. Serve with gingersnaps or graham crackers.

Artichoke and Feta Ball
The classic duo of spinach and artichoke is a crowd-pleaser… as usual!

1 (8 ounce) package cream cheese
1 (10 ounce) box frozen chopped spinach, thawed and squeezed dry
1 (4 ounce) package feta cheese, crumbled
1 (4 ounce) can artichoke hearts, chopped
2 teaspoons minced garlic
1 teaspoon black pepper

In a large bowl, combine the cream cheese, spinach, feta cheese, artichokes, garlic, and pepper. Mix together with clean hands until well blended. Form into a ball or log and set on serving plate. Cover with plastic wrap and refrigerate until ready to serve. Serve with crackers, baked pita or tortilla chips.







---
* DVO welcomes your kitchen hints and cooking or nutrition questions! Email us and we'll post your hints and Q/A's in upcoming newsletters! *