Bring The South To Your Next Cookout
By Calli Rhoades
The weather is warming and who isnít ready for a good old cookout? And nobody does a cookout quite like our friends from the south. The fried chicken, the fresh lemonade, the pies, oh the list just goes on and on. If you are tired of taking the same potato salad and jello to every cookout you attend, then takes this challenge to bring the south to your next cookout!

To insure that you are well prepared for any food assignment, or to supply them all at your own shindig we are going to cover the whole list. For beverages try a sweetened iced tea or a delicious lemonade like this to start things off right.

Southern Summertime Lemonade recipe



2 fresh lemons (about 1/3 cup juice)
3/4 cup granulated sugar
1 quart water
Sprigs of mint
Ice cubes

Squeeze lemons; add sugar, water and mint. Shake well and refrigerate for flavors to mellow (1/2 to 6 hours).

Pour over ice cubes and serve.

This will make 4 large glasses. If desired, a few strips of lemon peel may be added at the beginning for a more intense flavor.


After everybody has cooled off with that wonderful lemonade we can get started on the good stuff. Grab a plate and fill it up because these recipes are going to have your mouth watering! You canít have a cookout without some great meat so you could always precook fried chicken (I wouldnít even tell if you bought it on the way!) or try this amazing recipe for ribs!
Southern Grilled Barbecued Ribs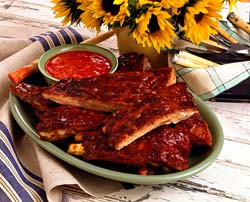 4 pounds baby back pork ribs
2/3 cup water
1/3 cup red wine vinegar
1 cup ketchup
1 cup water
1/2 cup cider vinegar
1/3 cup Worcestershire sauce
1/4 cup prepared mustard
4 tablespoons butter
1/2 cup packed brown sugar
1 teaspoon hot pepper sauce
1/8 teaspoon salt

1. Preheat oven to 350 degrees F (175 degrees C). Place ribs in two 10x15 inch roasting pans. Pour water and red wine vinegar into a bowl, and stir. Pour diluted vinegar over ribs and cover with foil. Bake in the preheated oven for 45 minutes. Baste the ribs with their juices halfway through cooking.

2. In a medium saucepan, mix together ketchup, water, vinegar, Worcestershire sauce, mustard, butter, brown sugar, hot pepper sauce, and salt; bring to a boil. Reduce heat to low, cover, and simmer barbeque sauce for 1 hour.

3. Preheat grill for medium heat.

4. Lightly oil preheated grill. Transfer ribs from the oven to the grill, discarding cooking liquid. Grill over medium heat for 15 minutes, turning ribs once. Baste ribs generously with barbeque sauce, and grill 8 minutes. Turn ribs, baste again with barbeque sauce, and grill 8 minutes.



Now for those perfect side dishes. There are so many to choose from, so here be go. You canít have a southern cookout without baked beans so be sure those are included. Watermelon is another must-have, You can slice it up and eat it off the rind or add it to a fruit salad Ė just make sure you donít forget it! The same thing goes for the cornbread. To really step it up try one of these recipes for Cajun Corn or Southern Potato Salad.

Cajun Corn

4 ears fresh sweet corn, in their husks

Butter:
1 teaspoon Hungarian paprika
1/2 teaspoon onion powder
1/2 teaspoon kosher salt
1/4 teaspoon dried thyme
1/4 teaspoon dried oregano
1/8-1/4 teaspoon cayenne
4 tablespoons unsalted butter, softened

1. Soak the ears of corn in cold water for at least 30 minutes.
2. If necessary, use a weight to keep the ears of corn submerged in the water.
3. Drain.
4. While the corn is soaking, make the butter: Mix together the paprika and next 5 ingredients; add in the butter and mash it with the back of a fork, then stir to distribute the seasonings throughout.
5. Pull back the husks on each ear of corn, leaving them attached at the stem.
6. Remove and discard the corn silk.
7. Spread about 1 tablespoon of the seasoned butter evenly over the kernels of each ear of corn.
8. Fold the husks back over the kernels and use a string or thin strip of husk to tie them at the top.
9. Grill the corn over direct medium heat for about 25-30 minutes or until the kernels are tender (turn 3 or 4 times during gilling time).
10. Don't worry if the husks brown or burn.
11. Take corn from the grill.
12. When cool enough to handle, carefully pull the husks back and cut them off with a knife.
13. Serve warm.



Southern Potato Salad

4 potatoes
4 eggs
1/2 stalk celery, chopped
1/4 cup sweet relish
1 clove garlic, minced
2 tablespoons prepared mustard
1/2 cup mayonnaise
salt and pepper to taste

1. Bring a large pot of salted water to a boil. Add potatoes and cook until tender but still firm, about 15 minutes; drain and chop.
2. Place eggs in a saucepan and cover with cold water. Bring water to a boil; cover, remove from heat, and let eggs stand in hot water for 10 to 12 minutes. Remove from hot water; peel and chop.
3. In a large bowl, combine the potatoes, eggs, celery, sweet relish, garlic, mustard, mayonnaise and salt and pepper. Gently mix together and serve warm.



And now, what you have all been waiting forÖdessert! A wonderful pie of course! Whether you prefer pecan pie or fruit pie there are thousands of wonderful traditional southern pie recipes out there. Try this one for a great, crowd-pleasing apple pie.

Straight From The South Apple Pie

6 cups thinly sliced peeled tart apples
1 tablespoon lemon juice
1/2 cup granulated sugar
1/4 cup all-purpose flour
1/4 cup packed brown sugar
1/2 teaspoon ground cinnamon
1/4 teaspoon ground nutmeg
Dash ground cloves
1 recipe Pastry for Double-Crust Pie (see below)
1 tablespoon butter or margarine
Shredded cheddar cheese (optional)
Milk (optional)

1. In a large mixing bowl toss apples with lemon juice. Combine granulated sugar, flour, brown sugar, cinnamon, nutmeg, and cloves. Add to apples and toss until apples are coated. Set apple mixture aside.
2. Prepare Pastry for Double-Crust Pie. Divide dough in half. Form each half into a ball. On a lightly floured surface, roll out 1 ball of dough into a 12-inch circle. Ease pastry into a 9-inch pie plate.
3. Transfer apple mixture to pastry-lined pie plate. Dot with butter or margarine. Trim pastry even with pie plate. For top crust, roll out remaining dough. Cut slits in top crust. Place top crust on the filling. Seal and flute the edge. Brush with milk, if desired.
4. To prevent overbrowning, cover the edge of the pie with foil. Bake in a 375 degree F oven for 25 minutes. Remove foil; bake for 20 to 25 minutes more or until the top is golden brown and apples are tender. Serve warm with cheddar cheese, if desired. Makes 6 to 8 servings.
5. Pastry for Double-Crust Pie:
6. Stir together 2 1/4 cups all-purpose flour and 3/4 teaspoon salt. Using a pastry blender, cut in 2/3 cup shortening until pieces are pea size. Sprinkle 1 tablespoon cold water over part of the mixture; gently toss with a fork. Push moistened dough to the side of the bowl. Repeat, using 1 tablespoon cold water at a time, until all the dough is moistened (6 to 8 tablespoons water total).
7. Make-Ahead Tip: Up to seven days ahead, prepare pastry; roll into rounds. Stack between waxed paper on a baking sheet. Wrap, seal, label, and freeze. Thaw at room temperature before using. Pastry also may be refrigerated for up to three days

Whether you are just trying to add variety to the next cookout you are invited to or showing a whole new spread at your next event these recipes will be sure to please any guest! So this year change things up a bit and bring some of the south to your picnic table.



calli@dvo.com



---
* DVO welcomes your kitchen hints and cooking or nutrition questions! Email us and we'll post your hints and Q/A's in upcoming newsletters! *