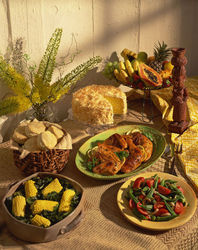 Every part of the world is known for specific food types and cooking styles, and the United States takes that even further with regional specialties that go far beyond American recipes to define a whole way of life, and a nearly religious experience for some. Good old "southern cooking" is at the heart of these lifestyle menus.
There are several specialties that combine to create this vast array of legendary foods. To make a little more sense of it all for those of us that might not be as experienced as others lets define a few of the cooking styles and flavors that make up "southern cooking".
Creole and Cajun cuisine
Southern Louisiana is home to these types of cuisine. The history of Creole is deeply rooted in southern Louisiana and centered on New Orleans while Cajun cuisine on Acadiana in southwestern Louisiana.
Both share influences of traditional cuisine of France with greater use of rice mixed with local Louisiana resources as well as African imports such as okra.
The settlers of this area had access to many native coastal animals such as crawfish, crab, oysters, shrimp, and fish. Fruits such as figs, plums and grapes were also grown in the region. Pecans and peanuts were grown in the region, providing an alternative protein source. As with any region, the availability of certain foods makes these foods an easy addition to the cuisine and really created the signature tastes of these two cuisines.
Cajun cuisine includes influence from Acadia in Canada. Rice became a staple food as it could be used to stretch out a meal to feed a large family or group. We still see that influence as many Cajun dishes are served over a bed of rice. Corn is also a staple in Cajun cooking.
In addition, Acadian families were introduced to vegetables such as okra, which is a key ingredient in gumbos and etouffe, as well as many other Cajun and Creole dishes.
Southeastern Louisiana, on the other hand, was heavily influenced by France, Spain and Latin America. The region maintained many of the culinary traditions as well as a strong trade with France well into the 19th century. This allowed deep rooted tradition in cooking that still runs deep.
Lowcountry cuisine
Lowcountry cuisine has its roots in the costal Carolinas and Georgia. Ot shares many of the same food resources as the Upper Gulf Coast--fish, shrimp, oysters, rice, and okra. Not surprisingly, it also displays some similarities to Creole and Cajun cuisines.
Appalachian Mountain cuisine
Just as Creole and Cajun cuisines are largely products of local availability or foods, the traditional cuisine served in the Appalachian Mountains was very strongly dictated by availability of foods. Harsh travel conditions made it nearly impossible to keep things like seafood and imported goods a part of the major diet.
As a result, diets were almost meatless, except for wild game, especially during winter months. Pigs were raised and the meat cured, but the meat was most often used as flavoring rather then a main course.
Cornbread was eaten regularly since corn grew well locally. As flour became available, biscuits and johnny cakes became more popular. Salt was available, notably from Saltville, Virginia, but until black pepper appeared, few other seasonings were used. Corn whiskey, milk, and water were available from the farm, but things like coffee, sugar, and tea were all slower to become available.
Berries and apples are grown here and home canning as a great tradition in the region. Dried pinto beans are a major staple food during the winter months. Typically they are served in a simple soup called soup beans. Kieffer pears were available and along with apples were used to make pear butter and apple butter. Also popular was any available fruit, bread and butter pickles, pickled beets, and chow-chow. Tomatoes were canned in large numbers. Along with sausage gravy, tomato gravy, a roux thinned with tomatoes, was very popular.
Traditional Southern dishes
An example of a traditional Southern meal is deep fried chicken, field peas, turnip or collard greens, cornbread, sweet tea and a dessert that could be a pie (sweet potato, pecan and peach are traditional southern pies), or a cobbler (peach, blackberry or mixed berry are traditional cobblers).
Some other foods commonly associated with the South are mint juleps, pecan pie, country ham, chicken (or country) fried steak, grits, buttermilk biscuits, especially with gravy or sorghum, pimento cheese, sweet tea, pit barbecue, catfish, fried green tomatoes, cornbread, bread pudding, fried chicken, okra, butter beans, pinto beans, "greens", and black eyed peas. A common snack food, in season, is boiled peanuts.
So, for those of us that may be new (or at least not as seasoned as some) in Southern cuisine I hope this served as a helpful crash course. Whatever your personal taste this wonderful region of the U.S. has provided an incredible array of flavors and exciting foods.
The traditions are deep rooted and the love of this food keeps it a lifestyle for many. I hope you will try something new and enjoy what it has to offer!
calli@dvo.com
---
If you have any additional tips that you'd like to add, please post them on the
Cook'n Club Forum
(if you're a
Cook'n Club Member
)...or e-mail them to
Dan@dvo.com
.
---
Join the Cook'n Club!An unbeatable value with exclusive benefits for members only.
Enjoy articles like this and many other benefits when you join the Cook'n Club.
---