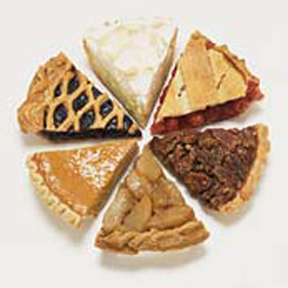 Need a few appetizing desserts to top off the Thanksgiving feast? There's no need to waste time with complicated piecrusts. These effortless pie recipes are as easy as pie.
Blender Pumpkin Pie
This blender pie is so baker-friendly it makes its own crust as it bakes!
2 eggs
1-12 oz. can evaporated milk
1-15 oz. can pumpkin
3/4 C. sugar
1/2 C. biscuit mix
2 T. butter, melted
2 1/2 tsp. pumpkin pie spice (cinnamon, nutmeg, allspice, and cloves)
1 tsp. vanilla
Put all ingredients in blender. Cover and process until smooth. Fill a 9" pie plate.
Bake at 350 degrees for 50-55 minutes or until a knife inserted in the center comes out clean. Serve with vanilla bean ice cream or whipped cream topping.
Chocolate Mousse Freezer Pie
This frozen chocolate treat can be made in the morning and then kept in the freezer to be enjoyed after dinner. The best part is the delicious cookie-crumb crust.
2 cups finely crushed Oreo cookies
1/4 cup butter or margarine, melted
1 (6 ounce) package semi-sweet chocolate chips, melted
1 (14 ounce) sweetened-condensed milk
1 teaspoon vanilla
1 cup whipping cream, stiffly whipped
Combine cookie crumbs and butter; press on bottom and up side to rim of lightly buttered 9-inch pie plate. Chill.
In large mixing bowl, beat melted chocolate with condensed milk and vanilla until well blended. Chill 10 to 15 minutes.
Fold in whipped cream. Pour into prepared crust.
Freeze 6 hours or until firm.
Garnish with extra whipped cream and chocolate shavings. Freeze leftovers.
If you are a peanut butter and chocolate fan, try replacing 1 cup of Oreo cookies with 1 cup of Nutter Butter sandwich cookies.
Crust-free Cranberry Pie
Sweet and tart, this pie bakes up so beautifully there is no need for a crust. It is scrumptious served with ice cream or whipped cream.
1 cup all-purpose flour
1 cup white sugar
1/4 teaspoon salt
2 cups cranberries (fresh or frozen)
1/2 cup chopped walnuts
1/2 cup butter, melted
2 eggs
1 teaspoon almond extract
Preheat oven to 350 degrees. Grease one 9-inch pie pan.
Combine the flour, sugar, and salt. Stir in the cranberries and the walnuts, and toss to coat. Stir in the butter, beaten eggs, and almond extract. If you are using frozen cranberries, the mixture will be very thick.
Spread the batter into the prepared pan.
Bake at 350 degrees for 40 minutes, or until a knife inserted in the center comes out clean. Serve warm with whipped cream or ice cream.
---
If you have any additional tips that you'd like to add, please post them on the
Cook'n Club Forum
(if you're a
Cook'n Club Member
)...or e-mail them to
Dan@dvo.com
.
---
Join the Cook'n Club!An unbeatable value with exclusive benefits for members only.
Enjoy articles like this and many other benefits when you join the Cook'n Club.