Homemade Bread Dilemma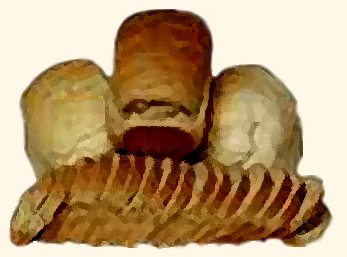 I have a question about making bread that I can't find an answer to. When I make loaves by hand, I roll them up jelly-roll fashion as, I think, most people do. However, when the loaf is cooked, the bread has big holes where the folds were in the roll. I roll it as tight as possible, stretching the dough as I roll, but to no avail. I also had this problem, though much exaggerated, when making cinnamon raisin bread that had cinnamon and sugar generously sprinkled on before rolling. These loaves didn't even make a pretense at staying together. Can you help?
Thank you, Karis Mills
---
Hi Karis,


I love your name! Now to your question!

I have that problem sometimes, too. It seems that if flour is added during the shaping process, my loaves would separate right at the jelly-roll seams when baked. Now, instead of flour, I just grease the counter-top and my hands with a light coat of shortening. In my simple mind, I think this helps keep the bread dough moist enough so that when it cooks it sticks and melds together; when I used flour, it was usually so dry that I don't think the gluten strands could hold onto each other, thus causing separation.

If that doesn't work, try just shaping the loaves free-form. Some of the best loaves I've seen were shaped that way. Also, be sure to punch out as much of the air as possible. Those air bubbles can wreak havoc on a loaf trying to hold itself together at the seams.

For more info on bread-baking, check out my articles and trouble-shooting guide at the links below.

Good luck - Desi @ DVO

Table Talk article in our January 2003 newsletter.

Kitchen Remedy article in our January 2003 newsletter.
---
Email your thoughts to us. Tell us about you and your family, and send us a picture. We'd love to hear from you...and who knows...perhaps you will be the star of the next newsletter!