No More Boring White Sauce!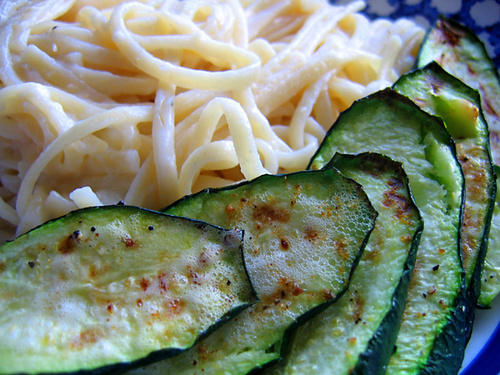 ---
Hey Dan...

How is the kid doing? I have one coming in two months!! EEKS!! I do all the cooking in my house, and I am always on a budget (I am only 25, aren't we all at that age?) I cooked boiled white potatoes, baked chicken with a shake and bake recipe, and I tried to make a cheese sauce with the same seasoning and some parmesan, but it came out way too thick. The flavor was what I wanted but it stuck to the top of my mouth. I added some sour cream, but it didn't help much...Any ideas on how to spruce up a bland meal and not have it stick to the roof of your mouth?

HELP!! Thanks

Jeffrey Peirce
---
Hi Jeffrey,
Congrats on your little one arriving in 2 months!! Countdown is beginning, I'm sure.
For a cheese sauce, I think nothing flavors better than salt and pepper. However, since that can get a little boring sometimes, you can create many wonderful sauces with the basic white sauce recipe, cheese is optional.
The following comes from an article on sauces. You can find the entire article (including a recipe for white sauce if you don't have one) in our September 2003 newsletter.
Best wishes!
Dan
P.S. - Just glance at the possibilities listed below for transforming ho-hum white sauce into gourmet béchamel! With seasonings available in your spice cupboard, you'll find you can create clever combinations to serve atop any entrée or side dish. The following amounts are for flavoring 1 cup white sauce.
---
Brown Almond Sauce: Add 1/4 cup chopped blanched almonds to the melted butter before adding the flour. Stir and cook until almonds turn golden brown. Serve with poultry or fish.
Cheese Sauce: Stir 1/4 teaspoon dry mustard and 1/2 cup shredded Cheddar into completed white sauce. Heat over low heat, stirring constantly, until cheese melts and sauce is smooth. Serve over vegetables, rice, pasta or egg dishes.
Creamed Egg Sauce: Hard boil 2 eggs. Peel, chop, and add to completed sauce. Serve over salmon or hot biscuits.
Cucumber Sauce: To the completed sauce, stir in 1/2 cup shredded cucumber and a dash or cayenne pepper. Simmer 5 minutes, stirring frequently. Serve over salmon and other fish.
Curry Cream Sauce: Combine 1 teaspoon curry powder and 1/4 teaspoon ground ginger to the flour before adding to the butter. Season to taste with onion powder and paprika. Serve with chicken, lamb, shrimp, or rice.
Dill Sauce: Combine 1 teaspoon fresh, minced dill (or 1/2 teaspoon dried dill weed) and a dash of nutmeg with the flour before adding to the melted butter. Serve with fish.
Horseradish Sauce: Stir 1/3 cup horseradish and 1/4 teaspoon dry mustard into completed sauce. Heat through. Sprinkle with paprika. Serve over beef, lamb, or ham.
Lemon Mustard Sauce: In a small bowl, beat 1 egg yolk, 1-1/2 tablespoons lemon juice, 1 tablespoon Dijon mustard and cayenne pepper to taste. Stir 1/4 cup of the prepared sauce into the egg mixture. Pour the mixture back into the pan and cook over medium heat, stirring constantly, until sauce thickens (about 3-5 minutes). Do not boil. Serve over eggs, fish, or steamed vegetables.
Onion or Garlic Sauce: Add 3 tablespoons chopped onion (or 3 cloves minced garlic) to the butter before adding the flour. Sauté for 3 minutes or until tender. Complete sauce as instructed. To make the sauce richer, whisk about 1/2 cup sauce into 1 slightly beaten egg yolk. Pour the egg mixture back into the pan. Add 2 tablespoons lemon juice and the fold in 1/2 cup heavy cream, whipped to stiff peaks. Season to taste with salt and pepper. Serve with beef or steamed vegetables.
---
Email your thoughts to us. Tell us about you and your family, and send us a picture. We'd love to hear from you...and who knows...perhaps you will be the star of the next newsletter!