You Can't Beat Garden Tomatoes

---
There is something wonderful about fresh garden tomatoes. Store bought tomatoes just don't have the same flavor as tomatoes right off the vine. Maybe they taste so good because of all the work that went into growing them. My husband and daughter like to sit in the garden with a salt and pepper shaker and make a whole meal out of tomatoes.
Two of my favorite things to do with garden tomatoes are salsa and soup. They have both become a standard in our home when the tomatoes are ripe.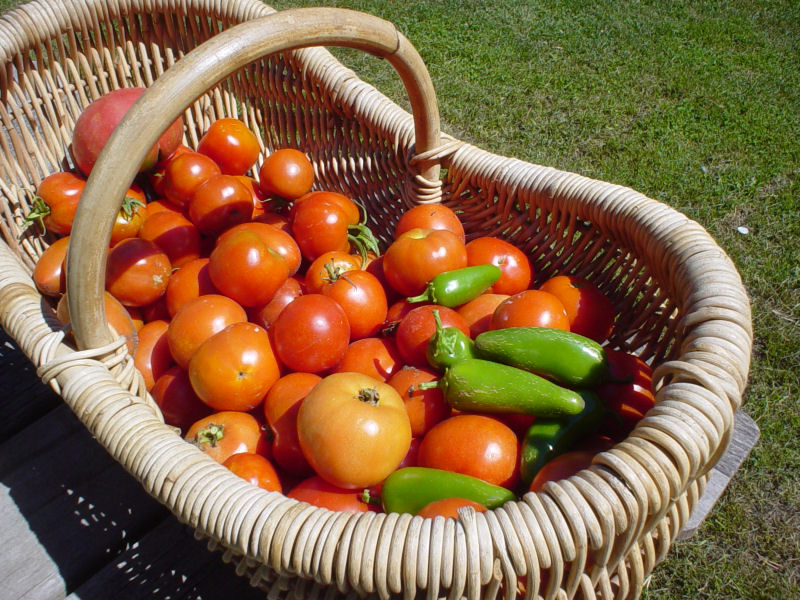 ---
Garden Tomato Salsa
1/2 sweet onion, chopped
1/2 green bell pepper, coarsely chopped
1/4 cup fresh cilantro
5 slices pickled jalapeno peppers, or to taste
6 fresh tomatoes, quartered
2 teaspoons olive oil
2 teaspoons red wine vinegar
1/2 lime, juiced
1/8 teaspoon salt
Place onion, bell pepper, cilantro, and jalapeno peppers into a food processor. Pulse until finely chopped. Add tomatoes, and pulse just a few times until the tomatoes are coarsely chopped. Transfer to a bowl with a tight-fitting lid.
In a separate bowl, whisk together olive oil, red wine vinegar, lime juice, and salt.
Pour dressing over tomatoes, and stir well. Cover, and refrigerate for at least 1 hour.

---
Garden Fresh Tomato Soup
4 cups chopped fresh tomatoes
1 slice onion
4 whole cloves
2 cups chicken broth
2 tablespoons butter
2 tablespoons all-purpose flour
1 teaspoon salt
2 teaspoons white sugar, or to taste
In a stockpot, over medium heat, combine the tomatoes, onion, cloves and chicken broth. Bring to a boil, and gently boil for about 20 minutes to blend all of the flavors. Remove from heat and run the mixture through a food mill into a large bowl, or pan. Discard any stuff left over in the food mill.
In the now empty stockpot, melt the butter over medium heat. Stir in the flour to make a roux, cooking until the roux is a medium brown. Gradually whisk in a bit of the tomato mixture, so that no lumps form, then stir in the rest. Season with sugar and salt, and adjust to taste.
---
* DVO welcomes your kitchen hints and cooking or nutrition questions! Email us and we'll post your hints and Q/A's in upcoming newsletters! *