Homemade Apple Sauce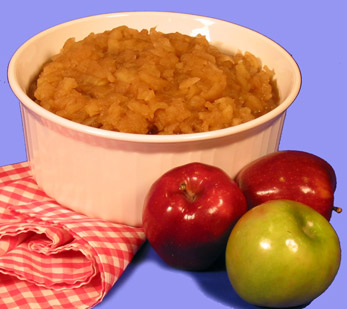 ---
With fall right around the corner it is time to get ready for fresh apples. If you pick them yourself or buy them from a farmers market, there is just something different about them than the ones you buy in the grocery store. One great thing to do with apples is make applesauce.
Applesauce is such a simple thing to make, and so very versatile, that it makes store-bought versions seem pale and insipid in comparison! Serve homemade applesauce at any meal, mixed into morning oatmeal or other hot cereals, baked into quick breads, and of course with ham and pork.
Experiment with different varieties of apples for the optimum flavor combination. Add pears or cranberries to vary the taste profile. Puree for a smooth texture, or mash with a light touch for a chunky sauce. Sweeten to your palate and play with spices like star anise, allspice, Chinese 5 spice, ginger and vanilla to develop an applesauce that is uniquely your own.
Basic Applesauce - (makes about 6 cups)
15 medium apples (4-1/2 to 5 pounds - my favorite apples are Gravensteins - Granny Smith and Jonathans are also good for sauce)
1/4 cup water
1/4 to 1/2 cup sugar (depending on sweetness of the apples) zest and juice of half a lemon
1/2 teaspoon cinnamon (optional)
Peel apples if desired. (If you use organic apples and puree them with a food mill, there is no need to peel the apples before cooking. The peels of red apples give applesauce a lovely pink color.)
Halve and core the apples and cut each half into 4 slices.
Put the sliced apples into a pot that has a heavy bottom. Add water, sugar, lemon zest and juice and cinnamon.
Cover the pot and place it over low to medium heat, stirring occasionally, until the apples are very tender, about 30 to 35 minutes. Make sure the heat is low at first or the apples may burn. As they begin to lose their juice, turn the heat up a bit. 5. If you peeled the apples first, simply mash them with a potato masher. If you didn't peel first, press apples through a food mill to remove the peels. 6. Store applesauce in a covered container in the fridge for a week or two.
---
* DVO welcomes your kitchen hints and cooking or nutrition questions! Email us and we'll post your hints and Q/A's in upcoming newsletters! *