Emergency Bread
(This article was written by Dennis Weaver. He is the general manager of The Prepared Pantry, in Rigby, Idaho, which produces baking mixes that are designed and packaged for emergency preparedness. You can obtain more information or a free catalog at www.preparedpantry.com.)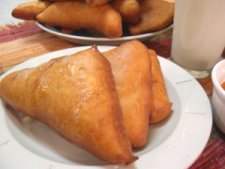 Last week, a winter storm roared through our state. Winds reached nearly 70 miles per hour. Roads were suddenly closed, including the interstate highways, and hundreds of motorists were stranded. Icy snow pelted everything, clinging to power lines and poles. Soon there was a 250 mile swath of power outages. As the storm blew past, temperatures dropped toward zero.

At our home, we broke out lanterns and extra bedding. With the outside conditions, with the road closures, and the wide swath of the storm, we knew we could be without power for days. We began to think about how prepared we really were for an emergency. We had lots of food in the pantry--including bread mixes and flour to make bread, the staple of our lives--but no stove or oven.

What would you eat if you were stranded without power? It could happen; it does happen. A natural disaster-a blizzard, tornado, or hurricane--, a breakdown in the delivery system as the Northeast experienced last year, or a terrorist strike against the infrastructure could leave you without power. Don't despair. You probably have a source of heat-a camp stove, a barbecue grill, a fireplace, or a place to build a fire. (Never use a grill or camp stove in an enclosed room.) In most cases, you can find a way to eat your daily bread--even without an oven. Consider these methods:

Fry it. Those indulgent raised, glazed donuts are fried. You can do the same with any dough. Serve them hot with a little butter and syrup or honey and you will have a treat that the kids will clamor for. Simply mix the bread as instructed and let the dough rise. Instead of forming loaves, roll or pat the dough on a counter until it is about ½-inch thick. Slice the dough into wedges, separate the pieces, and let them rise again until twice as thick. Heat a pan of oil until hot and slip the dough pieces two or three at a time into the hot oil. When one side is browned, turn the dough over. If the oil is hot enough, the dough should absorb little oil. When done, drain the fried bread on paper towels.

Pictured above is bread dough fried into five-inch wedges then slathered in butter and served with apricot preserves.

Boil it. Bagels are boiled. Actually, they are boiled and then baked. You can form your dough into a bagel shape, let it rise, and then gently slip it into a large pan of rapidly boiling water. Once the bread is firm, remove it with a slotted spoon, let dry, and then fry each side in a lightly greased skillet to create a crust and finish the cooking. The advantage in this technique is that you can use much less oil (and less fat in your diet) than deep frying.

Bake it. That's right-even without an oven you can bake bread. It's easy to do on most outdoor grills. (Be prepared. Always have extra propane or charcoal on hand but never use an outdoor grill indoors.) Baking requires heat from both above and below. If your grill doesn't have a cover, use a bucket or tub to capture the heat and direct it down onto the bread. (You want as much heat coming from above as below.) If the bread is too close to the heat-as it likely is-stick something under the bread pan to raise it-a couple empty tuna cans, an old brick-almost anything will work as long as it doesn't insulate the bread from the heat.

You can use a Dutch oven to bake bread. Line the Dutch oven with aluminum foil and place the dough on the foil or lay the bread pan in the Dutch oven. Stack hot coals on the lid.

You can bake bread over an open fire with two pans. Two pie tins will work for biscuits. To form a makeshift oven, put a large heavy pan on warm coals, a lid or baking sheet over the top, and stack on hot coals. Remember, you are trying to get as much heat from above as below. (The tendency is to have too much heat at the bottom.)

A good place to practice these techniques is on your next camping trip. You can become a real pro at making unconventional bread while enjoying the treat of fresh bread while camping. We guarantee that fresh bread over an open fire will make you the envy of the campground.

With a little imagination, you can bake almost any bread without an oven. If you want to try frying bread, most white or wheat bread recipes are nearly foolproof. Even without the emergency, it won't go to waste.

We can hope that disaster never strikes but it's nice to know that those bread fixin's in the pantry can be used in an emergency.



Do you have something to share with other Cook'n readers? Email your thoughts to us. Tell us about you and your family, and send us a picture. We'd love to hear from you...and who knows...perhaps you will be the star of the next newsletter!