HomeCook'n
2012
Collection
by DVO Enterprises
---
---
NOTE: You must have Cook'n installed to use this download!
---
Every Recipe from each issue of the 2012 HomeCook'n Newsletter
Every Article from the 2012 HomeCook'n Newsletters
Photos, Videos and Jokes Included
New Cook'n Theme included
Save time and money by using Cook'n
HomeCook'n
2012
Collection
A Collection of Recipes, Articles, Photos and Videos from the HomeCook'n Monthly Newsletter for all of 2012
There's nothing quite like the HomeCook'n Newsletter...with those funny jokes, great recipes, helpful cooking tips, and interesting reader comments. Now you can import the content from each issue of 2012 into Cook'n! We compiled each issue of the newsletter into a cookbook that you can import into Cook'n and keep forever! The HomeCook'n 2012 Collection includes all of the content from our popular monthly newsletter with its time-saving tips, beautiful food photos and great recipes in one easy place in your Cook'n Recipe Organizer!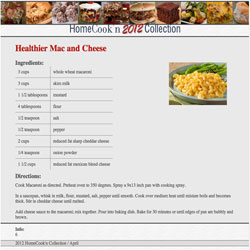 New HomeCook'n Theme Included
---
Recipe Included with this Cookbook:
Add a Little Love to Lunch
Apple Pie Caramel Apples
Applesauce Muffins
Baked Oatmeal
Baked Potato Soup For a Crowd
Banana Cake with Strawberries
Basic Fondue Recipe
Basil Mayo Spread
Beautiful Bubbly Berries
Black Bean Brownies
BLT Special Sauce
Breakfast Brunch Casserole
Broccoli Beef Stir-Fry
Cally's Omelet
Caramel Fondue
Champagne Shrimp with Angel Hair Pasta
Chicken Pesto Sandwiches
Chicken Stir-Fry
Chicken Wraps with California Dried Plums and Apples
Chile Verde Burritos
Chili Lime Prawns
Chipotle Spread
Chocolate Fondue
Chocolate Lip Gloss
Chocolate Orange Body Scrub
Chocolate Scented Play Dough
Choose-Your-Favorite Hot Cocoa Mix
Christmas Fig Cookies
Cider Cheese Fondue
Cinnamon Roll Cookies
Clam Chowder
Cocoa for a Crowd
COOK'N SOCIAL: Chocolate Recipes from Our Facebook Fans
COOK'N SOCIAL: Facebook Recipe Contest
Cottage Cheese Pancakes
Cowboy Eggs
Cream of Wild Rice Soup
Creamy Artichoke Soup
Creamy Fruit Dip
Creamy Hot Cocoa Mix in a Jar
Crock Pot Caramel Sauce
Crockpot Chicken Noodle Soup
Cry Baby Cookies
Disneyland's Blue Bayou Monte Cristo Sandwich
Dried Fig Tart
Eagle Brand Chocolate Fondue
Easy Chocolate Covered Strawberries
Easy Dinner Rolls
Easy Hot Cocoa Mix
Edible Chocolate Play Dough
Fabulous White Pizza Sauce
FEATURED RECIPE: Easy Ranch Cheeseball
FEATURED RECIPE: 7-Up Chicken
FEATURED RECIPE: Agave Apple Crisp
FEATURED RECIPE: Apple Fruit Rolls
FEATURED RECIPE: Awesome! Hawaiian Haystacks
FEATURED RECIPE: Baked Sweet Potatoes with Ginger and Honey
FEATURED RECIPE: BBQ Chicken Pizza
FEATURED RECIPE: Breakfast Casserole
FEATURED RECIPE: Breakfast In A Cookie
FEATURED RECIPE: Breakfast Quiches to Go
FEATURED RECIPE: Butterscotch Pecan Cookies in a Jar
FEATURED RECIPE: Cherry Chocolate Cake
FEATURED RECIPE: Chewy Granola Bars
FEATURED RECIPE: Chicken Pot Pie Soup
FEATURED RECIPE: Chicken Salad Sandwich
FEATURED RECIPE: Chili Parmesan Corn on the Cob
FEATURED RECIPE: Chiptole Turkey Club
FEATURED RECIPE: Chocolate Chip Banana Spice Bread
FEATURED RECIPE: Chocolate Eclair Cake
FEATURED RECIPE: Chocolate Pizza
FEATURED RECIPE: Chunky Vegetable Casserole
FEATURED RECIPE: Cranberry, Feta, and Walnut Salad
FEATURED RECIPE: Crowd-Pleasing Cocoa Recipe
FEATURED RECIPE: Crunchy Ham and Cheese Wrap
FEATURED RECIPE: Easy Pudding Trifle
FEATURED RECIPE: Graham Cracker Houses
FEATURED RECIPE: Grilled Fruit Kabobs
FEATURED RECIPE: Holiday Candy Cookie Mix in a Jar
FEATURED RECIPE: Homemade Healthy Cream Cheese
FEATURED RECIPE: Homemade Pizza Sauce
FEATURED RECIPE: Hot Chocolate on a Stick
FEATURED RECIPE: Hot Fudge Pudding Cake
FEATURED RECIPE: Infallible Chocolate Chip Cake
FEATURED RECIPE: Loaded Egg Salad Sandwiches
FEATURED RECIPE: Lunch Box Muffins
FEATURED RECIPE: Mac 'N Cheese for Many
FEATURED RECIPE: Made From Scratch Fruit Pizza
FEATURED RECIPE: Manti Turkey
FEATURED RECIPE: Peanut Butter Play Dough
FEATURED RECIPE: Pizza Muffins
FEATURED RECIPE: Pulled Pork Sandwiches
FEATURED RECIPE: Queso for a Crowd
FEATURED RECIPE: Simply Sinful Oatmeal
FEATURED RECIPE: Smoked Mozzarella and Pesto Sandwich
FEATURED RECIPE: Strawberry-Lemon Marmalade
FEATURED RECIPE: Super Easy Clam Chowder
FEATURED RECIPE: Surprising Celery Sandwich
FEATURED RECIPE: Tostada Pizza
FEATURED RECIPE: Vegetable Garden Soup
FEATURED RECIPE: Veggie Shepherd's Pie
FEATURED RECIPE: Whole Wheat Mac & Cheese
FEATURED RECIPES: German Pancakes
Fig And Port Flan
Fig and Walnut Crostata
Fig Oatmeal Cookies
Fig Preserves
Five Ingredient Peanut Butter Cookies
Four Cheese Fondue
Freezer Breakfast Burritos
Ginger Cookies
Going Green Breakfast Smoothie
Gourmet Alfredo White Pizza
Greens Tossed With Sherry Fig Vinaigrette
Grilled Pizza
Grilled Pizza Margarita
HEADLINE ARTICLE: Bear Claw Popcorn
HEADLINE RECIPE: BBQ Chicken Shish Kabobs
HEADLINE RECIPE: Breakfast Casserole
HEADLINE RECIPE: Chicken Salad Sandwich
HEADLINE RECIPE: Chocolate Zucchini Cake
HEADLINE RECIPE: Easy Pudding Trifle
HEADLINE RECIPE: Lisa's No Bake Cookies
HEADLINE RECIPE: Pulled Pork Sandwiches
HEADLINE RECIPE: Stuffed Crust Pizza
HEADLINE RECIPE: Sugar Cookies
HEADLINE RECIPE: Tortellini Soup
HEADLINE RECIPE: Vanilla Spinach Protein Smoothie
Healthier Brownies
Healthier Mac and Cheese
Healthy Coconut Oatmeal
Heart Shaped Pizza
Hearty Vegetable Lasagna
Homemade Finger Paints
Homemade Kool Aid Taffy
Honey Mustard Dill Spread
Hot Cocoa Mix
Jello Worms
JEST FOR FUN: 35 Things I've Learned From Movies
JEST FOR FUN: A Lot Has Changed
JEST FOR FUN: Abbott and Costello 2012!
JEST FOR FUN: Area 51
JEST FOR FUN: Best Duct Tape Story Ever
JEST FOR FUN: Confusion at the Grocery Store
JEST FOR FUN: Cooking Corn on the Cob...
JEST FOR FUN: Dieting
JEST FOR FUN: Do All Dogs Go To Heaven
JEST FOR FUN: Door Mats
JEST FOR FUN: DVO Office Personnel
JEST FOR FUN: Early Morning Jogging
JEST FOR FUN: Eating in Colors
JEST FOR FUN: Elf on the Shelf
JEST FOR FUN: Flying On A Wing And A Prayer
JEST FOR FUN: Great Photos!
JEST FOR FUN: Holy Water
JEST FOR FUN: Hospitals
JEST FOR FUN: Just Laughs...
JEST FOR FUN: Kitten vs. Two Scary Things
JEST FOR FUN: Lost Keys
JEST FOR FUN: New Secret Service Rules
JEST FOR FUN: Paraprosdokians
JEST FOR FUN: Public Service Announcement
JEST FOR FUN: Puns for Intelligent People
JEST FOR FUN: Seriously?
JEST FOR FUN: Settling Differences
JEST FOR FUN: Shot My First Turkey
JEST FOR FUN: Side Effects
JEST FOR FUN: SNL iPhone5
JEST FOR FUN: Social Media Explained
JEST FOR FUN: The Difference Between Men and Women
JEST FOR FUN: The Power of Words
JEST FOR FUN: Virgin Mary Comes Alive
JEST FOR FUN: When Death Star Fell
JEST FOR FUN: White Lie Cake
JEST FOR FUN: World's Worst Xmas Cards
Juicy Oven Baked Chicken
Junior's Ruben Sandwich
KITCHEN REMEDY: "Sweet"-en Up Their Valentine's!
KITCHEN REMEDY: 2 Quick & Healthy Ways to Use Your Noodle!
KITCHEN REMEDY: 3 Tips for Perfect Grilling
KITCHEN REMEDY: 5 Extreme Pumpkin Carving Tools
KITCHEN REMEDY: An "Old Fashioned" Ice Tray
KITCHEN REMEDY: Breakfast, It's a Wrap!
KITCHEN REMEDY: Cookbook Reviews - Soup's On!
KITCHEN REMEDY: Cookbook Reviews: "Taste of Broadway" and Guilt-Free Goodies!
KITCHEN REMEDY: Cookbook Reviews: Slow cookers and peanut butter
KITCHEN REMEDY: Cottage Cheese, a Healthy Way to Jump-Start Your Day!
KITCHEN REMEDY: Decode Nutrition Facts Like a Pro
KITCHEN REMEDY: Dinner's Unsung Heroes
KITCHEN REMEDY: Extraordinary Eggs To Jump Start Your Day
KITCHEN REMEDY: Family Fun-Due Ideas
KITCHEN REMEDY: Food Figuring Guide, How Much is Enough?
KITCHEN REMEDY: Hitting the Road
KITCHEN REMEDY: How Those Taste Buds Workin' For Ya?
KITCHEN REMEDY: Lickety Split Meals and Smoothie Power
KITCHEN REMEDY: Lunch in a Thermos
KITCHEN REMEDY: Recipe for Kitchen Success
KITCHEN REMEDY: Six Alternate Uses For BBQ Sauce
KITCHEN REMEDY: Stretch Your Dollar by Lunching on Leftovers
KITCHEN REMEDY: Texas BBQ Sauce
KITCHEN REMEDY: The Best Pizza Stone is the Cheapest Pizza Stone
KITCHEN REMEDY: Using your Grill, a Starter Guide
Lamingtons
Lemon Herb Marinade
Light Apple Dessert
Light Lemon Cupcakes
Lucky Charms Marshmallow Bars
Mango Brie Cheese Sandwich
Minestrone Soup for a Crowd
Mummy Dogs
Mushroom and Peppers Linguine
No Fail Pizza Crust
Oven Roasted Sweet Potatoes
Pasta with Baby Broccoli and Beans
PB & J Flowers
PB&J Oatmeal
Peanut Butter Granola Wraps
Permanti Bros. Pittsburgh Style Sandwich
Philly Cheese Steak Pizza
Pizza Dough
Pizza on the Grill
Praline-Chocolate Body Scrub
Pumpkin Spice Hot Chocolate
Rainbow Sugar Cookies
Raspberry Chocolate Thumbprints
Red Bell Pepper Soup
REFRIGERATOR DOOR: 1920's
REFRIGERATOR DOOR: Boiling Tip
REFRIGERATOR DOOR: Brownies with Agave
REFRIGERATOR DOOR: Cake Cracking Fixes
REFRIGERATOR DOOR: Champagne Shrimp with Pasta
REFRIGERATOR DOOR: Coming Together
REFRIGERATOR DOOR: Cook'n Patron
REFRIGERATOR DOOR: Cord Holder Idea
REFRIGERATOR DOOR: Dairy Free Recipes
REFRIGERATOR DOOR: Don't Add Garlic Too Early!
REFRIGERATOR DOOR: Dry Powdered Buttermilk
REFRIGERATOR DOOR: Easy White Fudge
REFRIGERATOR DOOR: For Our International Friends
REFRIGERATOR DOOR: Freeze Dried vs. Dehydrated
REFRIGERATOR DOOR: Honey Glazed Turkey
REFRIGERATOR DOOR: Natural Sugar Substitutes
REFRIGERATOR DOOR: Oats in Rolls
REFRIGERATOR DOOR: Recipes for Fig Newtons
REFRIGERATOR DOOR: Secrets from the White House Kitchen
REFRIGERATOR DOOR: Silicone Temperature
REFRIGERATOR DOOR: The Perfect Loaf
REFRIGERATOR DOOR: Toaster Grilled Cheese
REFRIGERATOR DOOR: Wrapping Paper Tip
REFRIGERATOR DOOR: Yogurt in the Kitchen
Roasted Cauliflower
Roasted Root Vegetables
Rosemary Potato Pizza
Saucy Roast Beef Sandwiches
Shopping Lists in Cook'n
Simple Sugar Cookies
Spicy Pizza Dough
Spider Cubes
Spinach Omelet
Spiral Noodles with Greens and Beans
Steak Salad
Steak Sandwich Supreme
Super Easy Chicken Chili
Super Simple Olive Oil Marinade
TABLE TALK: 10 Reasons to Eat Chocolate!
TABLE TALK: 5 BBQ Smoking Essentials
TABLE TALK: 5 Sandwich Sabotaging Myths
TABLE TALK: 5 Tips for the Perfect Pizza
TABLE TALK: 7 Simple Steps to Keep You on the Slim Down
TABLE TALK: Another Way to Eat Vegetables...Japanese Style
TABLE TALK: Baking Better For Your Body
TABLE TALK: Because of Chocolate
TABLE TALK: Beyond Couponing
TABLE TALK: Brunching: The Keys to a Simple but Fun Breakfast Gathering
TABLE TALK: Caramel Apple Crazy
TABLE TALK: Cookbook Reviews: 101 Things To Do With...
TABLE TALK: Crusty BBQ Grill Steak
TABLE TALK: Deliciously Down Under
TABLE TALK: Do It Yourself Lazy Lunches
TABLE TALK: Foods That Beat the Heat
TABLE TALK: Four Fantastic Light Desserts
TABLE TALK: Frightfully Fun Family Meal
TABLE TALK: Girls at the Grill
TABLE TALK: Grilled Goodness
TABLE TALK: Healthier Homestyle Cooking
TABLE TALK: Hot Chocolate Mix
TABLE TALK: How to Make or Break a Sandwich
TABLE TALK: Just "Fon-Do" It!
TABLE TALK: Mallow Madness
TABLE TALK: Meal in Minutes Gifts
TABLE TALK: Not Your Grandma's Oatmeal
TABLE TALK: Operation Cookie Exchange & Planning Ahead
TABLE TALK: Pampered with Chocolate
TABLE TALK: Pie in a Jar
TABLE TALK: Pizza with Pizzazz
TABLE TALK: Post-Holiday Winter Cheer
TABLE TALK: Refreshing Citrus
TABLE TALK: Secret Sandwich Recipes
TABLE TALK: Six Tricks for Feeding a Crowd
TABLE TALK: Soup For A Swarm
TABLE TALK: Terrifying Halloween Treats
TABLE TALK: The Best of the Rest, From Pinterest Cinnamon Roll Cookies
TABLE TALK: The Gift That Keeps On Giving!
TABLE TALK: The Ripe Time
TABLE TALK: The Three Best Sandwiches Ever
TABLE TALK: Tips and Tricks for Crowd Control
TABLE TALK: When 2+2 Doesn't Equal 4!
TABLE TALK: Winter Warm-Ups
TABLE TALK: Winter Wonderland of Vegetables
TABLE TALK: Wok It Off
TABLE TALK: Wonderful White Pizza
Taco Pita Sandwiches
Taco Pizza
Tempura Batter
Tempura Batter
Tempura Dipping Sauce
The Best Egg Salad Sandwich Ever
The Ultimate Cheese Sandwich
Tombstone Treats
TOP ARTICLE: "Ultimate" Sack Lunches - From the Freezer!
TOP ARTICLE: 12 Tips for Getting Your Fruits and Veggies
TOP ARTICLE: 15 Tips For Sensational Slow Cooking
TOP ARTICLE: 5 Day Meal Plans Video
TOP ARTICLE: 5 Great Gratitude Games!
TOP ARTICLE: Analyze Nutrition with Cook'n
TOP ARTICLE: Avoiding Burnt Pie Crust
TOP ARTICLE: Basic Balancing For Your Lunch Box
TOP ARTICLE: Chocolate Play Dough
TOP ARTICLE: Cook'n 10 Search and Capture
TOP ARTICLE: Cook'n tip
TOP ARTICLE: Cookbook Review: Color Coded Cuisine
TOP ARTICLE: Creative Crock Pot Caramel Apples!
TOP ARTICLE: Customizing Groups in Cook'n
TOP ARTICLE: Dog Shaming
TOP ARTICLE: Doing Your Job with Excellence
TOP ARTICLE: Dress Up Your Veggies
TOP ARTICLE: Food Stain Busters
TOP ARTICLE: Fun, Fresh, Finger Paints!
TOP ARTICLE: Going Green
TOP ARTICLE: Goodbye Mom Joke
TOP ARTICLE: Homemade Hot Chocolate
TOP ARTICLE: Homemade, Kool-Aid, Taffy!
TOP ARTICLE: Keeping Your Kitchen Holiday-Ready!
TOP ARTICLE: Kid-Friendly Cookies for Santa
TOP ARTICLE: Making the Most: Pizza Cutters and Stones
TOP ARTICLE: Mall Maintenance
TOP ARTICLE: Menu Planning
TOP ARTICLE: New Password
TOP ARTICLE: Parent of the Year
TOP ARTICLE: Publish Cookbooks with Cook'n
TOP ARTICLE: Review My Library Demo
TOP ARTICLE: St. Patrick's Day Mischief
TOP ARTICLE: Super Spring Snacks
TOP ARTICLE: Surprising Summer Snacks
TOP ARTICLE: Tasty Turkey All Year Long
TOP ARTICLE: The Guide to Candy Trading
TOP ARTICLE: The Ultimate Cheese Sandwich
TOP ARTICLE: The Wheels of Life
TOP ARTICLE: Thickening Soup
TOP ARTICLE: You'll Never See These Ads Again
Traditional Swiss Cheese Fondue
Tuna Fish Sandwiches
Ultimate BLT
Uncle Bubba's Po' Boy
Virgin Mimosas for a Large Brunch Gathering
White Garlic Pizza Sauce
Witch's Hats
---
Cook'n Is Several Products in One!