HomeCook'n
2011
Collection
by DVO Enterprises
---
---
NOTE: You must have Cook'n installed to use this download!
---
Every Recipe from each issue of the 2011 HomeCook'n Newsletter
Every Article from the 2011 HomeCook'n Newsletters
Photos, Videos and Jokes Included
New Cook'n Theme included
Save time and money by using Cook'n
HomeCook'n
2011
Collection
A Collection of Recipes, Articles, Photos and Videos from the HomeCook'n Monthly Newsletter for all of 2011
There's nothing quite like the HomeCook'n Newsletter...with those funny jokes, great recipes, helpful cooking tips, and interesting reader comments. Now you can import the content from each issue of 2011 into Cook'n! We compiled each issue of the newsletter into a cookbook that you can import into Cook'n and keep forever! The HomeCook'n 2011 Collection includes all of the content from our popular monthly newsletter with its time-saving tips, beautiful food photos and great recipes in one easy place in your Cook'n Recipe Organizer!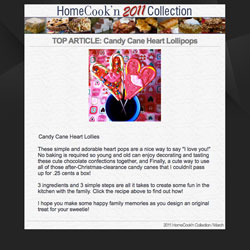 New HomeCook'n Theme Included
---
Recipe Included with this Cookbook:
Agave Chicken Wings
Agave Whole Wheat Bread
Alfajores
Aloha Grilled Chicken and Pineapple Kabobs
Antipasto Salad Sandwiches
Apple Butternut Soup
Apple Cider Syrup
Apple Pizza
Apple-Snickers Salad
Asian Steak Salad
Avocado Salsa
Baja Bean Salad
Baked Chicken and Garden Vegetables
Bite Size Pigs in a Blanket
Black Bean and Corn Salsa
Black Bean Filling
Black Bean Hummus
Blue Cheese Bacon Salad
Bob Talbert's White Chili
Boccaccio Bread
Bratwurst Stew
Bread Pudding
Broccoli Cheese Soup
Brown Oatmeal Bread
Brown Sugar Dip
Candy Cane Heart Lollies
Caribbean Salad
Cauliflower with Cotija Cheese
Cheese Salad Sandwiches
Cheesy Stars
Chicken Chulupus
Chicken Fajita Salad
Chicken Tacos with Cotija Cheese
Chicken Verde Tamales
Chili-Spiked Grilled Corn Rolled in Cotija Cheese
Chilled Avocado Soup
Chilled Tofu Salad
Chinese Almond Cookies
Chocolate Covered Banana Pops
Chocolate Peanut Butter Bars
Chocolate Snow Ice Cream
Chollope
Chopped Greek Salad
Cinnamon Madeleines
Cinnamon-Sugar Grilled Pineapple
Cinnamon-y Hot Cocoa Mix
Citrus Sippers
Clayton Christmas Caramel
Cleansing Bath Scrub
Coconut Curry Chicken Breast
Coconut-Pineapple Paletas
Cook'n for iPad - First Look
Corn Bread Tacos
Costa Vista Chicken
Couldn't Be Better Crockpot Bread
Cranberry Lip Gloss
Cream Cheese and Honey Tortilla Rollup
Creamy Caramel Popcorn
Creamy Parmesan Sauce
Creamy Raspberry Vinaigrette
Crock Pot Apple Butter
Crock-Pot Salsa Chicken
Crusty Boule (gluten free)
Cucumber Honey Eye Nourisher
Cucumber Mexican Salad
Curried Corn On The Cob With Goat Cheese
Deviled Ham Salad Sandwiches
Dunkin Donuts Old-Fashioned Cake Doughnut Sweet and Savory Stuffing
Easy Pavlova
FEATURED RECIPE: Baked Pineapple Chicken
FEATURED RECIPE: Blueberry Limeade Mocktail Margarita
FEATURED RECIPE: Broccoli Salad
FEATURED RECIPE: Butterscotch Carmel Bubble Loaf
FEATURED RECIPE: Caprese Salad
FEATURED RECIPE: Chile Verde Con Puerco
FEATURED RECIPE: Chinese Spinach Toss
FEATURED RECIPE: Conversation Heart Fudge
FEATURED RECIPE: Country Style Green Beans
FEATURED RECIPE: Crazy Good Caramel Sauce
FEATURED RECIPE: Creamy Mac N Cheese
FEATURED RECIPE: Cuban Pork with Pineapple
FEATURED RECIPE: Diabetic Friendly Chili-Cheese Corn Bread
FEATURED RECIPE: Downeast Maine Pumpkin Bread
FEATURED RECIPE: Food Storage Stew
FEATURED RECIPE: Fresh Strawberry Cornmeal Muffins
FEATURED RECIPE: Fried Ice Cream
FEATURED RECIPE: Fudge Stripe Cookie Fruit Salad
FEATURED RECIPE: Grilled Chicken with Spicy Ginger Vinaigrette
FEATURED RECIPE: Insalata caprese
FEATURED RECIPE: Italian Pasta Salad
FEATURED RECIPE: Low Carb Crepes
FEATURED RECIPE: Mexican Wedding Cookies
FEATURED RECIPE: Mid-Summer Italian Bread Salad
FEATURED RECIPE: Monkey Bread
FEATURED RECIPE: Peppermint Divinity
FEATURED RECIPE: Peppermint Ice Cream Pie
FEATURED RECIPE: Perfect Pineapple Pops
FEATURED RECIPE: Pesto with Summer Herbs
FEATURED RECIPE: Pistachio Bread
FEATURED RECIPE: Pumpkin Ginger Cupcakes
FEATURED RECIPE: Pumpkin Spice Cake with Cinnamon Cream Cheese Frosting
FEATURED RECIPE: Slow Cooker Chicken Noodle Soup
FEATURED RECIPE: Summer Orzo Feta Pasta Salad
FEATURED RECIPE: Summer Squash Bread
FEATURED RECIPE: Summer Veggie Tarts
FEATURED RECIPE: Tater Tot Taco Salad
FEATURED RECIPE: Trick Banana Bread
FEATURED RECIPE: Versatile Cream Pie Filling
FEATURED RECIPE: Very Easy Fruit Salad
FEATURED RECIPE: White Castle Copy Cat Burgers
FEATURED RECIPE: White Chocolate Macadamia Nut Cookies
FEATURED RECIPE: White Peach Lemonade
FEATURED RECIPE: Yogurt Yeast Rolls
Fiesta Spanish Rice
Five Spice Chinese Almonds
Fluffy Lemon Frosting
Fluffy Orange Frosting
Fluffy Peanut Butter Dip
Fresh Cream of Tomato Soup
Fresh Green Bean Salad
Fresh Raspberry Butter
Fried Chicken Salad
Fruit Kabobs with Two Dips
Fruit Pizza
Garlic Baked Corn Tortilla Chips
German Hazelnut cake
Gingerbread Cookie Ornaments
Gingerbread Ornaments
Gluten-Free Banana Bread
Gluten-Free Blueberry Pancakes
Gluten-Free Chocolate Brownies
Gluten-Free Trail Mix Snack
Grammie's Frozen Pineapple Buttermilk Sherbet
Grandma's Banana Bread
Grandma's Chicken Noodle Soup
Greek Yogurt Fruit Spread
Grilled Cobb Salad Sandwiches
Grilled Pineapple with Agave Nectar and Coconut Flakes
Grilled Pineapple with Vanilla Ice Cream and Rum Sauce
Grilled Salmon Salad
Grilled Steak Salad
Guacamole
Gumdrop Fudge
Hair Shine
HEADLINE RECIPE: Agave Marshmallows
HEADLINE RECIPE: Chimichanga
HEADLINE RECIPE: Chinese Chicken Salad
HEADLINE RECIPE: Creamsicle Jello Salad
HEADLINE RECIPE: Enchiladas
HEADLINE RECIPE: Jenn's Bars
HEADLINE RECIPE: Oven Processed Homemade Soap
HEADLINE RECIPE: Pineapple Dream Cake
HEADLINE RECIPE: Pumpkin Cake
HEADLINE RECIPE: Taco Soup on Navajo Tacos
HEADLINE RECIPE: The Best of Granolas
HEADLINE RECIPE: Toni's Toffee
Hearty Seeded Bread
Hoisin Sauce Pork Chops
Homemade Nutella
Homemade Pancakes
Homemade Peanut Log Candy
Homemade Vanilla Cupcakes
Hong Kong Sweet and Sour Pork
Hot and Spicy Beef
Hot or Cold Zucchini Soup
Hummus with Habanero pepper
Italian Meatballs
Jackie Kennedy's White House Hot Fruit Dessert
JEST FOR FUN: 98 and No Enemies
JEST FOR FUN: A Cool Act, With a Young Sinatra
JEST FOR FUN: A Little Too Much Fun with Snow
JEST FOR FUN: Beer Commercial
JEST FOR FUN: Blonde Bus Trip
JEST FOR FUN: Boy and Otter
JEST FOR FUN: Bridge to Hawaii
JEST FOR FUN: Bucket Seat
JEST FOR FUN: Camping Laughs
JEST FOR FUN: Christian Comics
JEST FOR FUN: Clever Bus Art
JEST FOR FUN: Don't Even Think About It
JEST FOR FUN: Funny Prank
JEST FOR FUN: Get out of the car!
JEST FOR FUN: Halloween Candy Prank
JEST FOR FUN: Health Care Costs
JEST FOR FUN: Help Me Find My Cat
JEST FOR FUN: How to Impress
JEST FOR FUN: Incredible Half-Time
JEST FOR FUN: Interesting Spaces
JEST FOR FUN: Kid History
JEST FOR FUN: Liberal Logic
JEST FOR FUN: Lips that Touch Liquor
JEST FOR FUN: Little Larry
JEST FOR FUN: Male Logic
JEST FOR FUN: Maxine and Recipes
JEST FOR FUN: Men in Heaven
JEST FOR FUN: Michael Meets Mozart
JEST FOR FUN: Moose Hunting in Maine
JEST FOR FUN: Mule Trading
JEST FOR FUN: My Favorite Animal
JEST FOR FUN: New Dentures
JEST FOR FUN: On the Job Humor
JEST FOR FUN: Police Emergency
JEST FOR FUN: Proof-Reading is a Dying Art
JEST FOR FUN: Skinny Dipping
JEST FOR FUN: St. Luke's Bottle Band
JEST FOR FUN: The Next Generation
JEST FOR FUN: Therapeutic Laughs
JEST FOR FUN: Understanding Southern
JEST FOR FUN: When I Win the Lottery...
JEST FOR FUN: Women Drivers
JEST FOR FUN: You've Got Mail
Juicy Fried Pork Chops
Just Peachy Soup
KITCHEN REMEDY: 10 Kitchen Oopsies You Can Avoid!
KITCHEN REMEDY: 20 Tricks to Make Your Kitchen Life Easier
KITCHEN REMEDY: 6 Silly Tricks You'll Love to Know
KITCHEN REMEDY: Basic Tips and Tricks For Cooking Perfection!
KITCHEN REMEDY: Build a Better Salad
KITCHEN REMEDY: Cook Up A Clean Kitchen
KITCHEN REMEDY: Creative Corn
KITCHEN REMEDY: Crockpot Bread
KITCHEN REMEDY: Cute, Practical, No-Bake Christmas Gifts For Neighbors
KITCHEN REMEDY: Dabbling with Apples
KITCHEN REMEDY: Delightful Dips
KITCHEN REMEDY: For Your Gluten-Intolerant Friends
KITCHEN REMEDY: Four Family Fall Crock-Pot Favorites
KITCHEN REMEDY: Keeping Produce Fresh
KITCHEN REMEDY: Leisure Cooking
KITCHEN REMEDY: Life is Sweet!
KITCHEN REMEDY: Light & Satisfying No-Cook Meals That Please!
KITCHEN REMEDY: Make Your Own Rose Water
KITCHEN REMEDY: Merry Christmas from a Chocoholic
KITCHEN REMEDY: Mmm...Berry Cobblers
KITCHEN REMEDY: MyPlate: New USDA Guidelines
KITCHEN REMEDY: Oatmeal Treasures
KITCHEN REMEDY: Picking Perfect Produce
KITCHEN REMEDY: Pineapple: The Natural Digestive Enzyme
KITCHEN REMEDY: Polenta
KITCHEN REMEDY: Queso Cotija
KITCHEN REMEDY: Quinoa (Keen-Wah)
KITCHEN REMEDY: Santa's Gone Nutty
KITCHEN REMEDY: Sharpest Tool In The...Block!
KITCHEN REMEDY: Soups for Summertime
KITCHEN REMEDY: The Super Bowl: The Best of the Best
KITCHEN REMEDY: This and That
Lebanese Hot Pepper and Walnut Dip
Lemon Meringue Kisses
Macho Nachos
Mango Gazpacho
Maple Vanilla Granola with Dried Blueberries
Marinade Chicken Breast
Marshmallow Dip
Meat Fondue Dip
Melon & Apple Granita
Meringue
Mexican Tortilla Salad with Cotija Cheese and Cilantro-Pepita Dressing
Milk Chocolate Truffles
Mixed Berry with Orange
Mom's Cinnamon Rolls
Mom's Scones
Monster Cookies
Muffaletta
My Favorite Rose Spray
New England Clam Chowder
No Bake Oatmeal cookies
No Weeping Meringue
No-Bake Strawberry Cheesecake Recipe
Oatmeal Foot Scrub
Old Fashion Butterscotch Pie
Old Style Sauce
Orange Fennel Chicken
Orange Julius
Oven Roasted Corn On The Cob
Parmesan Vegetable Salad
Pat Nixon's Meatloaf
Patriotic Punch
Paula Dean's Bacon Wrapped Grilled Corn On The Cob
Pavlova Torte
Pea Salad
Peanut Butter Apple Cinnamon Rollup
Peppermint Honey Feet Treat
Pilgrim's Pride Turkey
Pineapple Coconut Squares
Pineapple Nut Loaf
Pineapple Rice Salad
Pineapple Shrimp Salad
Pink Strawberry Snow Ice Cream
Polenta and Sauce
Pork Chops with Gravy
Pork Satay with Pineapple Sauce
Pre-Wash
Pretzel Sparklers
Pudding Dip
Pumpkin Spice Holiday Nuts
Quinoa Beet Pancakes
Quinoa Breakfast Cereal
Quinoa Pilaf
Rainbow Rounders Cookies
Raspberry Butter (Preserves)
Raspberry Meringue Kisses
Raspberry Peach Cobbler
REFRIGERATOR DOOR: Cake Bite Twist
REFRIGERATOR DOOR: Cake Bite Versatility!
REFRIGERATOR DOOR: Crowd Pleasing Eats
REFRIGERATOR DOOR: Dry Muffins Remedy
REFRIGERATOR DOOR: Enchilada Kudos
REFRIGERATOR DOOR: Feeding a Crowd
REFRIGERATOR DOOR: Frozen Pineapple Buttermilk Sherbet
REFRIGERATOR DOOR: Mini Fruitcakes?
REFRIGERATOR DOOR: Mmm...Cocoa Banana
REFRIGERATOR DOOR: Nutrition: Cooked vs. Uncooked
REFRIGERATOR DOOR: Old Fashioned Ham 'n Beans
REFRIGERATOR DOOR: Orangy Orange Bread
REFRIGERATOR DOOR: Pasta-Beef Cobbler
REFRIGERATOR DOOR: Pavlova and Meringue
REFRIGERATOR DOOR: Quality Sauces
REFRIGERATOR DOOR: Safer Egg Cracking
REFRIGERATOR DOOR: Spicing Up Your Soap
REFRIGERATOR DOOR: Sticky Bread Woes
REFRIGERATOR DOOR: Sugar Myths
REFRIGERATOR DOOR: Sugar-Free Syrup
REFRIGERATOR DOOR: Sweet and Sour?
REFRIGERATOR DOOR: Weekly Newsletter Props
Rigatoni with Red Pepper and Almond
Roasted Roma Tomato Soup
Ronald Reagan's Macaroni and Cheese
Rosalyn's Peanut Butter Pie
Rose Petal Pound Cake
Rose Spray
Russian Tea Cookies
Salt Dough Ornaments
Salt Scrub
Sausage Fondue
Scone Dough
Scottish Shortbread
Shebang Meringue Cookies
Shrimp Dip
Simple Thick Syrup
Simply Delicious Fruit & Dip
Simply Salsa (Beth's Blender Salsa)
Simply Wonderful Grilled Pineapple
Skillet Blackberry Cobbler
Slow Cooker Corn Chowder
Slow Cooker Garlic and Herb Corn on the Cob
Slow Cooker Root Beer Pulled Pork
Slow Cooker Teriyaki Chicken Wings
Smokey Ham and Corn Salad
Snow Frozen Ice Cream
Soup in a Jar
Spicy Beef and Bean Stew
Sputniks
Stained Glass Candy Ornaments
Strawberry Delight Dessert Salad
Strawberry Desert Sauce
Strawberry Pretzel Salad
Strawberry Tossed Salad
Stuffed Artichokes
Summer Salad With Beans And Basil
Sweet and Sour Pork Chops
Sweet and Sour Slaw
Sweet 'N' Spicy Grilled Pineapple
Sweetened Condensed Milk
TABLE TALK: 10 Easy and Inexpensive Christmas Decorations Straight From the Kitchen
TABLE TALK: 4 Ways to Love a Pork Chop
TABLE TALK: A Cut Above
TABLE TALK: A Pot of Soup
TABLE TALK: A Que Hora Es La Cena: "What's for Dinner?"
TABLE TALK: Bee-a-utiful! Honey Beauty Treatments
TABLE TALK: Bread Myth Busters
TABLE TALK: Christmas Around the World: Cookie Style!
TABLE TALK: Dessert Salads
TABLE TALK: Fun Picnic Ideas
TABLE TALK: Gourmet Potatoes
TABLE TALK: Grain and Herb Breads Done Easy
TABLE TALK: Grilled Pineapple Perfection
TABLE TALK: Hare-Brained and Half-Baked!
TABLE TALK: Healthy Mexican Meals
TABLE TALK: Here's the Scoop
TABLE TALK: Hot and Spicy
TABLE TALK: Hot Tamales
TABLE TALK: How to Re-Love Your Leftovers
TABLE TALK: Let Kindness Come with Every Gift
TABLE TALK: Make It Your Main
TABLE TALK: Meringues
TABLE TALK: Mouthwatering Main Course Salads
TABLE TALK: Not Your Everyday Salad
TABLE TALK: Preserving Family Favorites
TABLE TALK: Recipes to Remember
TABLE TALK: Savory Salad Sandwiches
TABLE TALK: Six Tricks for Great Summer Squash
TABLE TALK: Slow Cooking for Summer
TABLE TALK: Strawberry Delights
TABLE TALK: Summer Sides From The Grill
TABLE TALK: Summer's Sweet Abundance
TABLE TALK: Sweeten It Up With Agave
TABLE TALK: Thai Style Pineapple
TABLE TALK: This and That
TABLE TALK: Tour de...Spice Rack!
TABLE TALK: Urban Foil Dinners
TABLE TALK: White Chilies and Chowders
TABLE TALK: White House Favorites
TABLE TALK: Zucchini Houdini
Taco Pizza
Tasty BBQ Corn On The Cob
Tender Swiss Steak
Tenderloin Spiced Gorgonzola and Pine Nut Butter
Teriyaki Strips with Balsamic BBQ Sauce
Thai Fried Rice in a Pineapple
Thai Pineapple Chicken Curry
The Easiest Way to Keep Track of Your Favorite Recipes
The Perfect Baked Potato
The Perfect Mashed Potato
The Perfect Roasted Potatoes
Tilapia Tacos
TOP ARTICLE: 3 Family Friendly Food Gifts
TOP ARTICLE: All-American Party Snacks
TOP ARTICLE: Attitude of Gratitude Games
TOP ARTICLE: Candy Cane Heart Lollipops
TOP ARTICLE: Carve Up Some Pumpkin Fun!
TOP ARTICLE: Citrus-Sippers
TOP ARTICLE: Coconut Pineapple Paletas
TOP ARTICLE: Over the Rainbow Cookies
TOP ARTICLE: Snow-Made Ice Cream
TOP ARTICLE: The Way the Cookie Crumbles
TOP ARTICLE: Tortilla Rollups
Tortilla Pizza Rollup
Tropical Chicken Salad Wrap
Tropical Fruit Salad
Tuna Salad Sandwiches
Turkey Apple and Brie Sandwiches
Turkey or Chicken Noodle Soup
Unbelievable Minestrone Soup
Vanilla Snow Ice Cream
Vegetarian White Chili
White Bean Chowder
White Bean Soup
Whole Wheat Flour Tortillas
Yogurt Dill Dip
---
Cook'n Is Several Products in One!