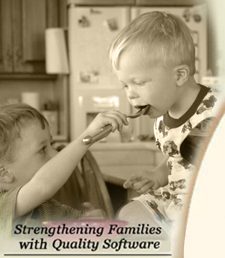 Downloading a DVO Cookbook
When you purchase a download from DVO you will be sent an email with a download link

Click on the download link a window will come up and give you the option to either run or save

Choose "save"
Save the setup file to your desktop.

After the setup file has finished downloading to your Desktop close out of Cook'n.

Then run the setup file.

(if you have Vista right click on the setup file and choose ("run as administrator")

Windows may ask you to allow the program. If it does, click allow and Cook'n setup wizard should start.

Follow the installation directions.

The Cookbook downloaded but is not recognized by my computer
Some browsers have security features which may prevent users from downloading .exe files.
If this happens the file will download but the extension will be stripped or renamed.
This can be fixed by renaming the file back to a .exe (ex betty.exe)
You may have to enable your computer to display extensions. To do this open your "my computer"
select tools > folder options (organize > folder and search options in vista)from the drop down menus. On Vista select Organize > folder and search options.
Then switch to the view tab. Find the 'hide extensions for known file types' and remove the check mark.
click "apply" then "ok". You should now be able to rename the download to a .exe file.

Downloading a recipe from the Newsletter or Archive
When downloading a DVO recipe from our site or newsletters press the download Recipe to Cook'n button.
you will be asked if you want to run or save the download. Choose to save the download.
Save the download to the folder name 'downloads' in your Cook'n folder (example app Path: C:\Cook'n\downloads), Cook'n will know where to find the recipe to automatically add the recipe to your software.
If you save the recipe somewhere else on the computer you will have to manually tell Cook'n where the recipe is.
To do this open Cook'n and select file > import > cookn recipe file
Make a backup if prompted. Then use the import cook'n data window to find and open the saved recipe.

Downloading a Recipe From Other Websites
There are many great recipes all over the internet.
Cook'n will allow you to add these recipes by copy and pasting them into a Cook'n Recipe.


Open cook'n add the recipe name to the cook book and chapter of your choice.
Highlight the recipe you want to add and right click to copy.
Open the recipe you just created and right click in the bottom box and select paste.

To see how this done watch the how to videos about downloading.

If you would like to create a grocery list with this recipe, you must input the ingredients manually.