Great Natural Breads
Made Easy
by Bernice Hunt
---
---
NOTE: You must have Cook'n installed to use this download!
---
Over 100 kitchen-tested recipes and variations
Presents easy-to-follow step-by-step instructions
Provides helpful instructional illustrations
Includes tips and guidelines throughout
Offers useful preparation techniques and baking methods
New Cook'n Theme included
Save time and money by using Cook'n
Great Natural Breads
Made Easy
Who can resist the incomparable aroma and fabulous flavor of freshly baked bread? Called the "staff of life" for good reason, wholesome bread has been a dietary staple throughout the world for thousands of years. Today, although commercial breads contain more healthful natural ingredients than they did a generation ago, they simply cannot compete with the taste and nutritional goodness of a whole grain loaf baked in your own oven. The problem has long been that making bread is too difficult—or so it seemed until now. Written by bread-baking expert Bernice Hunt, Great Natural Breads Made Easy is a simple step-by-step guide that enables anyone to make a spectacular loaf of artisan bread—even if they've never baked before.
Divided into two parts, the book begins with a brief history of bread, followed by a "basics" chapter that contains information on the key ingredients, simple equipment, and helpful techniques for producing perfect loaves every time. What follows next are seven chapters packed with easy-to-follow recipes for a variety of delectable breads. Among the treasure trove of recipes, you will find yeast bread classics like Honey Whole Wheat, Italian Semolina, Sourdough Rye, Jewish Challah, and French-Style Baguettes; sweet yeast bread choices, such as Caramel Rolls, Hot Cross Buns, and a Swedish Tea Ring that is as beautiful as it is delicious; and taste-tempting quick breads and muffins, sensational flatbreads and rolls, and down-home biscuits and turnovers. You'll even discover how easy it is to make chewy bagels and those big, fat, soft pretzels that are popular at carnivals and a trademark of the Pennsylvania Dutch. Rounding out the book is a chapter on luscious dips and spreads to accompany your freshly baked loaves. To further insure bread-making success, Lauren Jarrett's instructional illustrations show exactly how each step is performed.
There is nothing more satisfying than biting into a still-warm-from-the-oven slice of homemade bread. So whether you are a novice baker who has avoided making bread because you thought the process was too difficult, or you are a seasoned bread maker who is looking to expand your repertoire of recipes, it's time to discover the joys of Great Natural Breads Made Easy. Never has bread making been simpler.
About The Author
Bernice Hunt, MS, has always found time to indulge her love of cooking and writing. An author of over seventy books and numerous magazine articles, Bernice began her writing career as an author and editor of children's science books. Between caring for her family and pursuing a busy career, she found herself inventing shortcuts in the kitchen to achieve traditional results without sacrificing taste. Although it is now easier than ever to purchase natural, healthful bread, she still prefers to bake her own for all the pleasures it affords.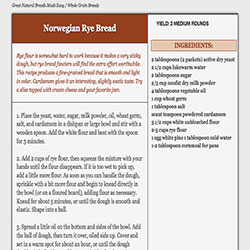 CONTENTS
Introduction
THE BASICS
1. The History of Bread
2. A Loaf of Bread. . . The Basics

THE RECIPES
3. Mostly White Breads
4. Whole Grain Breads
5. Sourdough Breads
6. Sweet Yeast Breads
7. Quick Breads, Biscuits, and Muffins
8. Flatbreads, Rolls, and More
9. Dips and Spreads
Metric Conversion Tables

LIST OF RECIPES
"Foolproof" Sourdough Starter
"Wild Yeast" Sourdough Starter
75 Minute Health Bread
Additional Items
Anadama Bread
Baba Ghanoush
Baking Soda and Baking Powder
Baking the Loaves
Basic Bread-Making Method
Basic Muffins
Basic Sweet Yeast Dough
Basic White Bread
Basic White Bread Ingredients
Bowls
Bread Pans and Baking Sheets
Caramel Rolls (Schnecken)
Caraway Potato Bread
Carrot Bread
Challah
Classic Sourdough Bread
Clotted Cream
Corn Muffins
Corn-Wheat Bread
Cranberry Nut Bread
Cream Cheese and Chives
Cream Cheese and Smoked Salmon (Lox)
Crumb Cake
Cuban Bread
Date Nut Bread
Dinner Rolls
Down-Home Biscuits
Egg Bagels
Eggs
Emergency Procedues and Diagnoses
English Cottage Bread
Equipment
Fat
Flour
Focaccia
French Bread
French Bread-C'est Magnifique!
French-Style Hard Rolls
Fruit and Honey Loaf
Green Bread
Grow Your Own Sprouts
Helpful Tips Before You Begin
High Altitude Baking
Honey Whole Wheat Bread
Hot Cross Buns
Hummus
Irish Soda Bread
It Starts with a Starter
Jam Buns
Kaffee Klatch Bread
Kneading the Dough
Kulich
Lavash

Letting the Dough Rise
Letting the Dough Rise Again
Matzoh
Measuring Cups and Spoons
Milk
Multigrain Bread
Multi-Seed Bread
New York Bagels
Norwegian Rye Bread
Oatmeal Bread
Olive Bread
Olive Oil Dips
Panettone
Peasant Bread
Pideh
Pita
Pizza Crust
Potato-Rye Bread
Preparing the Dough
Pumpernickel Bread
Pumpkin Bread
Punching Down the Dough
Quick Sourdough Bread
Roadside Potato Bread
Roasted Garlic
Rosemary-Olive Oil Bread
Rye-Corn-Potato Bread
Salt and Other Flavor Enhancers
Scones
Scottish Soda Bread
Semolina Bread
Shaping the Loaves
Soft Pretzels
Sourdough Rye Bread
Soy Bread
Sprouted Wheat Bread
Stollen
Storing Bread
Swedish Tea Ring
Sweeteners
Teething Biscuits
Ten-Grain Bread
The Artisan Baker
Time To Begin
Tomato-Basil Bread
Turnovers
Tzatziki
Walnut Bread
Water
Wheat Germ Batter Bread
Wheat-Berry Bread
Wheatena Wheat Bread
Whole Wheat Batter Bread
Whole Wheat Rolls
Yeast
Yellow Corn Bread
Zucchini Bread

---
---
Cook'n Is Several Products in One!