101 Things to do with Ground Beef
Stephanie Ashcraft and Janet Eyaing
---
---
NOTE: You must have Cook'n installed to use this download!
---
101 Things to do with Ground Beef
From appetizers, soups, and sandwiches to grilled sensations and family favorites, these simple, tasty comfort food recipes will please everyone!
Everybody knows that meat loaf is the ultimate comfort food, but what else can you do with that easy-to-use, affordable, nutritious freezer staple? Here are 101 easy and delicious recipes to make the most out of ground chuck, hamburger, and turkeyburger.
Included are recipes for appetizers, side dishes, soups, sandwiches, burgers, meat loaf, main dishes, and more. You'll get a kick out of these easy, tasty recipes: Beefed-Up Bean Dip, Beef Wontons, Hawaiian Meatballs, Egg Rolls, Hungry Boy Beans, Stuffed Bell Pepper Soup, Winter Chili, Baked Hero Sandwiches, French Onion Burger, Blue Cheese Meat Loaf, Barbeque Beef Pizza, Lasagna Roll-Ups, and Coney Dogs.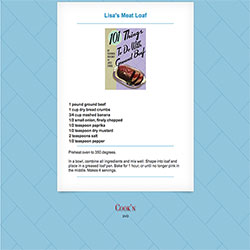 New Cook'n theme included.
---
Recipes Included:
Asparagus Shepherd's Pie
Aunt Leara's Zucchini Boats
Autumn Potluck Soup
Avocado Meat Loaf
Baby Meat Loaves
Bacon Calico Beans
Bacon-Wrap Burger
Bacon-Wrapped Patties
Baked Herb Sandwiches
Baked Italian Delight
Baked Meatballs
Barbecue Meat Loaf Patties
Barbecue Meatball Kabobs
Barbecue Taco Platter
Barbecued Beef
Barbeque Pizza
Barney's Slow Cooked Beans
Basic Burger
Beef and Potato Pie
Beef Wontons
Beefed-Up Bean Dip
Beefed-Up Pork and Beans
Beefed-Up Spaghetti
Black Bean Nachos
Blue Cheese Meat Loaf
Cabbage and Beef Potpie
Camper's Potluck Dinner
Cheeseburger Pizza
Cheesy Meatball Soup
Chili Beef Barbecue
Colby Sloppy Joe Burger
Coney Dogs
Corn Crusted Beef Dish
Corn Flake Meatballs
Creamy Tortilla Pie
Cuban Beef and Potatoes Over Rice
Dinner Patties
Drinda's Beef Stroganoff
Easy Italian Pasta Skillet
Easy Tin Foil Dinners
Egg Rolls
Empanada Pie
English Muffins Pizzas
Feed the Posse Stew
French Onion Burger
Giant Meatball Sub
Ginger Beef Bok Choy
Grandma's Sloppy Joes
Grandma's Stuffed Bell Peppers
Grandma's Taco Soup
Grandma's Winter Soup
Great-Grandma Stowell's Meatballs
Green Chile Burger
Grilled Swiss Sandwiches
Guacamole Burger
Gumbo Burgers
Hawaiian Meatballs
Hotter-Than-Hot Chili with Beans
Hungry Boy Beans
Individual Meat Loaves
Jack O'Lantern Burgers
Jackpot Casserole
Kid's Favorite Lasagna
Lasagna Roll-Ups
Lisa's Meat Loaf
Mac 'n' Cheese Meat Loaf
Magnificent Meatballs
Meat Loaf in an Onion
Meat Pies
Meatball and Mini Stars Soup
Meatball Stroganoff
Mexican Pizza
Okra and Beef Skillet
Open-Faced Stroganoff Sub
Paco's Taco Salad
Party-Ready Meat on Rye
Pineapple Meat Loaf
Polynesian Meat Loaf
Porcupine Meatballs
Potato-Covered Meat Loaf
Quick Tamale Pie
Salsa-Rice-Hamburger Skillet
Saucy Tacos
Southwestern Meat Loaf
Stuffed Apple Meat Loaf
Stuffed Bell Pepper Soup
Stuffed Eggplant
Stuffed Manicotti
Stuffed Onion Burgers
Stuffed Taco Pasta Shells
Stuffed Tomatoes
Swedish Meatballs
Sweet and Sour Meatballs
Swiss Mushroom Burgers
Taco Layer Dip
Taco Pie
Taco Sandwiches
Texan Pitas
Tracy's Hamburger Rice
Winter Chili
Yummy Meat Roll
---
---
Cook'n Is Several Products in One!