101 Things to do with a Toaster Oven
by Donna Kelly
---
---
NOTE: You must have Cook'n installed to use this download!
---
101 Toasty Snacks, Meals and treats
Cook without Heating up the Kitchen
Convenient Satisfying Meals
Great for mid-afternoon snacks for kids
New Cook'n Theme included.
Save time and money by using Cook'n
101

Things to do with a

Toaster Oven!
Whether it's warm or cold outside, the toaster oven is the hot new appliance for cooking every meal. With 101 Things to Do with a Toaster Oven, you can make appetizers for a party, brunch for friends, mid-afternoon snacks for the kids, dinner for your family, and dessert for you! Try these mouthwatering recipes: Baked French Toast, Sun-Dried Tomato Tart, Pizza Bites, Nut-Crusted Salmon, Hearty Lasagna Stacks, Three-Cheese Mac 'n' Cheese, Apple Popovers, Chocolate Chunk Bread Pudding, and a whole lot more!
Stephanie Ashcraft, author of the New York Times best-selling 101 Things to do With a Cake Mix, is a full-time mom who has created and collected recipes for years. She also teaches a monthly cooking class for Macey's Little Cooking Theater in Orem and Provo, Utah. She is currently living in Rexburg, Idaho with her family.
Donna Kelly was born and raised in southern Arizona. Her previous books include French Toast, 101 Things to Do with Canned Soup, 101 Things to Do with a Tortilla, 101 Things to Do with Chicken, and 101 Things to Do with Tofu. She lives in Provo, Utah.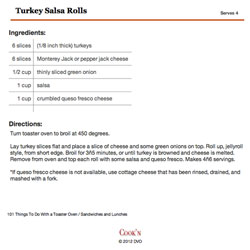 New Cook'n theme included.
Recipes Included:
Apple Popover Pancake
Apricot Pineapple Pastries
Asian Style Chicken Wings
Baked Brie in a Bread Crust
Baked Chicken Curry
Baked Mac N Cheese
Black Bean Empanadas
Breakfast Bars
Breakfast Pizza
Caesar Chicken Fillets
Carrot Mini Cakes
Cheesy Corn Pudding
Cheesy Mushroom Cannelloni
Chicken Confetti Rice Bake
Chicken Enchilada Stacks
Chicken Nachos Casserole
Chile Cheese Casserole
Chocolate Bread Pudding Cups
Chocolate Swirl Cheesecake
Classic Tuna Melts
Crab Stuffed Wontons
Crusty Cheese Bread
Crusty Fish Fillets
Double Sauced Baked Pasta
Easy Apple Dumplings
Easy Cheesy Quesadillas
Eggs in a Basket
English Muffin Pizzas
Flank Steak Pinwheels
Garlic Caesar Croutons
Garlic Herb Pork Chops
Gingersnap Apple Crisp
Great Start Grapefruit
Green Eggs and Ham Cups
Ham and Asparagus Rolls
Ham and Cheese Strombolis
Ham and Potato Gratin
Harvest Medley Acorn Squash
Harvest Stuffed Zucchini
Hashbrown Casserole
Hazelnut Pear Pound Cake Stacks
Hearty Meat Lasagna Stacks
Heavenly Halibut
Honey Mustard Nut Crusted Salmon
Honey Nut Spirals
Hot Chicken Salad
Huevos Rancheros Stacks
Key Lime Squares
Lemon Poppy Seed Scones
Mediterranean Stuffed Peppers
Mexican Pizzas
Mini Chicken Meatloaves
Mini Pumpkin Cheesecakes
Mix N Match Muffins
Open Faced Breakfast Sandwich
Parchment Packet Fish Dinners
Parmesan Baked Eggs
Parmesan Crisps
Parmesan Crusted Salmon Cakes
Parmesan Pesto Twists
Parmesan Polenta Cakes
Parmesan Spice Soup Toppers
Pear Almond Rustic Tarts
Pita Pizzas
Pizza Bites
Quick Berry Cake
Quick Chicken Pot Pies
Quick Chocolate Souffles
Reuben Bratwurst Rolls
Rustic Apple Pie
Rustic Cheese Crackers
Rustic Spinach Pie
Saucy Chicken Thighs
Savory Italian Bread Pudding
Savory Sunrise Scones
Shortcut Apple Strudel
Shortcut Dinner Frittata
Shortcut Elephant Ears
Shortcut Tamale Pie
Simple Samosas
Southern Style Chicken and Waffles
Spinach Artichoke Dip
Sublime Spinach Lasagna Stacks
Sun Dried Tomato Pinwheels
Sweet and Spicy Toaster Oven Nuts
Sweet Potato Oven Fries
Three Cheese Bites
Toaster Oven Cheese Sandwiches
Toaster Oven Chimichangas
Toaster Oven Garlic Bread
Toaster Oven Hashbrowns
Toaster Oven Nachos
Toaster Oven S'mores
Tomato Mozzarella Bruschetta
Turkey and Stuffing Rolls
Turkey Avocado Melts
Turkey Salsa Rolls
Twice Baked Potatoes
Ultimate Crumb Cake
Weeknight Calzones
Weeknight
---
---
Cook'n Is Several Products in One!