Hearty Trail Beans
DVO Recipe Center
Serves: 8-10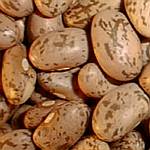 2 lbs. dry pinto beans; soaked overnight
2 yellow onions; diced
10 cups hot water
8 cloves garlic; minced
24 oz. (3 cups) Coca-Cola
1 lb. smoked sliced bacon; cut into 1'' pieces
¾ cup catsup
6 Tbs. chili powder
¼ cup Worcestershire sauce
3 serrano peppers; minced
¼ cup Heinz 57 steak sauce
4 tsp. toasted caraway seeds; ground
1 (30 oz.) can whole tomatoes
Add all ingredients to a 12'' deep Dutch oven. Bring to a boil using 18-20 briquettes on bottom stirring beans frequently. Cover beans and continue to simmer using 6-8 briquettes on bottom and 12-14 briquettes on top for 2-3 hours. Stir beans from the bottom up every 15 minutes. Add additional water if beans begin to dry out. Beans should be soft but not mushy and just a bit soupy.

Help on downloading recipes
Be sure to check the Cook'n Recipe Archive for more recipes.
---
Copyright © 2007 DVO Enterprises, Inc.