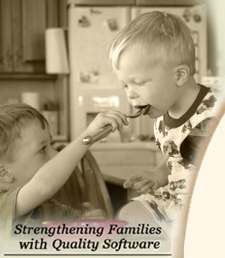 TOP SELLERS
o Current Issue
o Newsletter Archive
o Sign Up Now



o Contact Info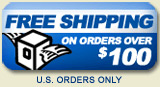 I am here to say THANK YOU! Your software is great!!!

When I read the description of the recipe program, I thought it was too good to be true (the price, the ability of the software, etc.). I even called your company by telephone to ask if I understood the promotional information correctly.

Upon receiving it and using it, I have discovered that every bit of it is true! (I LOVE the nutritional calculation feature!) Thanks so much for your product and for keeping it affordable, too!

Debi Self Read more...

Butter-Nut Brittle
DVO Recipe Center
Makes: 1 pan



from Jean Price

2 cups sugar
1 cup light corn syrup
1 cup water
3 cup unsalted dry roasted mixed nuts
2 tablespoons butter or margarine
2 teaspoons vanilla
2 teaspoons baking soda

Mix sugar, syrup and water in a large heavy saucepan. Cover and heat to boiling. Uncover and cook rapidly to 236° F. on candy thermometer (soft ball stage). Stir in nuts slowly, keeping mixture bubbling.

Cook rapidly, stirring constantly, to 280 F. (hard ball stage). Stir in butter continue cooking to 300° F. (a teaspoon of syrup dropped in cold water will separate into hard and brittle threads). Remove from heat. Stir in vanilla: sprinkle soda over top quickly, then stir vigorously about 15 seconds or until mixture is puffy. Pour at once into greased baking pan (15x10x1"). Cool completely.

Break into bite size pieces.
Store in a container that has a tight fitting lid. Can be made weeks ahead of the holidays.






Help on downloading recipes

---


for Windows 9x/2000/ME/NT/XP/Vista

Not sure what to order?


Piles of recipe cards in your drawer?
Download Cook'n today and get organized!
Cook'n Cookbook Software Download - MSRP $99.95
(Save 20%)
Download: $79.95
CD: $79.95

Buy the CD or download the full version of Cook'n right now! Includes over 300 of our best recipes.
---
Copyright © 2007 DVO Enterprises, Inc.