Lemon Tart with Fresh Berries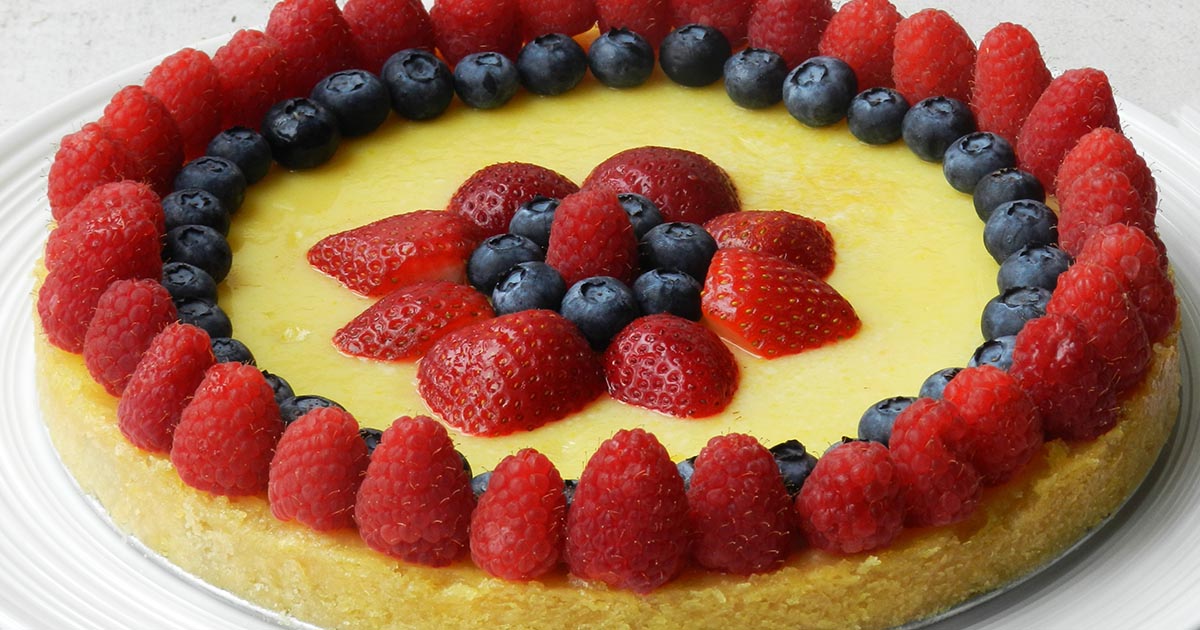 Serves:
10
We love the combination of berries and lemon, but feel free to use other fruits in place of the berries, as they come into season. Peaches and stone fruit would certainly be appropriate, or choose your own favorite.

Dovetailing Tip: Double the Berry Glaze in this recipe. Refrigerate leftovers. The glaze will be used on Greek yogurt for day 5.

Yield:
one 10" tart, 10 servings
Prep Time:
Cook Time:
Total Time:
Ingredients:
CRUST:

1 1/4

cups

unbleached pastry

flour

1/4

cup

granulated sugar

1

tablespoon

lemon zest

or 1/8 teaspoon lemon oil

1/2

teaspoon

salt

1/2

cup

butter

1

teaspoon

vanilla extract

1

large

egg yolk

LEMON FILLING:

1/2

cup

fresh

lemon juice

(the juice of about 2 large lemons)

1

tablespoon

lemon zest

or 1/8 teaspoon lemon oil

1

cup

granulated sugar

4

large

eggs

1/2

cup

sour cream

BERRY GLAZE:

1/4

cup

brown sugar

3/4

cup

fruit juice (apple,

cranberry

, etc.)

1

teaspoon

unflavored

gelatin

2

pints

fresh

berries

, washed
Directions:
To make the crust: In a medium-sized bowl, whisk together the flour, sugar, lemon zest or oil, and salt.

Using a pastry fork or pastry blender, your fingers, or an electric mixer, cut in the cold butter, working the mixture until it's crumbly; a few larger chunks of butter can remain.

In a small cup or bowl, whisk together the egg yolk and the vanilla. Stir this mixture into the pastry dough.

Roll or press the dough onto the bottom and at least 1" up the sides of a 9" to 10" springform pan, or 9" round cake pan.

Use a fork to prick the dough all over (this will keep it from puffing up as it bakes), and refrigerate it for 30 minutes or longer.

Bake the chilled crust for 16 to 18 minutes in a preheated 375°F oven, until it's golden brown. Check it midway through the baking time; if it's developed any big bubbles, puncture them.

Remove the crust from the oven (leave the oven on), and cool it on a rack as you prepare the filling.

To make the lemon filling: In a medium-sized bowl, or the bowl of an electric mixer, mix together the sour cream and sugar.

Whisk in the eggs, then add the lemon juice and lemon zest or oil.

Pour the filling into the cooled tart shell. Don't overfill the shell; if any filling seeps over the top edge, it'll burn and stick.

Return the tart to the 375°F oven, and bake it for 18 to 20 minutes. The filling should look "set," but still wobble slightly in the middle.

Remove the tart from the oven, and set it on a rack to cool for 1 hour.

Refrigerate the tart; top it with berries and glaze a few hours before serving.

To make the berry glaze: In a saucepan or microwave-safe bowl, combine the brown sugar and juice.

Sprinkle the gelatin over the juice, and let it swell and soften for 5 minutes or so.

Heat the mixture over low heat or in the microwave until the gelatin dissolves.

Remove it from the heat and let it cool for about 30 minutes, until it's lukewarm.

To assemble: If you're using strawberries, wash, hull, and slice them; you can leave them whole if they're small.

Brush a thin layer of glaze (about 2 tablespoons) over the tart.

Mix the berries with the remaining glaze, then arrange them, one by one, atop the tart. You'll have some glaze left in the bottom of the bowl; pour it into a small container and keep it at room temperature.

Place the tart in the refrigerator for the glaze to set.

After about 30 minutes of chilling, remove the tart from the fridge, and brush the berries with the reserved glaze. This will keep them fresh and glistening for 12 hours.

Store, covered, in the fridge for up to 3 days.

Source: kingarthurflour.com
Add Recipe to Cook'n
---