I write about my Aunt Annie all the time. She also had some very cool sisters, my Mom (Agnes) and Aunt Toots (no, I'm not making this name up). These gals liked to cook and not surprisingly, liked to cook for, and with people.
Something I just learned the other day was that my Aunt Annie was a foster grandparent. She spent a little time every week with children who didn't have their own grandparents nearby. Aunt Annie (and she often roped in my Mom and Aunt Toots) really enjoyed teaching kids how to cook. HOW did I not know that?
This group of grandparents who were living, serving, and cooking in Spokane, WA, collected and published their favorite recipes as part of their endeavor. I think this is such a neat idea. Well, in honor of their sweet service, I share with you a few of their favorite recipes from this book. (I know they're favorites because Aunt Annie always put a star by the ones she loved the most.)
Old Woman In The Shoe Cookies
Makes 4 ½ dozen

½ C + 1 Tbsp butter
½ C + 1 Tbsp sugar
½ C molasses
1 egg, well beaten
2 C + 6 Tbsp flour, sifted
1 ½ tsp baking powder (choose aluminum free, such as Rumford's)
½ tsp salt
¾ tsp baking soda
½ C milk
1 C flaked coconut
1 C chopped walnuts
¾ C raisins
Preheat oven to 370 degrees. Cream butter and blend in sugar, molasses and eggs. Sift flour, baking powder, salt and soda. Add alternately with milk to creamed mixture. Fold in coconut, walnuts, and raisins. Drop tablespoonfuls onto greased baking sheet and bake for 10 min.

Download this recipe.
Instant Potato Candy
THIS I gotta try!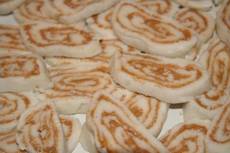 1 C instant potatoes
Powdered sugar
Peanut butter
Mix just enough water with the instant potatoes to mash dry (very small amount of water). Work in enough powdered sugar until the consistency of bread dough. Roll out like pie crust and spread with peanut butter and roll up like a jelly roll. Slice ½ inches thick and let stand 3 days to get crusty.
Let's try this and compare notes!

Download this recipe.
Cracker Candy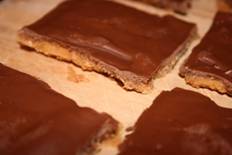 2 C sugar
2/3 C milk
1 pkg white crackers (1/4 lb), crushed
6 Tbsp old fashioned peanut butter
1 pkg (6 oz) butterscotch chips
½ C coconut
Boil sugar and milk for 3 minutes. Combine crushed crackers, peanut butter, butterscotch chips and coconut in a bowl. Pour milk and sugar mixture over this. Stir fast and pour into a shallow pan. Ice with melted chocolate chips.While still pliable, cut into squares. Let cool and harden a bit. Keep in air-tight container.

Download this recipe.
Delicious Carrot Cookies
¾ C butter
¾ C sugar
1 egg, beaten
1 C cooked, mashed carrots
2 C flour
2 tsp baking powder
1 tsp salt
½ C chopped nuts
½ tsp lemon extract
1 tsp vanilla
Icing:
1 C powdered sugar
¾ C orange juice concentrate
2-3 Tbsp grated orange rind
Preheat oven to 350 degrees. Cream together butter and sugar. Add beaten egg and mashed carrots. Stir in 2 C flour sifted with baking powder and salt. Add nuts, lemon extract and vanilla. Drop from teaspoon onto greased baking sheet. Sprinkle with sugar. Bake 12 min. Drizzle cookies with icing (while hot) with powdered sugar mixed with orange juice concentrate and grated orange rind. Can add more powdered sugar for a thicker icing, if desired.

Download this recipe.
---
(If YOU have a smart idea, won't you share it? Life is so much easier and we accomplish so much more when we pool our resources. And after all, we're all in this together. So email
patty@dvo.com
or
alice@dvo.com
with YOUR The Glorious Asparagus Spear!)
---
Contribute to the Cook'n Club!
DVO would love to publish your article, prose, photography and art as well as your cooking, kitchen and nutrition tips, tricks and secrets. Visit the Newsletter Submission / Win Win for All section in our Forum for more information and details.
---