It's just not a secret anymore: We really can prevent health problems through our food choices. It was with this idea in mind that Readers Digest published a very helpful book in 1997,
Foods that Harm and Foods that Heal: An A-Z Guide to Safe and Healthy Eating
. I found this book by accident while pouring through stacks of used books at our library's used book sale. What a find!
Right off the bat, I found the book's chart on common food allergens and their symptoms (I've been suspicious for some time that I have food allergies going on). Here's what it says:

Milk and Milk Products
Symptoms: constipation, diarrhea, intestinal cramping.

Eggs (especially egg whites)
Rashes or hives, swelling, intestinal upsets; can trigger asthma attacks and eczema

Fish
Rashes or hives, itchy eyes or runny nose

Shellfish
Nausea, prolonged intestinal upsets, migraines, rashes, swelling

Wheat and Wheat Products
Diarrhea, cramping, bloating, migraines, eczema

Corn
Rashes or hives, diarrhea and other intestinal upsets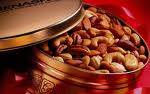 Nuts and Peanuts
Intestinal upsets and breathing problems; possible anaphylaxis

Fruits
(citrus; for those allergic to pollen, melons and other seeded fruit)
Rashes or hives, itching and tingling in mouth

Chocolate
Rashes or hives; if milk or nuts are the real culprit, reactions may be more severe
And here's another useful tidbit of information I found in my reading: If you contract diarrhea when traveling, go on the BRAT diet for a couple days until things even out. The
BRAT
diet =
B
ananas,
R
ice,
A
pplesauce, and
T
oast.
And to conclude, since I shared a couple recipes calling for crabmeat and shrimp, here's what the book says about the nutrient load in these yummies: Crab is a super source of pantothenic acid, niacin, and vitamins A and B6, and the minerals zinc, iron and magnesium. Along with niacin and vitamin B6, shrimp is also a good source of iron, zinc and magnesium. FOOD—it's not just what's for dinner, it's what's for health!
---
Contribute to the Cook'n Club!
DVO would love to publish your article, prose, photography and art as well as your cooking, kitchen and nutrition tips, tricks and secrets. Visit the Newsletter Submission / Win Win for All section in our Forum for more information and details.
---
---