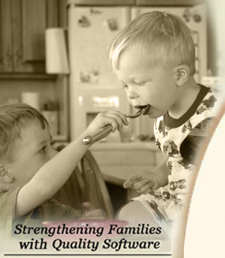 Volume I - May 14, 2010
What's Cookin' Around the U.S.A.?
by Alice Osborne

Don't you just love how diversified America is? While we're truly one big melting pot, we've been able to hang onto regional accents, idioms, customs and favorite foods. For instance, we travel to Maine and can plan on a great lobster dinner. We travel to Idaho and know we'll get great potato dishes. We travel to Louisiana and start drooling for gumbo before we even hit the state line.
It was with this idea in mind that I've been researching regional recipes—they're not hard to find. People are proud to share when it comes to things they're famous for. And another thought: the Cook'n Club is international—we've got a lot of good regional cooking going all the time, so if YOU have a recipe that's representative of where you live, or of your family heritage, etc., please share. We'd love to spread the wealth! Now, here are a few regional recipes you'll want to try.
Maryland Crab Casserole
Serves 4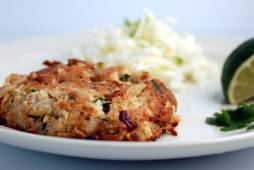 1 lb well-picked crabmeat
3 eggs, beaten
1 Tbsp chopped fresh parsley
5 Tbsp butter, melted and divided
1 tsp salt
Dash pepper
½ tsp Worcestershire sauce
½ tsp prepared mustard
1 C evaporated milk
1 Tbsp finely chopped green pepper
½ C soft bread crumbs
Preheat oven to 350 degrees. Grease bottom and sides of a 2-qt. baking dish. Combine crab, eggs, parsley, 3 Tbsp butter, salt, pepper, Worcestershire sauce, mustard, milk, and green pepper. Gently pat into dish. Combine bread crumbs with remaining butter; sprinkle on top. Bake for 20 min. or until set.

Download this recipe.
Utah's Lazy Day Pumpkin Pie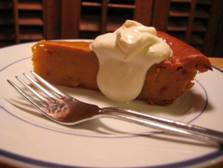 ¾ C sugar
1 C buttermilk
½ C biscuit mix (Bisquick, for instance)
1/3 C butter, melted
1 tsp vanilla
3 eggs
Preheat oven to 350 degrees. Grease a 9-inch pie pan. Beat all ingredients until smooth, 30 seconds in blender on high or 1 minute with hand mixer. Pour into pie plate. Bake until knife inserted in center comes out clean, about 30 minutes. Serve with loads of sweetened whipped cream or vanilla ice cream.

Download this recipe.
Louisiana Bayou Country Seafood Casserole
Serves 8
Courtesy of Taste of Home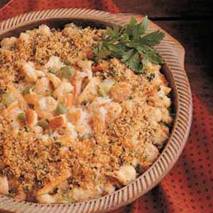 6 Tbsp butter
1 medium onion, chopped
1 medium green pepper, chopped
1 stalk celery, chopped
1 garlic clove, minced
1 can (10 ¾ oz) condensed cream of mushroom soup, undiluted
1 lb uncooked shrimp, peeled and deveined
1 ½ C cooked rice
2 cans (6 oz each) crabmeat, drained and flaked (cartilage removed OR 1 ½ lb cooked crabmeat)
4 slices day-old bread, cubed
¾ C cream
¼ C chopped green onion tops
½ tsp salt
¼ tsp pepper
Topping:
2 Tbsp butter, melted
1/3 C dry bread crumbs
2 Tbsp chopped fresh parsley
Preheat oven to 375 degrees. In skillet, melt 6 Tbsp butter and sauté onion, green pepper, celery, and garlic until tender. Add soup and shrimp. Cook and stir over medium heat for 10 min. or until shrimp turn pink. Stir in rice, crabmeat, bread cubes, cream, onion tops and seasonings. Spoon into a greased 2-qt. baking dish. Combine topping ingredients; sprinkle over casserole. Bake 30 min. or until heated through.

Download this recipe.
Ohio Cream Cheese Rhubarb Pie
Serves 8, unless I'M at your table — then it might serve 4!
Courtesy Taste of Home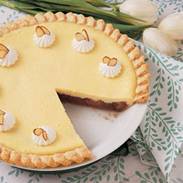 ¼ C cornstarch
1 C sugar
Pinch salt
½ C water
3 C sliced fresh OR frozen rhubarb pieces (1/2-inch)
1 unbaked pie shell (9-inches)
Topping:
1 pkg (8 oz) cream cheese, softened
2 eggs
½ C sugar
Whipped cream
Sliced almonds
In saucepan, combine cornstarch, sugar and salt. Add water; stir until thoroughly combined. Add rhubarb. Cook, stirring often, until mixture boils and thickens. Pour into the pie shell; bake at 425 degrees for 10 min. Meanwhile, for topping, beat cream cheese, eggs, and sugar until smooth. Pour over pie. Return to oven; reduce heat to 325 degrees. Bake for 35 min. or until set. Cool. Chill several hours or overnight. Garnish with whipped cream and sliced almonds.
IDEA: Don't you think this approach would work with any fresh fruit pie? I'm going to try this with a peach filling when peaches come on.

Download this recipe.
---
Contribute to the Cook'n Club!
DVO would love to publish your article, prose, photography and art as well as your cooking, kitchen and nutrition tips, tricks and secrets. Visit the Newsletter Submission / Win Win for All section in our Forum for more information and details.
---
---