One thing I really hope to do is help you manage easier in the kitchen - if it's easier to get the meal made and served, we'll have more fun with our cooking and baking (that's my hypothesis anyway). So here are two time-saving tips I found on LifeHacking.com that make a lot of sense: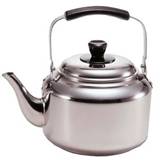 1) Blanch ingredients with a tea kettle!
Don't you groan a little whenever you see a recipe that calls for "blanching"? Who has the time to wait for an entire pot of water to boil just to dunk something in it for a few seconds (and don't forget the clean-up that goes with it)?
Instead, with recipes that call for blanching a small amount of anything, put a good amount of water in a whistling tea kettle and set it on high, then place whatever needs blanching in a colander. (You know where I'm going with this, don't you?) When the water is ready, you can slowly pour the water over the ingredient--this will give it just the right quick cook (aka blanching). All the cleanup that's needed is to quickly rinse out the colander. Isn't this brilliant?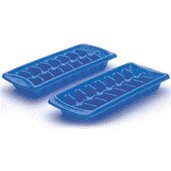 2) Keep often-used ingredients ready to use via ice cube trays.
If you have the freezer space, you can save a lot of money AND time with the humble ice cube tray. Remember an earlier post that suggested making large batches of anything and freezing ("gravels" for instance?)
Same principle holds for soups, stocks, and sauces (anything without dairy ingredients is perfect for this application). Pour them into ice cube trays and freeze. When solid, pop them into labeled freezer bags, and then when doing meal prep, just grab the amount you need, melt them down, and use. No muss, no fuss.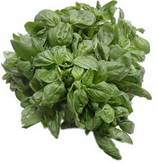 Also, unused fresh herbs can be locked away with just enough water to lock flavor and freshness in. This tip makes my day - I'm always wasting a lot of the fresh basil I get at the grocers - I can't use it up fast enough.
Each regular sized cube measures basically two tablespoons of liquid. This means that 2 cubes equals 1/4 C, 4 cubes equals 1/2 C, etc. A gallon freezer bag of cubes lasts a relatively long time, depending on how often you use the product. Considering all you need to do is ladle the lquid into the trays and freeze, this is worth the effort - a "once-a-month-meal-prep" project.
I am sure you have ways you save time in the kitchen as well. Please share them - we're all in this together remember! So until next time, happy cook'n!
---
Contribute to the Cook'n Club!
DVO would love to publish your article, prose, photography and art as well as your cooking, kitchen and nutrition tips, tricks and secrets. Visit the Newsletter Submission / Win Win for All section in our Forum for more information and details.
---
---