In my reading and research for our Cook'n Club newsletters, I've run onto oodles of timely and good information about all sorts of things. So I thought you might like to know what I know—we're all in this together, remember, so it's time to share the good stuff. Here's the scoop:

Here's something to know about red onions:
The purplish-red tint of red onions comes from plant pigments called anthocyanins—potent antioxidants. Studies show they neutralize free radicals. And not just red onions have this jewel, so do red cabbage, beets, radishes, blueberries, raspberries and plums. So now we know what to add a LOT more of to our dishes!
Did you know consuming a diet high in calcium and Vitamin D
not only lowers the risk of osteoporosis, but can help in preventing hearing loss as well?
And Vitamin C may get the lead out!
Harvard researchers say that men who have low daily intakes of vitamin C (below 109 mg) have high amounts of lead in their blood, suggesting that higher vitamin C intake may reduce lead uptake and retention in the body. In adults, lead exposure has been lined with high blood pressure, kidney problems and anemia.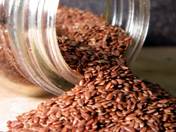 Hot Tip:
Whole flax seed should be stored in the refrigerator or freezer to maintain its optimum nutrition. (I didn't know that—mine's in the cupboard. I'm moving it right now!)
Meaty piece of news:
Lamb cut from the leg is 19% leaner than shoulder meat. There you go, all you lamb-lovers!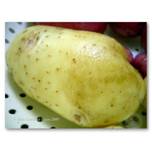 Ever wondered what an "all-purpose" potato is?
Spuds are classified by their starch and moisture content, so "all-purpose" potatoes fall in between "baking" potatoes, which are starchy and dry, and "boiling" potatoes, which are moist and waxy. All-purpose potatoes are good for a wide range of cooking methods, making them a convenient ingredient to have on hand, then. Example: the yellow-fleshed Yukon Gold.
Ever wondered how to prepare different varieties of lentils?
All varieties—red, yellow, brown, green, and the tiny dark green French Le Puy — should be picked over and washed carefully before cooking. They don't need soaking; just simmer until tender. Cooking time does depend on variety, though: reds need about 20 min., other varieties, which hold their shape better, take 30-35 min. to become tender.

And finally, have you ever wondered if blackstrap molasses is really a healthier choice than dark molasses? And is molasses really a source of calcium and iron?
Both of these are by-products of sugarcane refining and are more mineral-rich than plain old white sugar, but neither should be considered a GOOD source of nutrients. Oh, and blackstrap IS fractionally richer in iron and calcium than other types of molasses, but really, that's not saying much. But c'mon—the name just sounds healthy, doesn't it? (Anyway, don't shoot the messenger on this one; I'm just reporting the news from nutritionists.)
---
Contribute to the Cook'n Club!
DVO would love to publish your article, prose, photography and art as well as your cooking, kitchen and nutrition tips, tricks and secrets. Visit the Newsletter Submission / Win Win for All section in our Forum for more information and details.
---
---