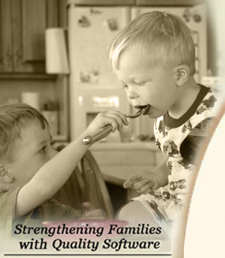 Cook'n Club Home
Subscribe Now!

Cook'n Forum
HomeCook'n Archive
Give-Aways

Another post from the Cook'n Club Forum:

What a treat to have this board here. I can't wait to watch it grow, and have absolutely no doubts that it will be a wonderful place where we can come back over and over again.
The Newsletter - the Forum - Thanks so very much!

MudMouse


Volume I - March 12, 2010
No More Blood-Sugar Blues!
All Hail the Glorious Asparagus Spear!
by Alice Osborne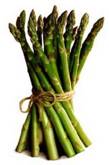 Spring is just about here, and I cannot wait! Don't you just love the way you can actually see, hear, and smell the new life in the earth? I think one of the best signs of Spring is fresh asparagus. This is an especially important vegetable for those dealing with blood-sugar issues. For instance, just look at all the great health benefits it provides.
It is high in vitamin K and Folate


Eat asparagus when you are pregnant or thinking about conceiving – because of it being high in folic acid it helps prevent birth defects such as spina bifida


Great for your heart


Helps menstrual cramps with fertility problems


Great for your gastrointestinal tract and your colon


Helps menstrual cramps


Great food to help treat depression


Has been known to increase the success rate of chemo therapy


Is considered a diuretic which means it is a good anti-inflammatory – best for arthritis, asthma rheumatism, and even water retention.. PMS


Help get rid of warts


Helps detoxify your body


Add more asparagus to your diet to lover cholesterol


Great for nursing mothers stimulating milk production


Has antioxidant agents – prevents the effects of aging


Has antifungal and antiviral qualities


Great for your kidneys – cleansing your body by stimulating urination and preventing kidney stones


Helps prevent bladder and urinary tract infections


Use to be used as an a aphrodisiac – increase sexual and comforting feelings


Helps with treating HIV


Helps prevent multiple sclerosis


Helps prevent scurvy


Asparagus has anti-cancer agents – especially lung cancer


Helps fight chronic fatigue syndrome


Helps fight off high blood pressure


If you bruise easily – eat more asparagus


Is considered a laxative – eat an asparagus if you have diarrhea and constipation


Great for your capillaries – eat more asparagus to avoid varicose veins


Great for your eyes preventing cataracts


If you are experiencing hair loss- eat more asparagus


Helps treat toothaches

All this said, do we any more convincing as to why we ought to include LOTS in our menu plans? To help us do just that, here are a couple recipes to get us started, courtesy of the April, 2010 Living the Country Life Magazine:

Roasted Asparagus
Serves 4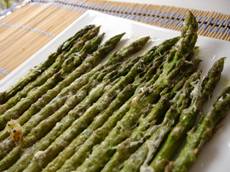 1 lb fresh asparagus, trimmed
1/8 tsp freshly ground black pepper
1 Tbsp extra virgin olive oil
3 Tbsp Parmesan cheese

Preheat oven to 450 degrees. Place asparagus in a 2-qt. baking dish. Sprinkle with pepper. Drizzle with olive oil. Roast, uncovered, about 15 min. or until crisp-tender, using tongs to lightly toss twice during roasting. Transfer asparagus to a warm serving platter. Sprinkle with cheese. Delicious!



Download this recipe.
Angel Hair with Asparagus, Tomatoes & Fresh Basil
Makes 2 large servings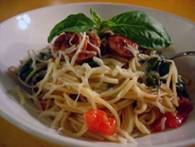 4 cloves garlic, thinly sliced
Ό tsp pepper
1 Tbsp extra virgin olive oil
6 medium Roma tomatoes, seeded and chopped (2 Ό C)
Ό C dry white wine
Ό tsp salt
1 Tbsp butter
1 (9 oz) pkg angel hair pasta
Ό C finely chopped fresh basil
Snap off and discard woody bases from asparagus. Remove the tips; set aside. Bias-slice the remaining portions of asparagus spears into 1- to 1 ½-inch-long pieces; set aside. In large skillet, cook and stir garlic and pepper in hot oil over medium heat for 1 minute. Add the tomatoes; cook for 2 min. more, stirring often. Add the asparagus pieces, wine, and salt to the mixture in the skillet. Cook, uncovered, for 3 min. Add the asparagus tips; cook, uncovered, for 1 min. more. Add butter and stir until melted. Meanwhile, cook the pasta according to pkg directions. Drain pasta; return to pan. Add asparagus mixture and basil to pasta, tossing to coat. Amazing!

Download this recipe.
---
Contribute to the Cook'n Club!
DVO would love to publish your article, prose, photography and art as well as your cooking, kitchen and nutrition tips, tricks and secrets. Visit the Newsletter Submission / Win Win for All section in our Forum for more information and details.
---
---