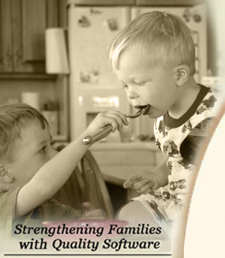 Cook'n Club Home
Subscribe Now!

Cook'n Forum
HomeCook'n Archive
Give-Aways

I have spent the last 2 hours reading your newsletter and wonderful recipes. I have already printed a whole bunch I want to try. I love them because they are using ingredients one has on hand. I love that and just wanted you to know how much we appreciate all your hard work in putting together this newsletter. Thank you very much.

Anna

Volume I - September 18, 2009
Maria's Beef Stew

Serves: 6

Download this recipe.

2 tablespoons flour
1/4 teaspoon garlic salt
1/8 teaspoon black pepper
1 pound beef stew meat cut in 1-inch pieces
2 tablespoons vegetable oil
2 potatoes medium (about 3 inches each) boiling cut in half
1 15-ounce can tomato sauce with bits
1 onion medium, coarsely chopped
1/2 cup water
1 teaspoon salt
1/4 teaspoon cumin ground
2 zucchini small, cut in 1/2 -inch slices
1 8 1/2-ounce can corn whole kernel
1 tablespoon parsley dried
1 teaspoon chili powder (optional)
Parsley Chopped (optional)


In a medium bowl, stir flour, garlic salt and pepper. Place meat in bowl and toss until meat is well coated.

In a pressure cooker over medium-high heat, brown meat in oil. Add potatoes, tomato sauce, onion, water, salt and cumin; stir to mix. Secure lid on pressure cooker according to manufacturer's directions. Cook over high heat until pressure regulator begins to rock gently. Adjust heat to maintain a slow, steady rocking motion (15 pounds of pressure). Cook for 10 minutes.* Reduce pressure at once by placing pressure cooker under cool running water according to manufacturer's directions.

Stir in zucchini, corn, parsley and chili powder if desired. Cover loosely with lid. Over medium heat, cook for 8 to 10 minutes or until zucchini is tender.

To serve, cut potatoes into smaller pieces. Ladle into bowls or mugs. Sprinkle with parsley if desired.


---
Contribute to the Cook'n Club!
DVO would love to publish your article, prose, photography and art as well as your cooking, kitchen and nutrition tips, tricks and secrets. Visit the Newsletter Submission / Win Win for All section in our Forum for more information and details.
---
---