What could be easier than dinners in one dish? Oh, we love these ideas from the Foot Network Kitchen and can't wait to try them out ourselves! Let us know what YOU think!
Heat the 1/4 cup olive oil in a large skillet over medium-high heat. Add the garlic; cook until golden, 1 minute. Add the tomatoes, 1 tablespoon herbs, 1/2 teaspoon salt, and pepper to taste; cook until saucy, about 5 minutes. Transfer to a blender and puree. Return 1 cup of the sauce to the skillet and reduce the heat to low; reserve the remaining sauce.
Meanwhile, mix the ricotta, egg, parmesan, the remaining 3 tablespoons herbs, 1/2 teaspoon salt, and pepper to taste in a bowl.
Place 2 lasagna noodles over the sauce in the skillet. Layer half of the carrot and zucchini on top; drizzle with olive oil and season with salt and pepper. Cover with half of the spinach, half of the ricotta mixture, a few pieces of mozzarella and 2 to 3 tablespoons of the reserved tomato sauce. Repeat the layers, ending with noodles. Top with the remaining sauce and mozzarella. Cover and simmer until the lasagna is cooked and the cheese melts, 20 to 25 minutes.
Let rest for a few minutes before slicing. Garnish with more parmesan and fresh herbs.

Download this recipe.
Vegetable Paella
Photograph by Yunhee Kim
1 Hour / 6-8 servings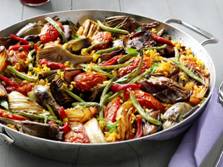 8 vine-ripened plum tomatoes
Kosher salt
1/4 cup extra-virgin olive oil, plus more for drizzling
1 small onion, finely chopped
3 cloves garlic, finely chopped
1 1/2 teaspoons paprika
1/4 teaspoon cayenne pepper
1 teaspoon saffron threads
1 large bulb fennel, cut into 8 wedges
8 baby artichokes, trimmed and halved (see below)
1 large Japanese eggplant, cut into 2-inch pieces
4 ounces shiitake mushrooms, stemmed
2 cups dry white wine
2 1/2 cups short-grain paella rice
4 ounces haricots verts or string beans, halved if large
1/4 cup capers, drained
1/4 cup piquillo or roasted red peppers, cut into strips
Chopped fresh parsley, for garnish (optional)
Preheat the oven to 450 degrees. Core the tomatoes, cut into wedges and place in a medium bowl; season with salt, drizzle with a bit of olive oil and toss. Set aside.
Heat 1/4 cup olive oil in a 12-inch ovenproof skillet or a paella pan over medium-high heat. Add the onion, garlic, paprika, cayenne and saffron and season with salt. Cook, stirring occasionally, until the onion softens, about 5 minutes.
Add the fennel wedges and cook until lightly browned on one side, about 5 minutes. Flip the fennel and add the baby artichokes and eggplant to the skillet; cook until slightly tender, about 4 more minutes. Add the mushrooms and cook for 1 to 2 minutes. Pour in the wine and simmer until reduced by about one-third. Stir in the rice and 1 3/4 teaspoons salt; add just enough water to cover the rice completely, 2 1/2 to 3 cups. Increase the heat to high and boil for 2 to 3 minutes. Scatter the haricots verts and 2 tablespoons capers over the rice. Remove the pan from the heat and arrange the tomatoes on top; drizzle with any tomato juices.
Transfer the paella to the oven and bake, undisturbed, for 20 minutes. Scatter the remaining 2 tablespoons capers and the piquillo peppers over the paella. Turn off the oven but leave the paella inside to continue cooking until the rice is tender, 15 to 20 more minutes. Garnish with parsley, if desired

Download this recipe.
Caribbean Rice and Peas
Photograph by Antonis Achilleos
1 hour 15 minutes/ Serves 4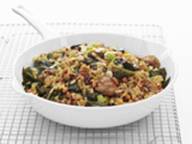 10 ounces frozen black-eyed peas, thawed
Kosher salt
2 tablespoons extra-virgin olive oil
6 ounces turkey kielbasa (or other smoked sausage), thinly sliced
1 large bunch scallions, sliced, white and green parts separated
2 small ribs celery, diced
6 cloves garlic, sliced
1 jalapeno, finely chopped
2 teaspoons jerk seasoning
2 teaspoons chopped fresh thyme
2 tablespoons tomato paste
1 cup uncooked long-grain brown rice
2 bay leaves
4 cups stemmed and chopped collard greens
Combine the black-eyed peas, 3 cups water and a pinch of salt in a small pot. Cover and bring to a boil.
Meanwhile, heat the olive oil in a large, deep skillet over medium heat. Add the kielbasa and cook until golden, about 2 minutes. Add the scallion whites, celery, garlic, jalapeno, jerk seasoning and a generous pinch of salt. Cook until the vegetables brown, about 5 minutes. Add the thyme and tomato paste and cook, stirring occasionally, until the tomato paste turns brick red, about 2 more minutes.
Add the rice, bay leaves and the black-eyed peas with their liquid to the skillet and bring to a boil; do not stir.
Add the collards; cover, reduce the heat to low and simmer undisturbed until most of the liquid is absorbed, about 50 minutes; set aside for 10 minutes. Remove and discard the bay leaves.
Just before serving, add the scallion greens and fluff with a fork.

Download this recipe.
---
Contribute to the Cook'n Club!
DVO would love to publish your article, prose, photography and art as well as your cooking, kitchen and nutrition tips, tricks and secrets. Visit the Newsletter Submission / Win Win for All section in our Forum for more information and details.
---