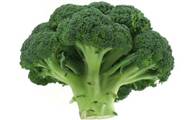 Broccoli is not only one of the tastiest vegetables in the world, it is also forms part of a very healthy diet. It's anti-cancer properties are legendary, AND it does a terrific job of keeping blood sugar stable. To help you get more of this great green food onto your plates, and that's especially plentiful in our farmers' markets right now, try these delicious recipes we found on
BroccoliRecipes.net
:
Almond Beef with Broccoli
Serves 2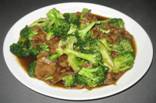 ¾ lb of fresh broccoli, cut in two-inch lengths.
1/3 lb of beef sirloin, cut into thin strips
½ cup of blanched almonds, toasted
4 tablespoons of vegetable oil
3 tablespoons of white wine
1 tablespoon of soy sauce
½ teaspoon of cornstarch
½ teaspoon of sugar
¼ teaspoon of garlic powder
Pinch of ground ginger
Boiling water
Combine the beef, white wine, cornstarch, soy sauce, sugar, garlic powder and ginger. Marinate for 30 minutes.
Split each length of broccoli into four pieces, then drop into boiling water and boil for 2 minutes; then drain.
Heat 2 tablespoons of vegetable oil in a wok or a skillet, then add the broccoli and stir-fry for 2 minutes.
Arrange broccoli in a ring at the edge of a serving plate. Add the remaining 2 tablespoons of vegetable oil to your wok or skillet.
Lift the beef from the marinade and stir-fry for 1 minute. Add the marinade and cook, stirring until glazed. Pour into center of broccoli and sprinkle almonds over top. Delicious served over rice.

Download this recipe.
Cheesy Broccoli Casserole
Serves 4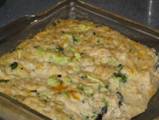 2 ½ cups of Cooked Rice
1 small jar of cheese sauce
2 can undiluted Cream of Mushroom Soup
1 cup of Celery, chopped
1 cup of Onion, chopped
2 Large florets of broccoli, chopped
Cook celery and onions tender. Boil the broccoli until tender. Mix the cheese sauce with the hot rice. Combine the soup, broccoli, onion and celery. Put aside the mixture for half an hour and then bake uncovered in a hot oven for an hour.

Download this recipe.
Broccoli Slaw
Serves 2

1 stalk fresh broccoli, shredded and chopped
½ cup of mayonnaise
¼ tspn of cayenne pepper
½ tspn of ground cumin
½ tspn of chili powder
3 tblspns of lime juice
Salt to taste
Combine together the mayonnaise, cayenne pepper, cumin, chili powder, lime juice and salt. Mix well.
Place broccoli in a large bowl and add the mayonnaise mixture, mix until well covered. Making this the night before needing to serve it allows the flavors to blend well.

Download this recipe.
Chicken and Broccoli Delight
Serves 2
1 whole chicken breast, boned
2 stalks fresh broccoli
1 can of cream of chicken soup
½ cup of mayonnaise
½ teaspoon of lemon juice
¼ teaspoon of curry powder
Buttered breadcrumbs
Grated cheese
Cook the chicken and the broccoli as instructed on their packaging. Mix together the cream of chicken soup, mayonnaise, lemon juice and curry powder. Place layers of the cooked broccoli and chicken pieces in an oven proof dish. Pour over above mixture.
Top with buttered crumbs and bake at 350°F (175°C) for 30 minutes. Once cooked, top with grated cheese and serve.

Download this recipe.
Easy Broccoli Quiche
Serves 4

3 medium eggs, beaten
2 cups of broccoli
1 cup of shredded Swiss cheese
1 cup of milk
½ cup of Bisquick
¼ cup of onion, chopped
¼ cup of green pepper, chopped
Salt and freshly ground black pepper
Cook the broccoli as directed on its packaging. Drain. Combine all ingredients and place in a well buttered nine-inch pie plate. Bake at 375°F (190°C) for 45-50 minutes.
---
Contribute to the Cook'n Club!
DVO would love to publish your article, prose, photography and art as well as your cooking, kitchen and nutrition tips, tricks and secrets. Visit the Newsletter Submission / Win Win for All section in our Forum for more information and details.
---
---