After
cleaning your grill
, you're ready to go for the season. Here are some recipes we have dug up that will sure get the mouth watering while the coals, or grill, is heating up!
Sixteen Spice Rubbed Chicken
Bobby Flay
Serves 4
Green Onion Slaw: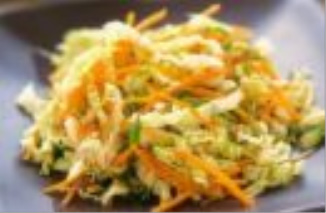 1 cup coarsely chopped green onions, white and green parts
1/4 cup red wine vinegar
2 teaspoons honey
2 serrano chiles
2 tablespoons mayonnaise
1/2 cup canola oil
Kosher salt and freshly ground black pepper
1 small head of purple cabbage, finely shredded
1 small red onion, halved and thinly sliced
2 teaspoons poppy seeds
1/4 cup chopped fresh cilantro leaves
Chicken: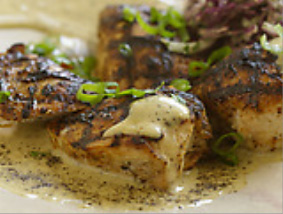 1 tablespoon ancho chile powder
1 tablespoon pasilla chile powder
1 tablespoon ground cumin
1 tablespoon ground coriander
1 tablespoon ground ginger
1 tablespoon brown sugar
2 teaspoons garlic powder
2 teaspoons onion powder
1 teaspoon ground allspice
1 teaspoon ground cinnamon
1 teaspoon ground cloves
1 teaspoon ground fennel seeds
Heaping 1/4 teaspoon chile de arbol
Kosher salt
2 teaspoons coarsely ground black pepper
Heaping 1/4 teaspoon cayenne pepper
4 (8-ounce) boneless chicken breasts, skin on
1/4 cup canola oil
Black Pepper Vinegar Sauce (recipe follows)
To make the dressing for the slaw, combine the green onions, vinegar, honey, chiles, mayonnaise, oil and salt and pepper to taste in a blender and blend until emulsified.
Combine the cabbage, red onion and poppy seeds in a bowl, add the dressing, and stir until combined. Fold in the cilantro and season with salt and pepper to taste. Cover and refrigerate while you grill the chicken or for up to 1 hour.
Heat your grill to high.
Stir together the ancho powder, pasilla powder, cumin, coriander, ginger, brown sugar, garlic powder, onion powder, allspice, cinnamon, cloves, fennel, chile de arbol, 2 tablespoons salt, black pepper and cayenne in a small bowl.
Brush both sides of the breasts with the oil and season with salt. Rub the top side of each breast with a few tablespoons of the rub and place on the grill, rub side down. Grill until golden brown and slightly charred, 3 to 4 minutes. Turn the breasts over and continue grilling until just cooked through, 4 to 5 minutes longer.
Remove the chicken from the grill and drizzle with the black pepper vinegar sauce. Tent loosely with foil and let rest for 5 minutes. Serve the slaw on the side.
Black Pepper Vinegar Sauce: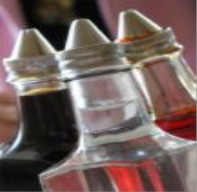 1/4 cup rice wine vinegar
1/2 cup extra-virgin olive oil
3 tablespoons Dijon mustard
2 teaspoons honey
1 teaspoon kosher salt
3/4 teaspoon coarsely ground black pepper
Combine the vinegar, oil, mustard, honey, salt and pepper in a blender and blend until smooth. The sauce can be made 1 day in advance, covered and refrigerated. Bring to room temperature before serving.

Download this recipe.
Corn Grilled in Its Jacket
Bobby Flay
Serves: 12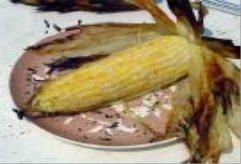 12 ears fresh corn, in the husk
1 1/2 cups mayonnaise
1 1/2 cups freshly grated Parmigiano-Reggiano
Cayenne pepper
Lime wedges, for serving
Preheat the oven to 350 degrees F.
Place the corn, still in its husks, directly on the oven rack and roast for about 20 minutes until the corn is soft when you press on it. Take the corn out of the oven and let it cool a little until you can handle it, or until you're ready to serve.
When you're ready to eat, place a large grill pan on 2 burners over medium-high heat or preheat an outdoor gas or charcoal barbecue and get it very hot. Take a few paper towels and fold them several times to make a thick square. Blot a small amount of oil on the paper towel. Then carefully and quickly wipe the hot grates of the grill to make a nonstick grilling surface. When the grill or grill pan is hot, peel down the husks from the roasted corn and pull out the corn silk. Then tie the husks in a knot so you can hold on to the knot like a handle. Char the corn on the grill or grill pan, turning, until the kernels are slightly blackened all around and start popping, about 6 minutes. Brush the corn with mayonnaise, and sprinkle with the Parmigiano and a little cayenne pepper so it's nicely coated. Serve with lime wedges.

Download this recipe.
Maple Grilled Pineapple Rings with Yogurt & Granola
Robin Miller
Serves: 4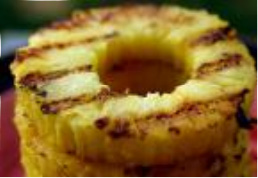 Cooking spray
8 pineapple rings, cored (fresh or canned in juice)
2 tablespoons maple syrup
2 cups lowfat frozen yogurt
8 tablespoons lowfat granola with raisins
Preheat a stove-top grill pan to medium-high and coat with cooking spray. If using bar-b-que grill, place pineapple rings directly on hot grill.
Place pineapple rings on hot grill and drizzle with maple syrup. Cook 2 to 3 minutes per side, until golden brown. Transfer grilled pineapple to individual dessert bowls (2 rings per bowl) and top each serving with 1/2 cup frozen yogurt and 2 tablespoons granola.
---
Contribute to the Cook'n Club!
DVO would love to publish your article, prose, photography and art as well as your cooking, kitchen and nutrition tips, tricks and secrets. Visit the Newsletter Submission / Win Win for All section in our Forum for more information and details.
---
---