Information Courtesy Josh Day of Health and Beyond, and Dr. Ben Kim
What exactly is rice, and what are the health benefits?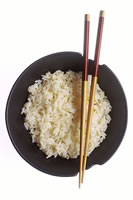 It's a grain—a staple food for populations all over the world, and considered on of the most labor-intensive grains to grow. It takes more manual or mechanical energy to grow rice than it does any other plant food.
The Chinese character for rice includes symbols that make up the number 88, which reflects the East Asian saying that a rice farmer has to complete 88 steps to produce a healthy crop of rice.
Health benefits of rice: It's a good source of carbohydrates that the body can use to produce energy, and it comes with a number of micronutrients, mainly B vitamins. Brown rice also contains some amino acids, iron, magnesium, and zinc. It's also a good source of fiber.
White rice is brown rice that's been polished down to extend shelf life. Today most nations require white rice to be fortified with iron and vitamins B1 and B3. Research shows that contrary to popular belief, white rice isn't a terrible food choice. It's actually easier for most people to digest than brown rice, and for people who have weakened digestive systems, like those with ulcerative colitis, irritable bowel syndrome, or Celiac disease, white rice is a better choice than brown rice, at least until they get stronger.
What's the best way to cook rice?
We've followed the directions on the bag and every time the results seem lacking. We've also tried rinsing the rice under cold water until the water runs clear to remove the starch. We're still looking for that secret bullet.

Using a
rice cooker
is not only convenient, it tends to produce a good result. Load up with washed rice, the right amount of water, and then just press a button and wait on. A rice cooker is great because it keeps the rice warm, so it's ready to eat at any time.
Whether we use white or brown rice, we give it a good rinse at least a couple of times. After the rice is washed, combine it with one cup of water for every cup of white rice, or two cups of water for every cup of brown rice - that's fresh water for cooking. The rice cooker does the rest.

For stove top cooking, do the same thing to prepare, and bring the water (with rice) to a boil, and as soon as it begins to boil, put a lid on and reduce the heat to low. Cook at a low temperature, but make sure the heat is high enough to keep the cooking going. When most of the water has been absorbed into the rice and the rice is done, it's best to set the covered pot off to the side for at least 5 minutes.
IMPORTANT: It's best to soak white or brown rice (after it's been rinsed) in water for a few hours before cooking. For brown rice, soak overnight, but six hours is a good minimum. With white rice, an hour or even half an hour of soaking time is sufficient. Soaking really makes a difference in how easy it is to digest the rice.
NOW, let's put this information to work with some award-winning rice recipes from the U.S. Rice Federation Board:
Southwest Salsa Rice Bites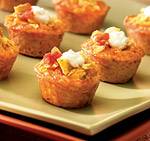 3 cups cooked brown rice, cooled
1 cup shredded pepper jack cheese
4 eggs
1 16-ounce jar medium (or hot) thick and chunky-style salsa
1/2 cup sour cream
1/2 teaspoon salt
1/2 teaspoon pepper
3/4 cup crushed corn or tortilla chips
Additional salsa and sour cream for garnish (optional)
Preheat oven to 350 degrees. Combine rice and cheese in large bowl; set aside. In medium bowl, beat eggs until well blended. Stir in salsa, sour cream, salt and pepper. Add salsa mixture to rice and cheese; mix well. Spray miniature muffin pans with vegetable cooking spray. Spoon approximately 1 1/2 tablespoons rice mixture into each cup, filling to just below the rim. Sprinkle crushed chips over filling, pressing slightly with back of spoon. Bake 15 to 20 minutes, or until lightly browned. Serve warm with additional salsa and sour cream, if desired. (Makes 48 appetizers or serves 8)

Download this recipe.
Italian Rice Fritters
These are great for appetizers, snacks, breakfast, brunch, and dessert. They're delicious, and GLUTEN-FREE!

1 cup uncooked rice
3 cups milk
1 cup granulated sugar
Grated zest of two lemons
1/4 teaspoon salt
3 eggs, separated
Vegetable oil
Combine rice, milk and sugar in a 2- to 3-quart saucepan. Heat to boiling; stir once or twice. Reduce heat; cover and simmer until milk is absorbed, 15 to 20 minutes.
Spread rice on baking sheet and refrigerate 15 minutes. In large bowl, combine chilled rice, grated lemon zest, salt and 3 egg yolks. In separate bowl, lightly whip egg whites until soft peaks form and fold into rice mixture.
Heat oil in skillet until hot. Drop batter by tablespoons into oil and fry until golden brown on all sides, about 3 minutes. Drain on paper towels. Serve hot. (Makes 36 fritters)

Download this recipe.
Tuscany Rice and Bean Soup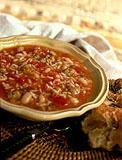 8 ounces Italian sausage
3 16-ounce cans low-sodium chicken broth
1 28-ounce can diced tomatoes
1/2 teaspoon salt
1/4 teaspoon freshly cracked black pepper
1/4 teaspoon dried oregano
1 cup uncooked rice
1 15 1/2-ounce can Great Northern beans, undrained
Brown sausage in 3- to 4-quart saucepan over medium-high heat, about 6 minutes. Drain fat. Stir in broth, tomatoes, salt, pepper and oregano; bring to a boil. Stir in rice and beans. Cover and simmer 15-20 minutes, or until rice is cooked. (Serves 6)

Download this recipe.
Springtime Ham and Rice Salad
Low cholesterol and low fat!

1 cup chopped fresh asparagus
1/2 cup orange marmalade
1/4 cup white wine vinegar
3 cups cooked medium grain rice, chilled
1 cup cubed smoked ham
Place asparagus in microwave-proof bowl; cook on high power 20-30 seconds or until tender crisp; set aside.
In a small bowl, combine marmalade and vinegar; set aside. In a large bowl, combine asparagus, rice and ham. Add marmalade mixture; toss well. (Serves 6)

Download this recipe.
Santa Fe Smokin' Rice Salad
One-dish meal, quick and easy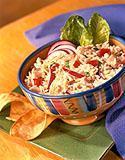 3 cups cooked rice, cooled to room temperature
1 1/2 cups shredded smoked Gouda cheese
1 cup smoked turkey breast cubes
2 plum tomatoes, coarsely chopped
1/4 red onion, cut into 1/2-inch slices
1/2 cup creamy garlic cilantro salad dressing*
salt
pepper
Combine rice, cheese, turkey, tomatoes, and onion in large bowl. Add salad dressing to rice mixture and toss lightly. Season to taste with salt and pepper. (Serves 6)
NOTE: *Ranch-style dressing mixed with 1 tablespoon chopped fresh cilantro may be substituted for creamy cilantro dressing.

Download this recipe.
Cheesy Rice Souffle
Another quick and easy meal

3 cups cooked brown rice
1 2/3 cups hot milk
1/2 cup butter, cut into small pieces
4 ounces Parmesan cheese, freshly grated
4 ounces Swiss cheese, grated
6 eggs, separated
Salt and pepper to taste
Preheat oven to 350° degrees. In large bowl, combine rice with milk, butter, Parmesan and Swiss cheeses; set aside. Beat egg whites until stiff in large bowl. Beat egg yolks in small bowl and add to cooled rice mixture. Gently fold egg whites into rice mixture and pour into a lightly-greased 2-quart soufflé dish. Bake on middle rack in preheated oven 30 minutes; increase heat to 450° degrees for an additional 8-10 minutes, or until top is golden brown. (Serves 6-8)

Download this recipe.
---
Contribute to the Cook'n Club!
DVO would love to publish your article, prose, photography and art as well as your cooking, kitchen and nutrition tips, tricks and secrets. Visit the Newsletter Submission / Win Win for All section in our Forum for more information and details.
---