Scientific studies indicate that members of the onion family, such as garlic and scallions, can help regulate blood sugar levels. Here's a recipe that has those magic ingredients, plus an added perk: One cup of pinto beans has a whopping 12.2 grams of fiber.
Sweet potatoes are also a friend to blood sugar (as long as they're not loaded with brown sugar, molasses, etc.). Here's a fantastic recipe for a sweet potato bake—so indulge. And finally, to round things out, an unusual suggestion: fruit salad. Yes, it's doable because of the fiber, and the added cinnamon is great for blood pressure, to boot!
Garlic-Onion Bean Dip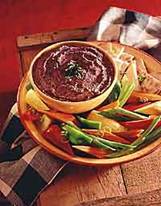 2 cloves garlic, chopped
1 bunch scallions, chopped
One can (15-˝ oz) pinto beans, rinsed and drained
4-1/2 tsp lemon juice
1/4 cup olive oil
1/4 tsp salt
Dash cayenne pepper
Sauté garlic and onion in one teaspoon of olive oil. Place beans, garlic and onion in a food processor. Add remaining ingredients; process until well blended but not entirely smooth. Serve with wheat crackers or assorted fresh vegetables. Makes 6-8 servings

Download this recipe.
Sweet Potato Bake
One medium sweet potato has 3.5 grams of fiber; one cup of raisins has 4 grams of fiber.

4 medium sweet potatoes
1 cup sun-dried raisins
2 tsp. butter
2 tbsp lemon juice
2 Tbsp. orange juice
1/2 teaspoon nutmeg
Preheat the oven to 350°F. Spray a medium-sized baking dish with non-stick spray. Peel and cut sweet potatoes into 1/4-inch slices. Arrange layer of potatoes in the baking dish; then dot with butter and sprinkle with raisins. Repeat Step 4 until all potatoes and raisins are used. Blend orange juice, lemon juice and nutmeg; pour over potatoes and raisins. Bake at 350°F for about 35 minutes, until the potatoes are tender when pierced with a fork. Serve hot. (Serves 3-4)

Download this recipe.
Fruity Salad
The fruit in this salad has natural sugar, but the fiber content of unpeeled fruit helps keep blood glucose levels in balance.

4 red apples (for example, McIntosh, Cortland or Ida Red)
2 Bartlett pears
1/2 pound red grapes
1/2 cup walnut pieces

1 cup vanilla yogurt
1 teaspoon cinnamon
1/2 teaspoon nutmeg
1 tablespoon apple juice
Wash and core apples and pears; cut into one-inch chunks. Wash grapes and cut in half.

Combine fruit and walnut pieces in a mixing bowl. In a small bowl, mix cinnamon, nutmeg and apple juice with yogurt. Pour yogurt mixture over fruit and nuts, stirring to coat evenly. Chill before serving. (Serves 4-6)
---
Contribute to the Cook'n Club!
DVO would love to publish your article, prose, photography and art as well as your cooking, kitchen and nutrition tips, tricks and secrets. Visit the Newsletter Submission / Win Win for All section in our Forum for more information and details.
---
---